Small Businesses
The Wingman Harness Company Has Just What the Doctor Ordered
Dr. Chris Spinellli, co-founder of The Wingman Harness Company, LLC, wasn't going to let mobility issues hold his daughter back, so he leveraged his military and medical experience to create a solution in the form of a physical therapy harness.
By Claire Porter | Photos by Brandon Alms
Jan 2016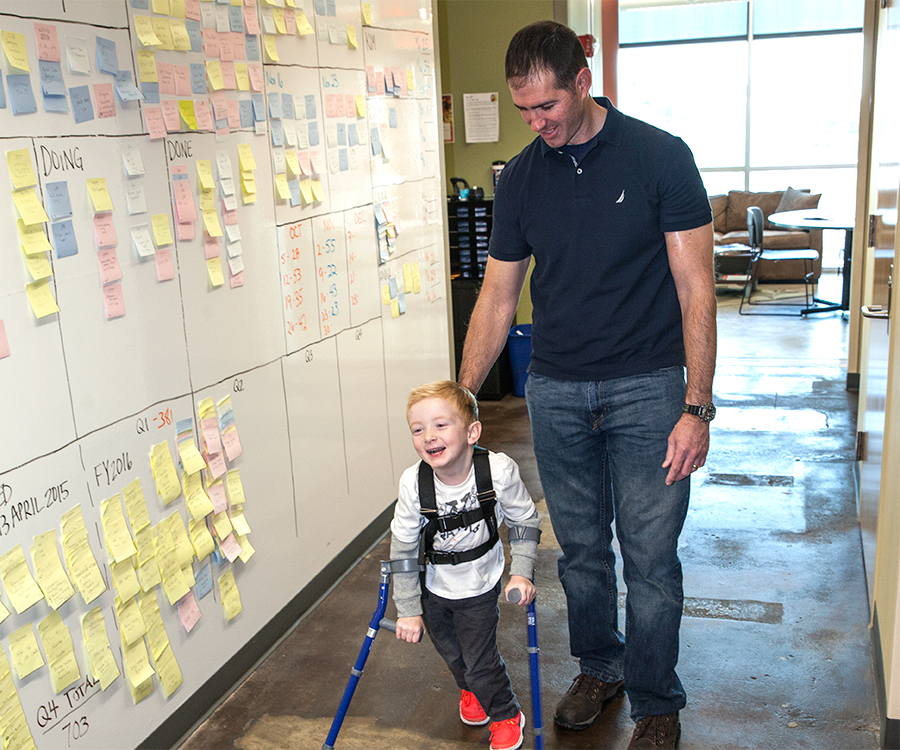 When pediatrician Dr. Chris Spinelli's daughter was diagnosed with a mobility weakness on her right side at age 1, he and his wife, Cris, wanted to find a way to supplement her physical therapy at home. Unfortunately for parents like the Spinellis, there aren't many affordable options small enough to be installed into a home, and the methods parents turn to, such as using gait belts or holding onto their children's shirts to guide them and prevent falling, encourage poor posture and lack stability.
Dr. Spinelli's background as a physician gave him a clear understanding of how well-designed physical therapy devices should work, but it was his lifetime of wearing harnesses both in his career in sling load operations for the Army and in his spare time skydiving, rock climbing and rappelling that drove him to create his own solution in the form of The Wingman Harness.
"People have a lot of ideas, but they don't do anything with them. Then, eventually, someone else pursues the same idea, which makes you think, 'I should have done that.'" —Dr. Chris Spinelli, co-founder of The Wingman Harness Company, LLC
Over the course of 10 years, he tinkered with a design idea, hand sewing straps, using scraps for materials and testing each iteration on his kids. The final design, which Dr. Spinelli patented in 2010 and now manufactures at a military-grade manufacturer out of St. Louis, uses heavyweight military-grade webbing but is small enough to be rolled up and put in a purse or cargo pocket. To anyone else contemplating creating their own product, he recommends taking his same proactive approach to executing it. "A lot of times, people have a lot of ideas, but they don't do anything with them," Dr. Spinelli says. "Then, eventually, someone else pursues the same idea, which makes you think, 'I should have done that.'"
The Wingman Harness Company, LLC launched in 2012. The business is entirely self-funded, and the Spinellis are learning as they go. For example, their Indiegogo crowdfunding campaign didn't take off as they had hoped, but they're taking those lessons in stride. "That's part of the business process," Dr. Spinelli says. "This may not be a great Kickstarter or a great Indiegogo kind of item. Now I know."
Aside from the funding, the biggest challenge has been spreading the word about the harness. "How do you know you need something if you don't know it even exists?" Dr. Spinelli says. For now, the Spinellis have been going to pediatric expos to share the product with parents and therapists, but they're hoping that by getting FDA approval more people will have access to it either by prescription or through insurance.



Dr. Chris Spinelli (top photo) designed the Wingman Harness to be comfortable for wearers like patient Bennett Kester (above) and easy for a parent of physical therapist to hold. Each harness is made of lightweight webbing and has a sturdy handle centered on the back to provide stable control and firm support.


The biggest benefit to The Wingman Harness Company, LLC has been the community and resources Springfield has to offer for every stage of a business's development. Two years after launching the company, Dr. Spinelli went through the feasibility study program at Missouri State University and has relied on the Small Business Administration to help navigate some marketing hurdles. He also credits Bach Medical Supply for helping him work through the Durable Medical Equipment (DME) insurance and retail process, and thanks to connections he made presenting at 1 Million Cups, Mercy Research & Development is guiding the company through the highly involved FDA-approval process.
Even without FDA approval or mass marketing campaigns, therapists are using the harness in clinics and special needs camps across the country, and there's been a huge interest from physical and occupational therapy programs in school systems. Regardless of the number of harnesses sold or the company's growth, the Spinellis are happy to see their original little idea making a big difference. "We're not doing this to be rich," Dr. Spinelli says. "We're doing it to help people. It helped our kid and can help so many other kids, too."
---


Behind the Design
If you've ever looked at a product and wondered, "How did they do that?" we've got the answers for you. Dr. Chris Spinelli, co-owner of The Wingman Harness Company, LLC, walks us through the steps it takes to make his popular physical therapy harnesses happen. 


Between his time at work in sling load operations dangling below helicopters for the Army and his free-time hobbies of rock climbing, rappelling and skydiving, Dr. Chris Spinelli has spent a lot of time in harnesses. When his daughter was diagnosed with a mobility weakness in her right side as a child and Dr. Spinelli started looking for a portable, effective and affordable way to continue her therapy at home and on the go, he used his years of experience to begin designing a therapy harness.

He started to hand-sew different configurations using webbing for the straps and scraps for the remaining components—the back piece for his first handmade harness was cut out of a conveyor belt scrapped from a manufacturing facility. As he worked out the design, he would test it on his kids, making sure both he and his wife could easily and comfortably control, guide and lift them, and ensuring that the straps weren't uncomfortable to wear. After his daughter's physical therapist saw his prototype, she encouraged him to turn it into a marketable product.

About a year into working out the prototype, Dr. Spinelli pursued a patent for his harness design. With help from a patent attorney, he had artistic renderings of the harness done and sent drawings, a prototype and the patent fee for review. The process normally involves several stages and thousands of dollars of corrections or changes based on the patent office's feedback, but Dr. Spinelli says because they did exhaustive background research and submitted a very complete application, The Wingman Harness was approved in the first round.

Next, Dr. Spinelli began searching for a manufacturer who could do small orders on the company's tight, self-funded budget. The initial manufacturer for The Wingman Harness was a rock climbing manufacturer on the East Coast who had experience working with harnesses and webbing. (The Wingman Harness Company, LLC now uses FirstSpear, LLC, a military-grade manufacturer in St. Louis.) Once they settled on a price, the typical preproduction exchange began, including sending prototypes, approving cut sheets and one-offs and preparing labels and packaging.

The rock climbing connection also came into play when Dr. Spinelli pursued insurance for the business. "We actually went with a rock climbing company because we figured if they'll insure people dangling off a cliff, they'll probably insure us," he says. As soon as insurance and the manufacturer were secured, Dr. Spinelli started his long search for materials made in the United States, which is an added expense, but one he says is worth the quality.

With the production wheels in motion, the harness then needed a marketing strategy. The Spinellis started by creating a website, which they soon learned wasn't enough. "Just making a website doesn't make people come to your product," Dr. Spinelli says. They needed to put in face time with their potential clients, and at the suggestion of a neurologist and therapist at St. Louis Children's Hospital, they began attending pediatric expos to demonstrate and sell the harness. The strategy was such a success that after the first expo, they sold out of harnesses and crashed the website.

As the demand for harnesses grew, the Spinellis had to work out a price that covered production costs, travel expenses and shipping. They've also created modifications and add-ons for the original harness, all of which mean added costs. "We want individuals to buy it, and we want families to be able to afford it," Cris Spinelli says. "Insurance doesn't cover it yet." But they're working on that.

Initially, they worked with Bach Medical Supplies to pass the harness through the Durable Medical Equipment (DME) insurance and retail process, a designation which allows insurance companies to cover the cost of reusable medical products like braces and wheelchairs. However, approval meant getting an FDA number. The Wingman Harness Company, LLC is working with Mercy Research & Development to seek FDA approval—a process which requires several more research studies and clinical trials proving its safety and effectiveness.

"[The harness] was born out of necessity but got such a great response that we thought we shouldn't just hold onto this," Dr. Spinelli says. He and his wife are hopeful that they'll secure FDA approval, which would make their harnesses more affordable and accessible to the families that truly need them. In the meantime, they aren't letting the waiting process slow them down. They're currently exploring ways to bring their adult-sized harnesses to veterans' rehabilitation organizations and programs.