Small Businesses
Hand-Turned Success for E.B. Latheworks
From a shop outside his home in southwest Springfield, Eric Johnson is transforming wooden blocks into shaving accessories and decorative pieces, designed with the collector and the everyday man in mind.
By Jennifer Adamson | Photos by Brandon Alms
Jan 2016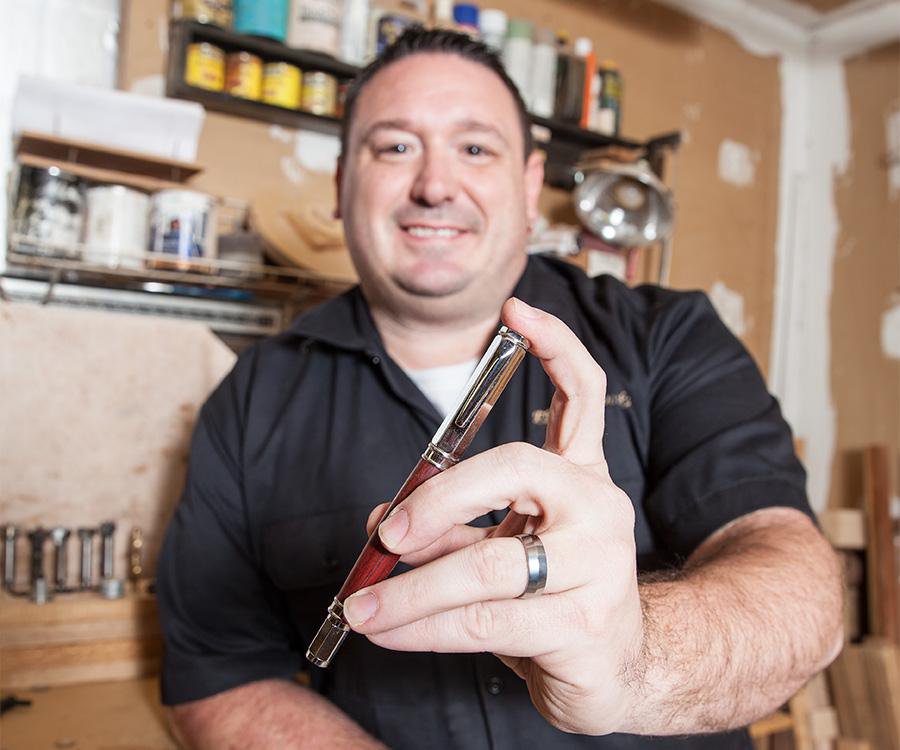 In just 20 minutes and with a few simple tools, Eric Johnson, owner of E.B. Latheworks, can transform a block of wood into a beautifully forged ink pen. This talent didn't always come so easily, of course, but he figured he had a knack for it when his friends wouldn't stop talking about his creations, specifically a pen he made that resembles a rifle cartridge. "They would say, 'This could sell. You could market this, and it would be popular,'" he says. That's when he knew he could turn his hobby into a business.
As a self-taught craftsman, Johnson became interested in woodworking by default. "My wife and I used to go out and see furniture and not find the design we wanted, so I'd build it instead—bookcases, nightstands, cabinets," he says. "I love working with my hands and just became someone who looked at something in its raw state and saw the potential it could have in the end." In 2011, Johnson purchased his first lathe, the one he used to make his first cartridge pen. The pen's popularity sparked an idea: What other things could he learn to make and sell? 
Later, Johnson had just had a hot shave and wanted to purchase his own brush to use at home, but he wasn't satisfied with the products he was finding online. "Most of them were well over $100, and I didn't want to pay that price," he says. Like any good entrepreneur, Johnson's solution was to custom build exactly what he wanted. 
Using independent research and YouTube videos to guide him through the process, he quickly learned that turning, or shaping wood with a lathe, is a technique that is acquired, not instinctual, and sometimes you have to add to the firewood pile before you can add to your pocketbook. "It was really a matter of trial and error," Johnson says. "Even now when I make a brush, I'm not satisfied with making the same styles over and over again. You should always be thinking into the future about what's the next big thing. It's not about just finding a product and sticking with it but expanding your line, coming up with ideas on how to one-up yourself."
In 2014, Johnson officially established Lather & Strop Brush Company but later changed the name to E.B. Latheworks to better brand himself as someone who turns wood rather than someone who only makes shaving accessories. His product line now includes pens, shaving brushes, shaving bowls and razor handles, as well as artistic display pieces like bowls and platters. "I didn't have much of a strategy in the beginning," Johnson says. He originally started making things others encouraged him to sell. "Now the focus has been on not just making a product, but how do I get it in front of people as far as naming and organizing."
But Johnson is well on his way to overcoming those challenges, doing business via Facebook and Etsy. Search E.B. Latheworks to find him on either site. He's also partnered with local men's shoppe Just for Him, which carries a limited variety of his shave brushes. His next step is to complete negotiations with downtown Springfield gallery owners about borrowing space to sell his wares during First Friday Art Walk.
Johnson never planned on opening a business or being an overnight success. He assumed the first shave brush he ever made three years ago, the one he still uses today, would be as close as he got to master-maker status. But with Johnson's eye for design and his products that last, E.B. Latheworks might become a household name. 



Eric Johnson created a workshop in his backyard where he stores tools (top right) and machinery, such as his lathe (bottom right). Johnson started selling shave brushes (bottom left) along with other accessories, all of which he makes by hand .
---


Behind the Design: E.B. Latheworks
If you've ever looked at a product and wondered, "How did they do that?" we've got the answers for you. Keep reading to find out how E.B. Latheworks owner Eric Johnson makes one of his signature shave brushes. 
For a woodworking novice, the process of going from rustic to refined can seem daunting. For Eric Johnson, owner of E.B. Latheworks, the process comes naturally and gets easier every time. His most popular seller is an old-fashioned shave brush, which he can now make from start to finish in about 20 minutes. 
First, he starts with a block of wood about the size of a juice box and marks the center on either end. Next, he locks the block into his drill press and bores a hole into the wood to create a 1-inch-deep void where the brush head will attach. Then, he uses a smaller bit to drill one inch deeper into the center of the initial hole, so the block will attach horizontally to his lathe. 
Once the lathe is turned on, the wood begins spinning at a rate of 1,700 rotations per minute. Johnson slides a square chisel back and forth across the wood to knock the corners of the block, which forms a cylinder. The angle at which Johnson holds the chisel and the amount of pressure he applies at each point determines the cylinder's curvature. Steadying his hand on a rest, a bar that runs parallel to the workpiece, ensures his chisel doesn't slip. 
When he's pleased with the shape of the cylinder, Johnson increases the speed on his lathe to 3,300 rotations per minute and changes his chisel to one that will more expertly curve the handle. Next, he removes the rest and scrapes the spinning cylinder with sandpaper, starting with a coarse-grit variety and moving to super fine. Sanding makes the handle smooth to the touch and overall aesthetically pleasing. The process continues by hitting the handle with buffing compound, which comes in stick form. As Johnson holds the stick against the handle, much the same way he does the chisel, heat generated from the wood's rapid rotation melts the wax and gives the handle a shiny coat. The buffing procedure is followed up with a similar application of super glue to waterproof the handle and protect it from damage.
The last step to completing the brush is adding a knot. Johnson prefers to use knots made from badger hair, which he buys wholesale from a supplier overseas. He spreads two-part epoxy around the inside of the brush collar, the original 1-inch-deep hole, and inserts the end of the knot where the bristles are already sealed together. When the glue is dry, the brush is ready to use.