Offices
A Star-Studded Workspace
Chris Louzader is known for her work as "Chris the Critic," reviewing movies for KOLR-10 and Ozarks Live. Memorabilia from her work as a member of the Broadcast Film Critics Association decorate her workspace and are a reminder of her passion for movies.
By Claire Porter | Photos by Brandon Alms
Jan 2016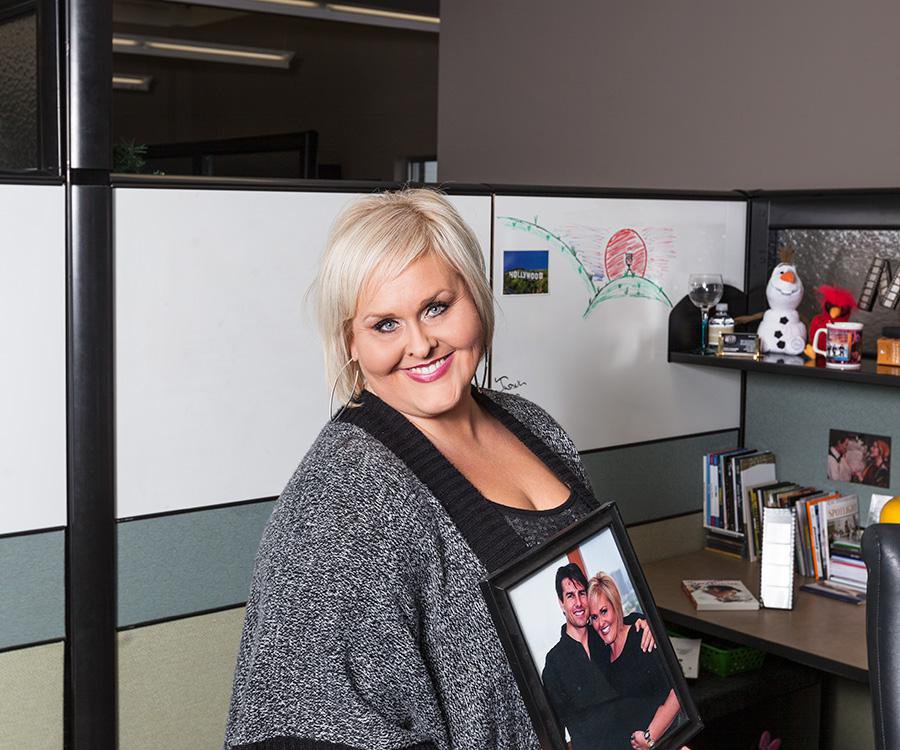 1.Whenever she can, Louzader tries to promote local productions and their talented crews. For one local production, The Weight, she even signed up to be an extra. "I love being able to promote [locals] because they will have zero budget and zero attention," she says. 
 
2. Ever since Louzader saw Tom Cruise in Taps in 1981, she was hooked. Thanks to her work promoting his 2008 film Valkyrie with Wehrenberg Campbell 16 Cine, she and the theatre promotions manager got to fly to LA to meet him for lunch. Louzader says she and Cruise really connected over their knowledge and love of marketing movies. She came back with a signed copy of her favorite Cruise film, Jerry Maguire, and the photograph that she calls her prized possession. 


3. As a member of BFCA, Louzader screens films all year long then votes for the winners of the Critics Choice Awards, so she's made several red carpet appearances. She's framed her favorite celebrity selfies with Tom Hanks (he took the photo himself), Sandra Bullock and Cuba Gooding, Jr. 


4. Leading up to the awards season, Louzader receives what she calls brag gifts: paraphernalia from movie studios and marketing companies who want her to remember their films as she casts her votes. She has giant boxes filled with movies, gifts and trinkets from each year she's been a critic. Promotion items can be useful (the Straight Outta Compton–reference tote bag), cute (the stuffed Olaf snowman from Frozen) or collectible (the mini Spotlight screenplay).


5. In 2008, KOLR-10 approached Louzader for a movie review segment, which she's done ever since in addition to her Opfer production duties. Louzader hadn't always considered making her full-time passion a part-time pursuit. Before studying TV and radio production with an emphasis on film studies, Louzader considered film school. "I got nervous about going to film school," she says. "I wondered, 'If I take the thing that I love that's my hobby and make it my job, am I going to hate it?' [By being a critic] I still get to love it by just talking about it."


6. Louzader does a lot of work with the (former) Wehrenberg Campbell 16 Cine in reviews and promotions, and she appreciates that they frequently offer several lesser-shown films. She's also a frequent visitor. "I love everything about the movie-going experience," she says. "Even if it's a bad movie, my day is better because I went to the movies. It's the greatest form of escapism."


7. Some items harken back to her early movie-going days, like the film strip, the 3-D glasses or the handmade Oscar-Winning Daughter award from her mother. They remind her of the moment that started it all: Walking into the dark theatre as a child in 1978 to watch her first movie on the big screen, Grease.