Small Businesses
Time-Honored Techniques at Ty Iechyd Da
The distillers at Ty Iechyd Da are merging time-honored technique with Missouri ingredients to create sweet-sipping spirits.
By Susan Atteberry Smith
May 2023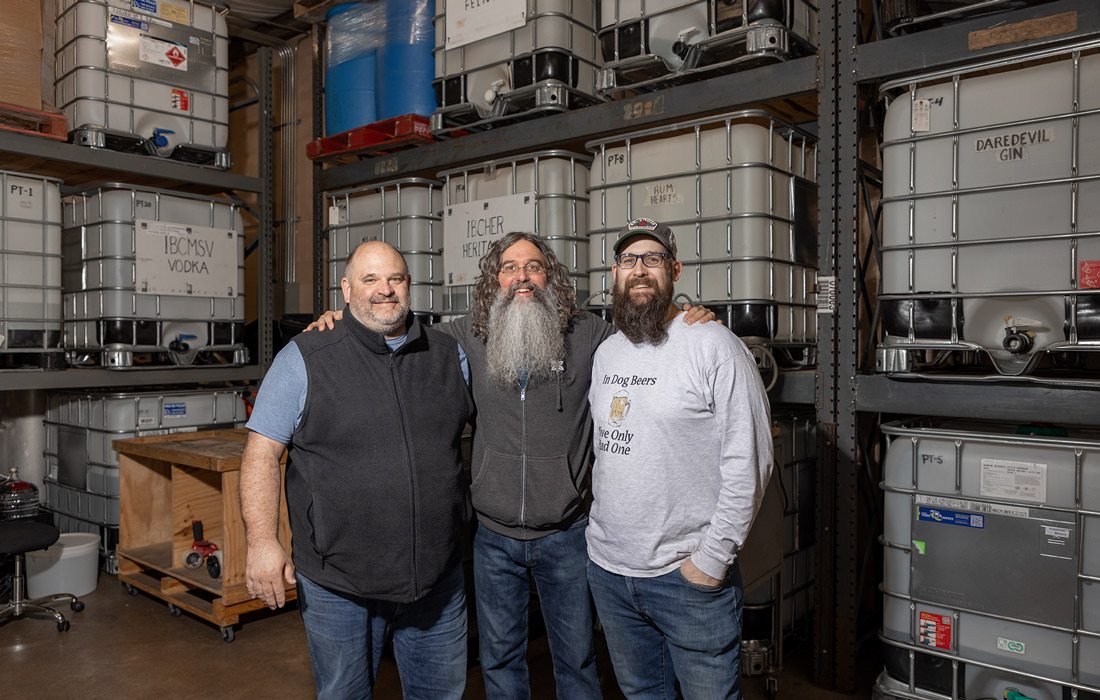 The team behind Ty Iechyd Da Distillery is accustomed to thinking in "barrel time." That's the time it takes for spirits to age to perfection—at least 30 months.
Standing on the production floor not far from a humming still at the distillery's Springfield Brewing Co. (SBC) headquarters, Brian Allen, Ty Iechyd Da's director of distillery and brewery operations, explains that the spirits they're making that day "could sit in these barrels two, three, four, five times the amount of years before we can actually sell it. It's really a testament to patience," he says.
He and the other two members of the distillery's production team are used to being patient—even though they nip a taste every now and then to check how beverages are aging. With backgrounds in home and commercial brewing, the team of Ty Iechyd Da has come together over the past two years, after SBC acquired Missouri Spirits House in 2020. The following spring, customers at BrewCo, SBC's popular restaurant, began to see a spirits menu with a variety of new options for unique beverages.
Managing the campus pub as a student at Bowdoin College in Maine sparked Allen's interest in brewing. Microbreweries had begun to pop up in the area, and soon he and a coworker sought to add the specialty brews they'd sampled to a predictable campus beer list of Bass and Bud Light. To do so, they had to drive to the microbreweries and load beers—not kegs, Allen emphasizes—into a truck. The brewers Allen met on those trips thoroughly impressed him. "It seemed like they had a craft that employed science and impacted people," he says.
But Allen's history with brewing had only begun. The upstate New York native went on to study brewing at the Siebel Institute of Technology in Chicago. He also helped build and manage a brewery across from Fenway Park in Boston, then moved to Springfield in 2009, eventually landing at Mother's Brewing Co., where he worked with founder Jeff Schrag to build that brewery. A job offer at a New Orleans brewery took him there in 2016, but, missing Springfield, Allen returned and went to work for BrewCo in 2019.
Andrew Steiger—"Skippy" to friends—had worked with Allen at Mother's Brewing before he became a distiller at Ty Iechyd Da. Like Allen, the Washington, Missouri, native got interested in the craft as a college student. Home brewing was his hobby as he studied business and finance at the University of Missouri. Later, Steiger helped establish Leaky Roof Meadery in Buffalo before he joined Ty Iechyd Da as a distiller. "There are a lot of similarities between brewing and distilling," the 43-year-old says.
The distilling process is part science, part art. The team may decide to blend two barrels to make a drink come closer to their ideal—or opt for a delightful surprise. "If something comes out and it tastes just the way you had it in your mind, it's a pretty cool thing," Allen says. "At the same time, when it comes out completely different than you had in your mind, that's still pretty sweet, too."
"It's very similar to cooking recipes," Steiger adds. "You have empirical data from a recipe you've tried before and you can say, 'Well, I like this aspect of it,' and that's kind of how we build our recipes."
Barrel-to-bottle time isn't nearly as long for gin, they note—as little as a week from still to bottle. Ty Iechyd Da's Ozark Mountain Daredevils Dry Gin flavors BrewCo cocktails like the Peach Collins and the SBC L.I.T., which also includes the distillery's vodka, rum and a candied orange liqueur called Sweet Blondie's—named, like the Songbird gins, after BrewCo owners Neil and Christina Chanter's daughters.
Ty Iechyd Da's Hinterland Maple Bourbon is already a favorite among customers. With plans to expand the distillery's production area in the works, Allen and Steiger say they're excited about spirits that should be bottled up and served at BrewCo as soon as this summer. Brandy lovers can look forward to spirits made from Missouri apples as well as one concocted during the pandemic with fruits from Springfield-based Date Lady organic dates. They're even "playing around" with cocoa nibs from Askinosie Chocolate to create a chocolate liqueur, he adds.
"At the end of the day, you see a tank full of whiskey and you're like, 'Okay, I did something today,'" Allen says.
[Editor's note: The third member of the distilling team, Head Distiller and Production Manager Brandon Moore, was traveling abroad when this interview was conducted.]