Small Businesses
Küat Racks: Racking Up Success
When serial entrepreneur Luke Kuschmeader designed his own lightweight aluminum bike rack, he had no idea that he was revolutionizing the industry. Seven years later, Küat Racks has created 10 core products with more constantly in the works.
By Claire Porter | Photos by Brandon Alms
Nov 2015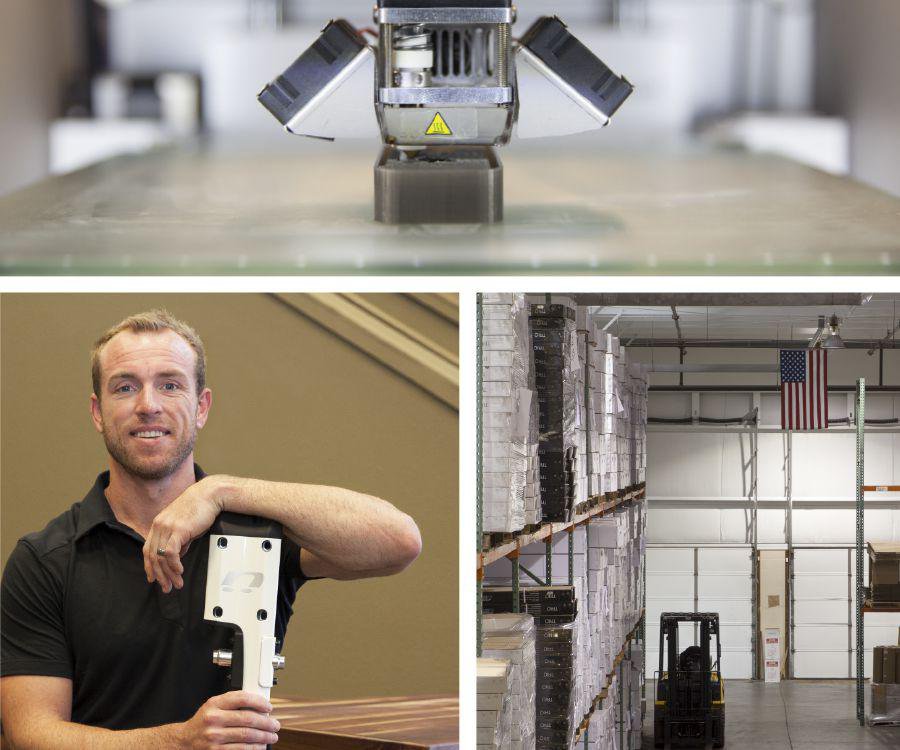 Ever since he was a teenager, Luke Kuschmeader, co-founder and president of Küat Racks, has been a mountain biker and an entrepreneur. In 2007, his frustrations with heavy and cumbersome bike racks were reaching a breaking point. "The idea spawned because we saw aluminum four-wheeler hitch racks," he says. Four-wheelers are much heavier than bikes, so he and his business partner Brian Atkinson began to experiment with creating lightweight aluminum bike racks. That product became the Beta. 
From there, the two naturally turned that product into a business. "The biggest challenge for any start-up is finding good partners and funding," Kuschmeader says. They reached out to contacts in manufacturing for advice on where to get started and found initial investors and guidance in John Raidel of Ridewell Corporation and Guy Mace, who owned Turblex, Inc. at the time. "I could bounce ideas off Guy and for the most part, he lets me make my own mistakes, but he's there when I need him to be," Kuschmeader says. "Just finding the money isn't necessarily what you want. You want to find a good partnership." To this day, Mace is still a partner in Küat alongside Kuschmeader. As for that unusual name, Küat is a combination of the first two letters of the founders' last names, Kuschmeader and Atkinson, and is pronounced Koo-at.
Those original partnerships helped Küat navigate the challenges of starting a business. "We made a ton of mistakes," Kuschmeader says. "I don't know how many prototypes were made. They were horrendously horrible." Originally, Küat planned to manufacture its racks completely within 417-land; however, Kuschmeader and his team found that working within the existing infrastructures wasn't feasible to keep their racks affordable, and they didn't have the skills needed to take over themselves. Instead, Küat formed a partnership with a factory in China that could streamline the manufacturing process.  



Since figuring out those initial stumbles, Küat has been able to finesse what it is as a business. Küat has established itself as a high-end outdoor lifestyle brand by taking an aesthetic approach to bike racks. "People leave racks on their car all the time," Kuschmeader says. "It's not necessarily a bike accessory. It's a car accessory." Küat has also improved its testing process by going through digital finite element analysis, road testing and consumer-based invitation-only testing. Kuschmeader says they've been much slower to market than they were in their initial years. "We had a tremendous sense of urgency originally to get stuff to market, and we just didn't have the experience," he says. Now after having perfected the development strategy, which includes years of research and multiple rounds of testing, "We're much more confident that it's dialed in, it's ready to go, and our customers should run with it," Kuschmeader says. 
That's not to say that Küat isn't open to change. Kuschmeader often approves tweaks to designs based on customer feedback. Additionally, he is exploring ways to branch into other outdoor categories such as fishing, kayaking and skiing while still working on his passion, creating new racks. "I didn't know that I loved designing products [in the beginning] because I had never really done it," he says. "I didn't know that those passions existed." But now that he's found them, Kuschmeader has no plans to slow down. 
---
Behind the Design: Küat Racks
If you've ever looked at a product and wondered, "How did they do that?" we've got the answers for you. Luke Kuschmeader, co-founder and president of Küat Racks describes the process it takes to go from brainstorm to bike rack.

When you make a product that is strapped to a car hurtling down a highway at 80 miles per hour, it's pretty important to get it right. Because of this, the team at Küat Racks often takes up to two years to fully develop and test a new rack before taking it to market. 
The process begins with an idea either from the design team or from Kuschmeader himself. "Typically what you want to do—and I'd suggest this to anyone—if you're really small and don't have a huge, robust line, you need to look at the products that will yield the highest result in sales and revenue," he says. Sometimes the best idea isn't necessarily the highest yielding one. Kuschmeader suggests what he calls thinking smarter, which means looking at product categories and ideas that will be worth the investment of time and research. Once those categories are identified, the team starts brainstorming on whiteboards or by using computer-aided design programs. 
The designs are printed and then sent to the fabrication lab where they're prototyped and enter the proof of concept stage. "Proof of concept is as crude and as quickly as you can make something," Kuschmeader says. "You validate the concept of the function. Don't worry about how it looks at all." After the concept is proven to work, the product enters the prototyping phase where the form takes shape through a series of trial and error. "That could be anywhere from one—if you're incredibly lucky—to twenty prototype revisions or more," he says. 
When the prototype is solidified, the team looks into the feasibility of manufacturing the product taking into consideration target costs and the availability of the specific tools needed. Kuschmeader suggests having a predetermined parameter of where you're willing to go. For Küat, that parameter is high-end products. "Low end is always, 'What can we take out?' and the high end is 'How can we make this amazing?'" he says. 
Next the prototype moves into the production phase where the manufacturer does a test run and creates a production sample. Based on that first article, the rack goes through a rigorous testing phase. This phase ranges from highly scientific simulations using road, vibration and cycle testers to user-based feedback from selected customer groups. The prototype is tweaked multiple times based on these results until it is ready for final production. At this point, a production order is placed and all marketing materials, instructions, box design and photography should be completed and prepared for the product launch. 
This entire two-year process is a heavily involved one and includes months upon months of detailed research and analysis. The result is a product that appeals to cyclists and car-owners of all kinds. "We design racks for all the cars and all the bikes," Kuschmeader says. "That's hard to do. If we designed a rack for a single type of vehicle and single type of bike, it'd be really easy." The latest product of that labor is the Sherpa 2.0, a second generation of the popular Sherpa rack which will be released in summer of 2016. In the future, Kuschmeader hopes to expand the brand (and accompanying production process) to include other outdoor categories such as skiing, surfing and boating. For now, Küat will keep pushing out inventive, high-quality bike racks as fast as their process allows.