Small Businesses
Sapp Design Architecture Hired to Design a Community Complex in Grain Valley
Springfield firm Sapp Design Architecture was hired by the City of Grain Valley, located near Kansas City, to design and implement a new contemporary community complex to accommodate its increased growth.
By Reese Radmacher
May 2020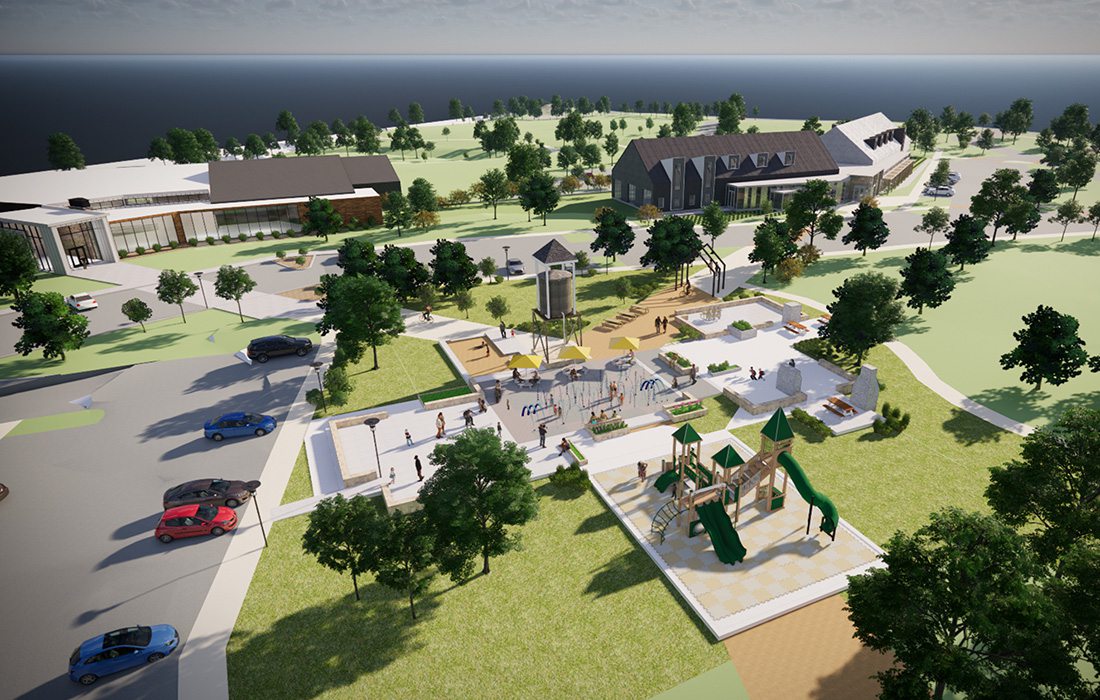 Grain Valley's population in 2001 was approximately 5,000––it now exceeds 14,000 and is expected to double over the next 20 years. This considerable growth has warranted the need for enhanced infrastructure and supporting facilities, and the city hired Sapp Design Architecture to make it happen. The project will include: a new City Hall, police department, planning and zoning department, recreation center, clinic, branch of the Mid-Continent Public Library and park featuring a splash pad, playground structures, educational pavilions and preserved green space for future growth.
The project is similar, though not identical to the Forward SGF process the City of Springfield is conducting, and like that process, Sapp Design Architecture held numerous public meetings to get community members involved and on board with the project. Sapp Design Architecture's vice president Jim Stufflebeam and project manager Kristi Beattie say public meetings throughout the process are vital in giving them direction and ensuring everyone has access to the same information. "If we can facilitate that [public input] and make their vision become reality, then I think we've done our jobs," Beattie says.
To gain a deeper sense of community perspective, Sapp Design formed a steering committee made up of various community leaders including the school superintendent, a local historian and an alderman just to name a few. "We had a group that could take the pulse of the community, and we would run different ideas by this group and get their input initially before we would go to a big public meeting to show ideas, designs or directions," Stufflebeam says. 
The essential nature of this renovation was agreed upon by many residents following surveys done by the city to gauge what locals considered paramount, which also included preserving part of the city's unique history. Ponderosa, formerly known as Sni-A-Bar farms, was purchased in 1912 by community leader and co-founder of the Kansas City Star, William Rockhill Nelson. Although most well known for the cattle experiments that took place there over the years, Nelson built an expansive farmhouse on the property that holds a great deal of significance within the community. "We're going to preserve in that park, that central piece of parkland," Beattie says. "We're going to preserve the footprint of the original farmstead underlying Rockhill Nelson's leadership and define that as play spaces and little learning areas and pavilions." The master plan was adopted by the city, but the funding to move forward with construction has not yet been voted on by citizens, says Beattie.