Family-Owned
Ample Industries: Mastering Sticky Business
Natalie Spradlin says members of her family have always loved innovative gadgets. So it was no surprise that her father, David Menzies, was smitten by a new-fangled, press-to-print peel and stick label while attending a trade show back in 1968.
By Sony Hocklander
Sep 2020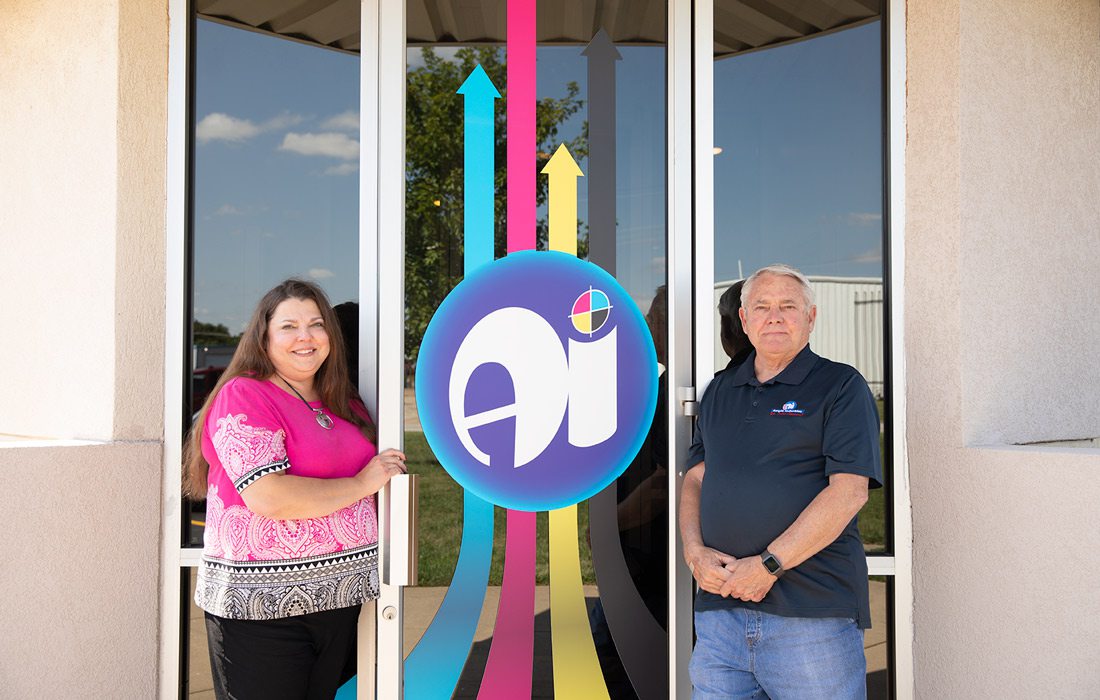 After working for a local commercial printer, David Menzies decided it was time to start his own small business. At a 1968 trade show in Chicago, he discovered a new kind of press with rotary die cut printing for pressure-sensitive labels that peel and stick. After installing the press in his garage, Menzies launched Ample Industries, where he sold by day and printed by night. Most printed labels back then used dry glue, which requires users to wet the label before applying. Menzies' new labels were a game-changer. They were "a whole new way of doing it, really ground floor stuff," Menzies recalls.
That was nearly 52 years ago, and today that original press is on display in Ample's Nixa facility lobby. Menzies' daughter, Natalie Spradlin, is now president of Ample, which has 68 employees. Serving regional and national clients, Ample's expanded services include digital, flexographic and thermal printing. That means Ample can print labels ranging from small runs to large and complex orders, Spradlin says, "and orders from $37 to $37,000." The Ample labels appear on a wide variety of products, from food and drinks to chemicals and medicines to industrial equipment.
"If you drink wine that was made in Missouri, chances are, our labels are on it," Spradlin says. They've labeled bottle water, container deli salads, Goodman's Vanilla, wine from Oklahoma, Texas and Arkansas and more. "And there are a lot of micro-breweries and spirits around now, and we are proud to have our labels on them," Spradlin adds.
Sticking With It
Initially, Spradlin says her father's big client was Royal Typewriter. But eventually, changes within Royal Typewriter lost him the business. "That's the day he kind of became a real salesman and learned how to go and sell because his main customer had closed down," Spradlin says. Slowly business grew. Menzies moved out of his garage and expanded operations at a downtown location. After landing his next big foundational clients, Zenith Electronics and Hiland Dairy, Spradlin says, Ample needed more space. In 1978, the company moved to Nixa and today operates out of a 50,000-square-foot facility. After pursuing a degree in education and working for a time as a music teacher, Spradlin joined the family business in 1994.
Growing the Brand
Ample Industries grew organically, primarily through referrals, Spradlin says. Around 1990 the company landed a subcontract job to label insulating foam on microwave meals and toddler foods for Gerber Products Company. "We were much smaller than we are now," Menzies says, "but everybody was absolutely proud."
Once Ample printed for Gerber products, other clients followed—including their top national account (whose name Spradlin couldn't disclose) that needs billions of labels each year. Ample invested in new technology to serve that client, which in turn attracted other customers. Digital printing is a lot more like running a computer than a press, Menzies says. "Probably the best thing about this business is that the technology has changed rapidly enough throughout 50 years that it's always been exciting," he says.
"There's always new things coming. You could do it better and faster. The quality of the product kept getting better." It's a challenging business, Menzies says, but now it's Spradlin's challenge. Spradlin notes that when COVID-19 ramped up, they didn't know if that would hurt revenue. It had the opposite effect, she says. People are staying home and eating at home. Many of their clients have food and drink products, needing more labels than ever. In addition, she says, "we've probably printed 1.5 million hand sanitizer labels."
Strategy for Success
Spradlin credits reputation and referrals for growing a strong business: "It doesn't matter the size of the customer you are doing business with; their referral is possibly more valuable than the business you're doing at that time. So if you know you're doing the best job you can for them, they will tell other people." Do what's best for the customer, she says. "Our salespeople have always been told, 'You work for your customer. You don't actually work for Ample. You take care of them and make us do what they need.' And they have taken that to heart."
She also recommends in-person sales calls and "tending the garden" instead of just networking or email communications. Drop by and talk to people; learn what a business might need, she says. "Eventually, when someone disappoints that company, they will remember that you came by and showed an interest in what they were doing. We've gotten a lot of great customers over the years using that technique."