Family-Owned
The Next Generation of Rick's Automotive
Forty-one years after starting his family business, Rick Hughlett is preparing for the next generation to assume daily operations as he steps into a new role as chairman of the board.
By Kate Duby
Nov 2021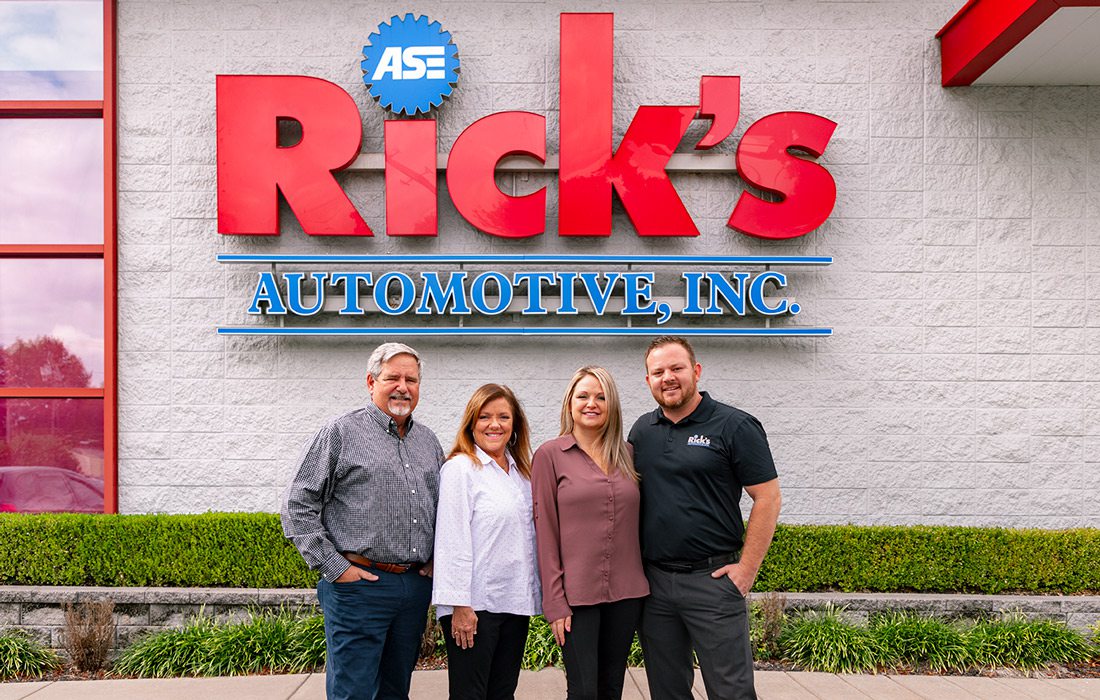 Rick and Karen Hughlett were newly married when they started laying the groundwork for Rick's Automotive. When Rick's opened for business in 1980, the couple had no idea how rapidly the company would grow in the next decade––let alone the next four. 
The shop started out as a small-team operation in a building that could hold about five cars at a time. Rick managed repairs; Karen did the bookkeeping, and another employee ran parts, drove customers home and helped clean the shop. From there, the company began to grow. 
"In 1987, we built a new shop right next to the old one, and we were able to get 10 cars in there," Rick says. "We had grown to about 10 employees, and it was a perfect size. We didn't need anything but that." 
The Hughletts have now been married for 46 years, and Rick's Automotive employs 41 staff members and services 120 fleet accounts of various sizes. Some of their customers have been doing business with Rick's since its doors opened in 1980. 
"We've worked on their cars, we've worked on their kids' cars, and now we're working on their grandkids' cars," Hughlett says. 
After building the business together, Rick and Karen are ready to step back from daily operations and spend time traveling together. Their son-in-law Travis Comfort will take over as president, leading alongside his wife and the Hughletts' daughter, Kala Comfort. In his new role as chairman of the board, Rick will continue working closely with Travis when there are major decisions to be made. 
"We're here for the long haul, and Travis is even talking about (the business) going into the third generation with his boys," Rick says. 
Kala and Travis have been with the company for 16 and 12 years, respectively. Travis started out as what's called a porter—sweeping bays, working around the technicians and assisting them with anything they needed. He then became a parts runner and eventually worked his way up to oversee the parts department. For the last couple of years, he has served as an advisor and handled the day-to-day operations of the company. "Learning every aspect of the business really helps me know the ins and outs," Travis says. "I'm in this position now, and I can relate to everybody, every employee at the shop." 
During these leadership changes, Rick is focused on making the transition seamless for his customers. His business model has always centered around making customers, old and new, feel welcome and valued. 
"I don't want our traveling to affect the experience that the customer has coming into that door," Rick says. "I want them to feel no difference, because for probably the better part of ten years, I've basically been doing office work and running the company from the 30,000-foot level, and (Travis and Kala) have been running the day-to-day operations anyway." 
As he looks to the future, Travis says to anticipate "no major changes––it's really just adapting with our industry. Rick's built a great place. We have such a great group of guys that I can lean on to do their job, and I don't have to constantly tell them what to do. We just have a great atmosphere going, and we're family-oriented. I'd call all my coworkers family." 
Travis and Kala will lead the company into the electric car market. The team has been gearing up for industry changes that come with technological advancements, and they've taken time to learn about equipment updates and new types of fuel that will power the next generation of cars. The company has worked on hybrid cars for years, and so far, it has had no issues working on electric cars including Teslas. 
Travis is no stranger to technology, to the automotive industry or to stepping into new roles. In addition to more than a decade of experience at the company, he has a business degree from Missouri State University and a sharp knack for working with computers. While he credits Rick as his mentor and the person who made it all happen, he is prepared and excited to lead the company in a new direction. 
"Of course, there are some big shoes to fill walking in Rick's footsteps," Travis says. "He's the true success story of making nothing into the big corporation where we are today. Obviously, Rick's there mentoring me on some big issues, but (with) a lot of things… I can't keep worrying myself about living up to Rick. I have to choose to be myself and do things my way, and the way he's taught me, at the same time." 
Rick says the staff are excited for what the future holds as Rick's Automotive continues to embrace and adapt to the exponentially growing market for electric vehicles. 
"It takes a young mind––it takes the energy––to stay in there and stay up with all this new stuff," Rick says. "We've got a staff that's excited about it, our techs are excited about it, and it'll take Travis and Kala to lead us into that generation."