Family-Owned
New Leadership, Same Heart at the Heart of America Beverage Company
Mindy Ferguson Hoff brings 20 years of beverage industry experience and a people-first mindset to her new role as the leader of Heart of America Beverage Company.
By Ren Bishop
May 2022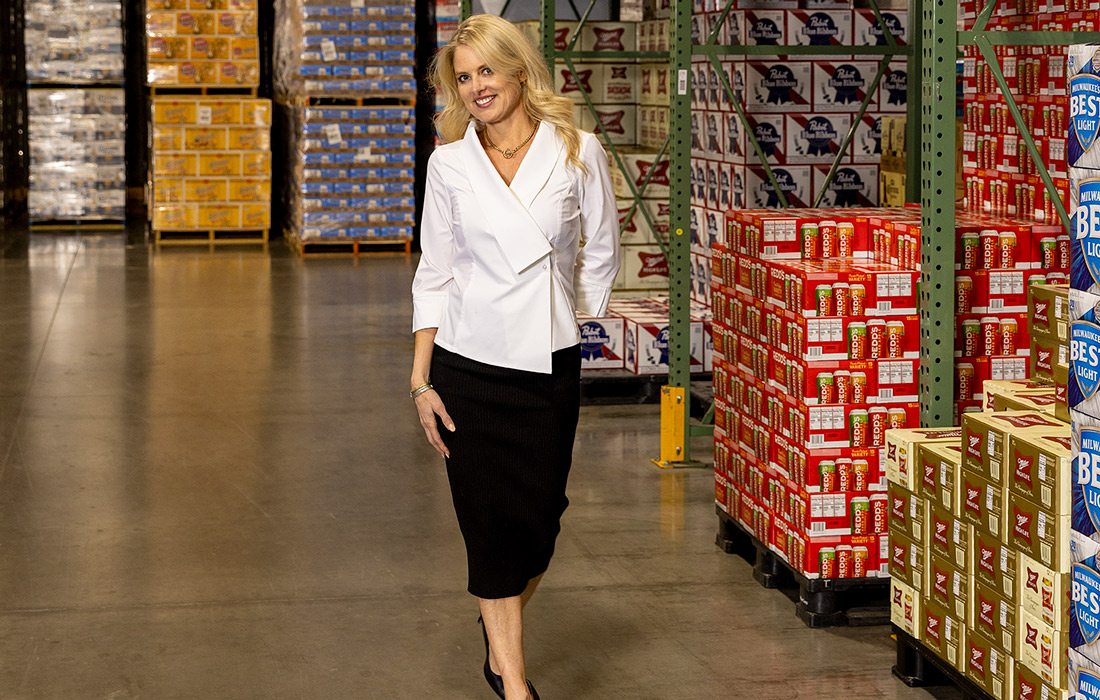 Mindy Ferguson Hoff began her career behind a bar and in front of a camera. An actress, cocktail waitress and bartender on the Sunset Strip, Hoff hustled to pay her bills as a working actress for nearly five years in Los Angeles. From thousands of customer interactions to thousands of cocktail pours, she developed a keen insight into her ultimate destination: serving customers through exceptional experiences.
"The life experience and skills I gained bartending helps me with every part of my role now," says Hoff. "But serving people isn't just bartending, it's the way I live my life in every aspect."
On November 8, Heart of America Beverage Company named Hoff president. Prior to leading the 44-year-old major beverage distributor, Hoff served the company as vice president of financial analysis.
Before that, she gained an arsenal of professional skills through many passion projects. From 2003 to 2013, she founded, operated and expanded successful after-school athletic programming companies Show Stoppers and Show-Me Sidekicks. She worked as a merchandiser and was eventually promoted to a sales representative for Monarch Beverage, a major Indianapolis-based alcohol distributor. 
But for Hoff, Heart of America was coming home. Her father, Jim Ferguson, started the business in 1978. "Growing up, my father always supported me to dream big, to do big things," says Hoff. "I was raised by my father and stepfather, both incredible entrepreneurs, both who ran family businesses. But they never expected me to join the business. They always gave me room to grow, and that's what I'm going to do now. I'm going to grow the business."
On a mission for excellence, Hoff has three goals for growing the beverage company, and none of them are focused exclusively on numbers. People, not profits, are her passion and purpose, she says.
"I want to grow the business by increasing employee satisfaction, bringing in new products and developing a reputation of excellence for our company through relationships," she says. "I want people to work here because it's the best place to work in our community, not just the best beer company."
The company is growing, hitting a milestone of 200 employees this year, up from 165 employees in 2016. Heart of America has also experienced five years of year-over-year growth, even with a significant loss of bar and restaurant clients that shuttered during the pandemic. And Hoff knows that, by focusing on people, more growth is possible. "I wanna rule the world," she says with a laugh. "I want to be the best. I want to be the leader in this region in this industry, with more market share. I'm on a mission."
From walking the floor of the 148,600-square-foot warehouse each morning to spending the day job shadowing every role at the company, Hoff is determined to lead the next two years by learning every detail and aspect of Heart of America's business. By mastering her company's current protocols, as well as digging deep into data alongside CEO Lance Foresee, she hopes to continue the company's overall growth for the next generation.
"After I put my three kids to bed at night, I'm up for hours on my laptop, learning this business," says Hoff. "I listen to every podcast, read books and trend reports. I want to know it all. I'm in education mode, because I want to know it backwards and forwards if I'm leading this team. They deserve that, and so does the future of this business."
At home, her young family supports her by encouraging her to dream big. She credits strength gained through a battle with infertility and a journey to adopt through foster care for her resilience, and Hoff's great nanny helps make sure all the pieces of her busy schedule connect.
A phone call away, her father is both a champion and mentor, providing insight and advice when asked. He's never pushed her, but always given her a choice to lead in the family business—a step critical to a successful transition from warehouse worker as a teenager to current Heart of America CEO. 
"My dad always encouraged me to strive to be better, with only that as an expectation," she says. "The greatest gift I was given was time to decide if I wanted to be in the family business. So now, I plan to do the same for my kids. There will be a structure in place for them to join us as third-generation owners and leaders. But that's an opportunity, not a gift. Just like how it was for me."