Family-Owned
How Two Brothers are Benefitting From the Demise of Big Box Stores
As they fill empty big-box properties with secure, climate-controlled self-storage units, Trent and Travis Overhue have found a strong market for stowing others' stuff.
By Susan Atteberry Smith
Jan 2020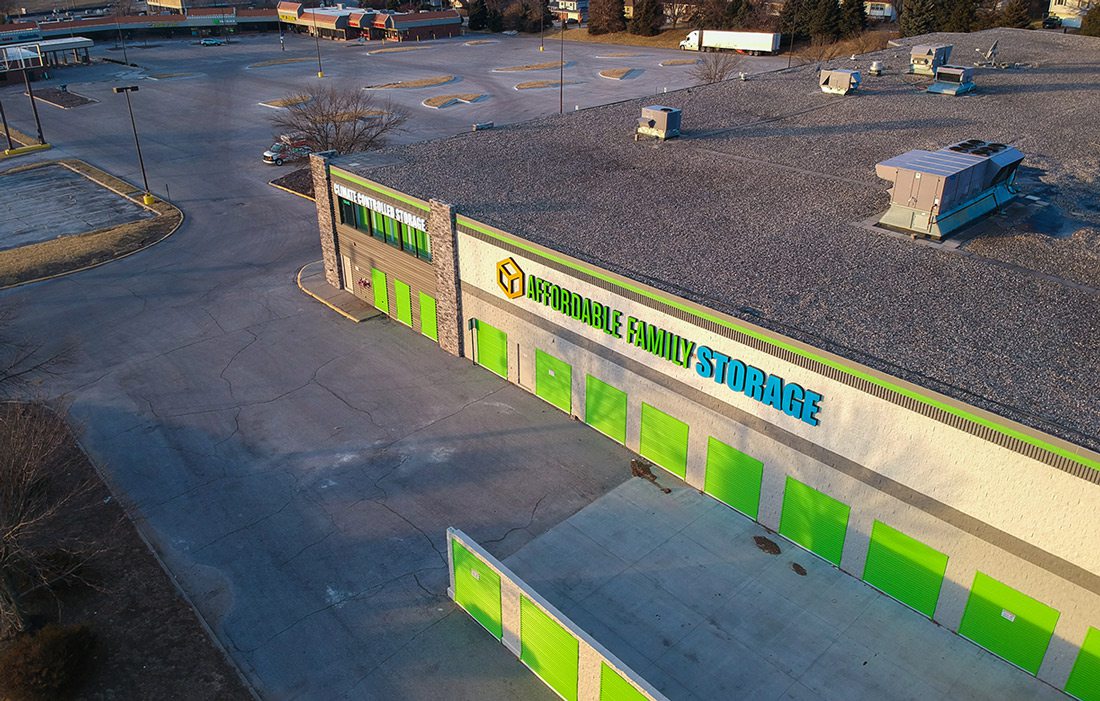 The Problem
By his senior year at Missouri State University, Trent Overhue had flipped more than 30 houses, all while studying for his construction science degree. By his mid-20s, he was ready to hammer out a new plan. "I just got tired of a whole lot of single-family rentals," says the 34-year-old Springfieldian. That's when he and Travis Overhue, his brother and business partner, started attending storage industry conventions. Seeing a market for more storage in southwest Missouri, they turned many of their rentals into self-storage facilities.
The Big Idea
Expanding their business as Affordable Family Storage more than five years ago, the Iowa natives first invested in an existing 80,000-square-foot self-storage facility in Republic. "That was a mismanaged storage property sitting 50% occupied that we were able to put in new management and fill it," Trent says. "We were able to fill the vacancy within four or five months just by utilizing proper management and technology." Then, they converted an Ozark warehouse into the company's first climate-controlled facility. After renting all the storage units there, Trent says they "kept the ball rolling" by seeking other vacant properties. "Along the way we've kind of evolved to where we buy a lot of the big boxes such as Kmarts, vacant grocery stores, shopping centers and well-located warehouses."

Trent and Travis's father, Frank Overhue, flipped houses in Iowa, and the brothers' construction upbringing came in handy as they turned empty spaces into secure, climate-controlled storage units. "All the storage properties we do, we remodel with our own crews," Trent says. "It's kind of like an extremely large house remodel except with a 100,000-square-foot Kmart. Most of them look nicer when we get done than most construction projects." Today, Affordable Family Storage owns more than 1.5 million square feet of storage space in Indiana, Iowa, Kansas, Nebraska and Wisconsin as well as Missouri, with 500 to 1,000 units at most facilities.
The Learning Curve
As the business grew, so did the challenge of recruiting specialized office staff. "Being able to do a good job on your management and your marketing and running a business properly is extremely important in self-storage," Trent says. "If you run a poorly managed store, you're just not going to be successful." Starting with one property manager, the company now employs more than 50, including facility managers as well as accountants, auditors, maintenance managers and marketing experts—"a full team," Trent says. And thanks to an economic downturn for big-box retailers, finding bargain properties is much easier for the Overhues.
The Takeaway
What Trent hopes will remain the same is the industry's "recession-resistant" nature, "because in good times people are building and moving and have a need for storage," he says. "And in bad times, people are downsizing and moving and also have a need for storage." As the company grows at more than half a million square feet a year, he credits his Springfield residential construction experience with opening doors to commercial endeavors. He advises others to look for ways to specialize, too. "I pose that there are a lot of different ways to make money in real estate," Trent says. "You need to just focus on a few areas and do a really good job at those and kind of carve out your own niche."
The reach of the Overhue brothers extends across the Midwest.
Affordable Family Storage Facilities
1. 5646 N. 90th St., Omaha, Nebraska 68134
2. 5000 L St., Omaha, Nebraska 68117
3. 1851 Madison Ave., Council Bluffs, Iowa 51503
4. 3400 E. 33rd St., Des Moines, Iowa 50317
5. 3401 Martin Luther King Jr. Parkway, Des Moines, Iowa 50310
6. 3900 121st St., Urbandale, Iowa 50323
7. 1920 Spruce St., Leavenworth, Kansas 66048
8. 240 S.E. 29th St., Topeka, Kansas 66605
9. 1801 W. 21st St., Wichita, Kansas 67203
10. 3100 S. Meridian Ave., Wichita, Kansas 67217
11. 2601 Industrial Drive, Jefferson City, Missouri 65109
12. 10901 E. Washington St., Indianapolis, Indiana 46229
13. 3910 W. Bethel Ave., Muncie, Indiana 47304
14. 3833 South St., Lafayette, Indiana 47905
15. 5851 S. Packard Ave., Cudahy, Wisconsin 53110.