Leadership
What You Missed from Biz 417's Virtual Women Who Mean Business B-School
Sally Hargis, Dianna Devore, Carmen Parker-Bradshaw, Debra Shantz Hart and Jena Holtberg-Benge all speak about COVID-19, making career moves and where they find inspiration.
by Jenna deJong
Apr 16 2020 at 3 p.m.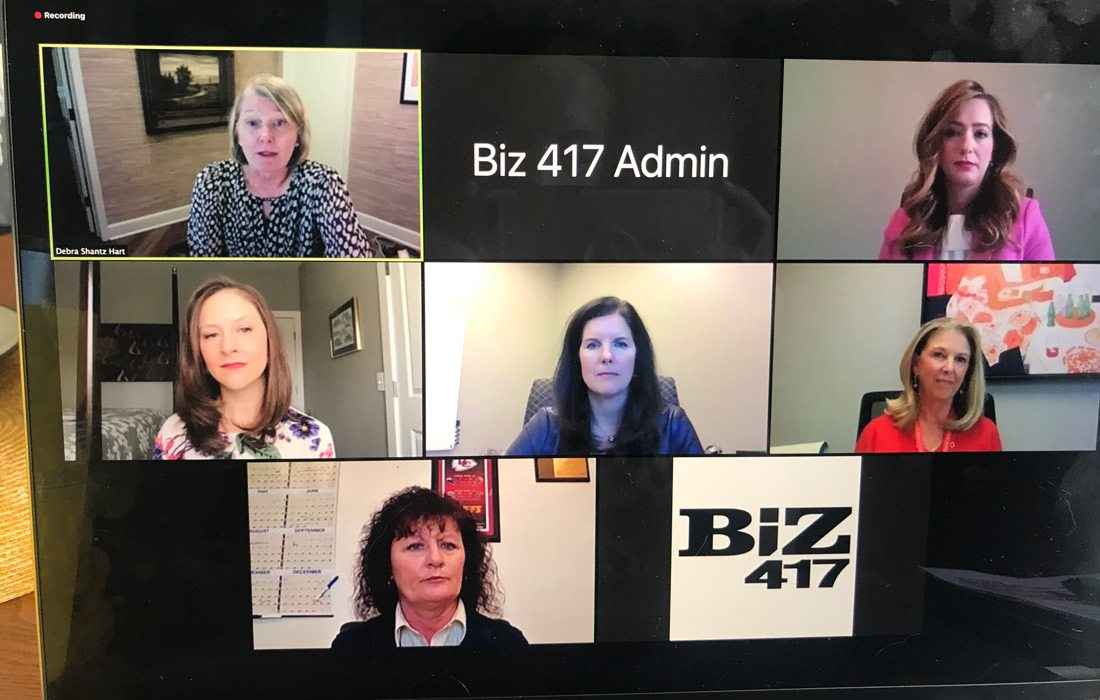 COVID-19 has canceled a lot in southwest Missouri. Networking events are postponed, offices are closed and businesses are redefining how they operate. It's safe to say a lot has changed since we published our annual Women Who Mean Business feature. Our five honorees are just like the rest of us—they're navigating their businesses through the unknown and using every day to reassure their employees. On Thursday, April 16, we hosted Jena Holtberg-Benge of John Deere Reman; public health expert Carmen Parker-Bradshaw; Debra Shantz Hart with DHTC Development, Housing Plus and Sustainable Housing Solutions; Sally Hargis with Ozarks Coca-Cola/Dr Pepper Bottling Company; and Dianna Devore of Design Fabrication for our first-ever virtual B-School Breakfast Series. During the hour-long video conference, attendees learned how these women are guiding their companies through a pandemic, where they go for inspiration on rainy days and even participated in a few polls.
On the local response to COVID-19:
Before diving into the programming, public health expert Carmen Parker-Bradshaw commended community leaders for their "vigilant" action to contain and eradicate COVID-19 from southwest Missouri. Parker-Bradshaw pointed out that Greene County's numbers look promising; with 78 cases and seven deaths, the City of Springfield, Springfield-Greene County Health Department, local health institutions, first responders and more seem to have a handle on the local outbreak. Nevertheless, Parker-Bradshaw stressed the importance of reopening the community slowly and carefully.
On their reactions to the pandemic:
John Deere Reman's Jena Holtberg-Benge said that business is operating as usual, with a few tweaks to make sure the company's following the Centers of Disease Control and Prevention  (CDC) guidelines. She said the company is using 3D printers to produce face shields for all employees in the building, which Holtberg-Benge said she uses every time she visits the restroom or grabs a drink of water. Though it's been an adjustment for employees, Holtberg-Benge said it's provided staff comfort as they continue their work.
Dianna Devore of Design Fabrication and Sally Hargis of Ozarks Coca-Cola/Dr Pepper Bottling Company have also worked their operations around current events. Devore said that while she's encouraging her employees to be as honest and transparent as possible about their health, she's also trying to maintain a semblance of normal cultural traditions, like celebrating birthdays from a safe distance. And as the head of a manufacturing plant, Hargis is using her resources to fill various needs in the community. When Prime Inc. needed to divide its large barrels of sanitizer into small samples for drivers, Hargis said Ozarks Coca-Cola stepped in to help.
On making bold career moves:
All five women have taken a leap of faith at some point in their careers. For Shantz Hart, launching her own company after working for John Q. Hammons taught her to not take no for an answer and to be persistent. After an international business meeting went wrong, Holtberg-Benge learned what it means to collaborate, including finding out who has the decision rights. Through her family's 100-year legacy at Ozarks Coca-Cola, Hargis has discovered it's smart to utilize your resources to prepare for the future. When Devore walked into her first meeting with the Springfield Contractors Association, she said she didn't pretend to know everything and learned that if you're eager to learn, someone else is eager to teach. And for Parker-Bradshaw, who has experience being the youngest person in the company, the greatest reward comes from stepping outside her comfort zone.
On where they find inspiration after a bad day:
COVID-19 has left a lot of people on edge, and these five women are not immune to discouraging moments, including Holtberg-Benge, a self-proclaimed "eternal optimist." For Holtberg-Benge, getting outside and going for a run helps clear her head. Wine, humor and her father are Hargis' primary sources of inspiration, and Shantz Hart has taken to her Peloton for when she can't walk her dogs outside. Parker-Bradshaw also relies on her husband's jokes for a much-needed giggle, but in moments of reflection she also asks herself three questions to help her self-assess: Am I doing the right thing? Am I giving this my absolute best? Is my judgment in check?