Life
Tiger Woods Golf Courses Coming to 417-Land
A 19-hole course located at the former site of the Murder Rock Golf Club will be called Payne's Valley. A second par-3 course will come to Big Cedar Lodge.
By Adrienne Donica
Apr 18 2017 at 11:35 a.m.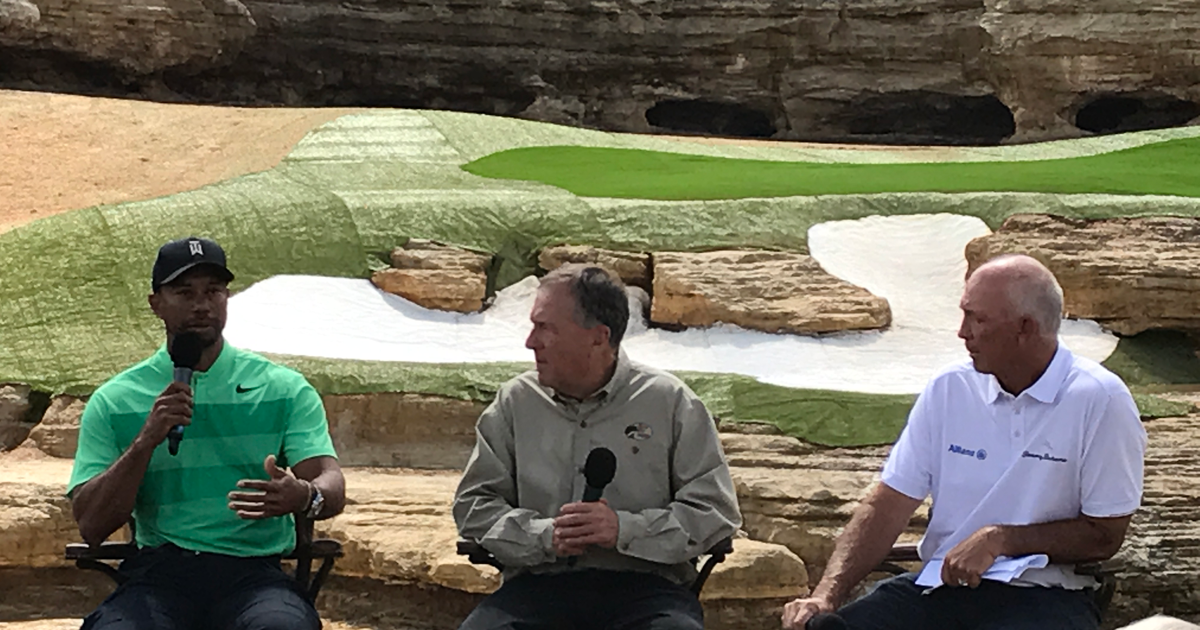 A month after Mark Wahlberg hit the greens at Buffalo Ridge Golf Course, Tiger Woods came to 417-land with a big announcement: The first public golf course he will design in America will be part of the Big Cedar Lodge empire.
Payne's Valley, a 19-hole championship course, will take over the space where Murder Rock Golf Club once operated. Johnny Morris, owner of Big Cedar Lodge and Bass Pro Shops, purchased that land in October 2013. 
Morris owns the Top of the Rock and Buffalo Ridge Springs golf courses. Now with four courses in some stage of development, Morris is aiming to bring the Branson area on par with other golf destinations in the country and one day maybe even host a PGA Championship. Here's how that could happen.
Payne's Valley
TGR Design, the golf course design firm owned by Tiger Woods, and Big Cedar are paying tribute to Springfield native Payne Stewart, winner of three major titles on the PGA tour, by naming the new course Payne's Valley. Stewart died in a plane crash in 1999.
Woods met Stewart at the 1997 Ryder Cup. Stewart pulled Woods and golfers Justin Leonard and Jim Furyk aside and said, "Boys, I know this is your first Ryder Cup. Just don't suck this week." Stewart and Woods became friends who frequently pulled pranks on each other. "To have the opportunity to represent Payne and his entire family and what he's meant to the state of Missouri, to the Ozarks, it's an honor for me," Woods says.
One of the special features of the championship course, set to open in 2019, is its 19th hole, which will be called "The Rock." The bonus hole sits at the bottom of a cliff, on top of which is a club house. Morris says it will be a place to settle unfinished wagers just like one Stewart used at Hickory Hills Country Club. Other features will include eye-catching bunkers, elevation changes and rock features. 
"Our goal is to try to create an environment that people are going to enjoy," Woods says. "I want people that play Payne's Valley to be able to say, 'I want to come back and play it again.' That, to me, determines success."
 
Fairways Already Underway
Scheduled to open this spring, the Gary Player Mountain Top Golf Course in Ridgedale is a 13-hole course for players of all ages and skill levels. Construction is still underway for the short-course, designed by professional golfer Gary Player. 
Next year, golfers can expect to visit another new course called The Ozarks Golf Course. Bill Coore and professional golfer Ben Crenshaw are designing this 18-hole championship level course.
 
Legends of Golf
Since 2014, Big Cedar Lodge has hosted Legends of Golf, a PGA Champions tournament, at the Top of the Rock and Buffalo Ridge Springs golf courses. Current PGA Tour Champions are paired up to compete for the the official tournament title, and the series also includes the Legends Division, featuring iconic players like Jack Nicklaus and Gary Player. This year's tournament kicks off April 19. Buy tickets here.
 
New Course at Big Cedar
TGR Design company is also designing a par-3 short course at Big Cedar Lodge for beginners and kids. Morris described it as putt-putt on steroids.
Woods got his start golfing on a par-3 course. "My favorite golf in the world is played on the ground," he said. He added the sport is facing challenges with getting new players engaged because kids are more focused on cell phones and electronic devices. Woods named the speed of play and accessibility as two factors that need to change in order for families and kids to start playing.
Campers from Kids Across America, which Morris has supported in the past, will have free access to Payne's Valley.
Read more about Bass Pro Shops founder John L. Morris's empire here.
Things to Do in Branson, MO
From exceptional entertainment and fine dining, to family attractions and cozy accommodations, Branson has all the elements you need to check off on your weekend getaway!