Offices
The Office Must-Haves for 2022
Get out your wishlist because the hottest office accessories and styles are here.
by Ettie Berneking
Nov 2021
The new year is almost here, which means it's time to take a look at the new trends and products that will be making a big splash in the workplace in 2022. And after talking to the team at Grooms Office Environments, one thing is crystal clear—2022 will welcome in a new era of comfort and hominess. We like to think the #WFH lifestyle had something to do with this, but we'll never know. Now let's dive in and learn about the eight items Grooms predicts will be a huge hit in the coming year.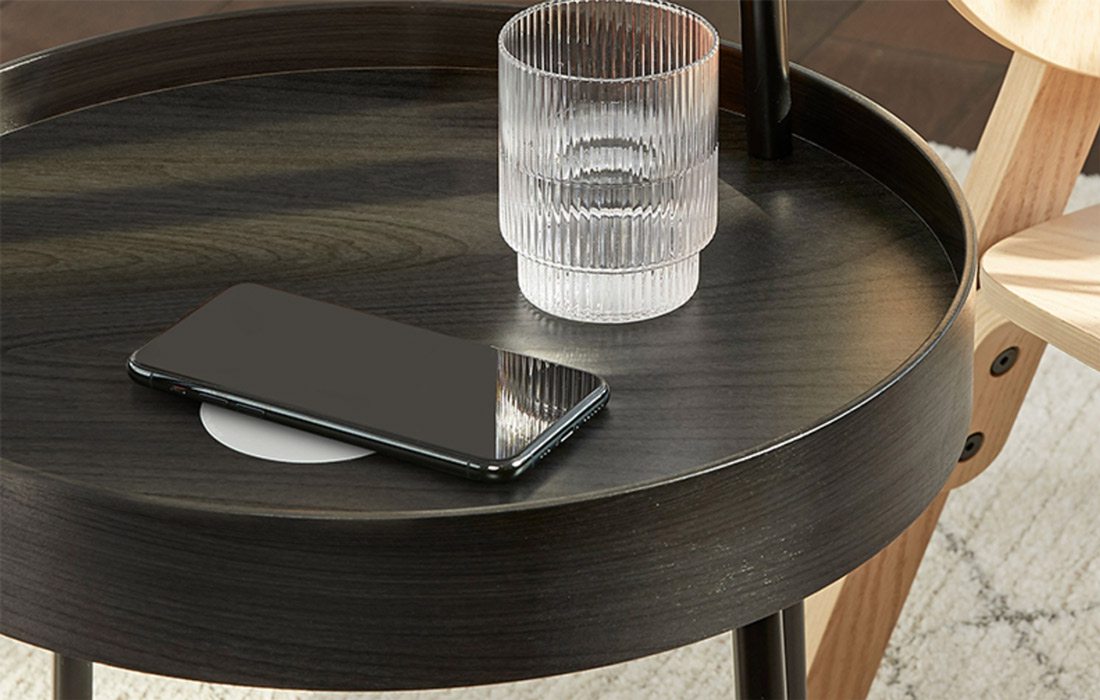 1. Wireless Charging Stations
Why We Love It: Chances are, you've already seen these charging docks. These little grey disks are sleek in design, don't take up much real estate on your desk and will soon be a staple in office break rooms and reception areas. "Instead of plugging your phone into a cable, you simply place your phone on top of the charging location, and you can designate it with a simple sticker if needed, and it will start wireless charging," says Victoria Gorham, Sales Manager at Grooms. "Many have seen them for nightstands, but you'll start to see them popping up at airports, public spaces or meeting room tables to be more user friendly."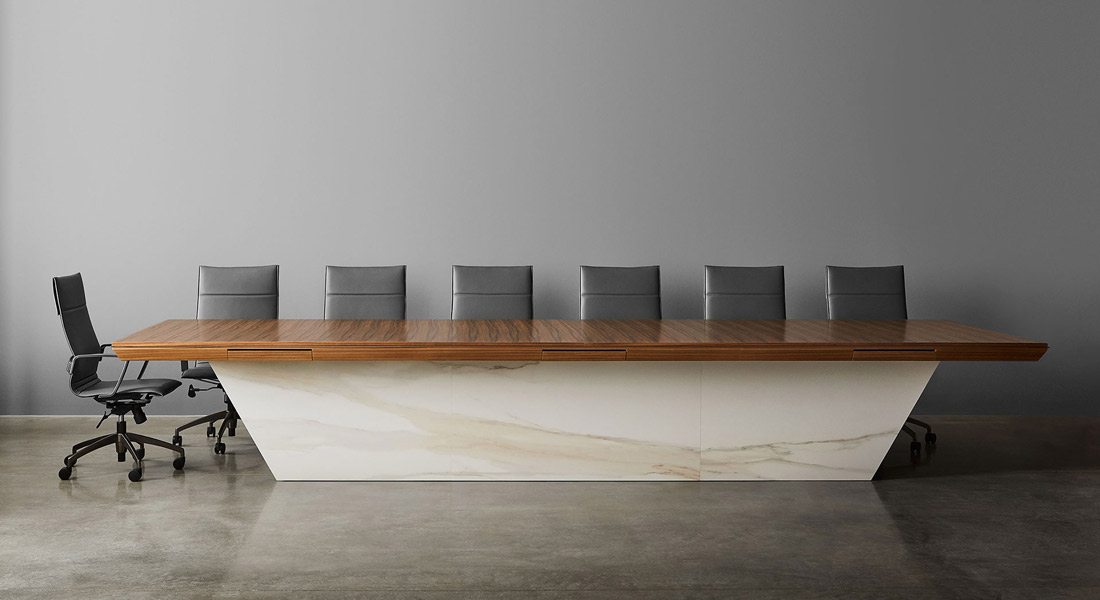 2. Tonal Stones
Why We Love It: "We went to Chicago this year for the NeoCon trade show, and one of the overwhelming trends we saw that will come out everywhere is the return of natural material, specifically stone," Gorham says. But instead of the classic, cool color palette of greys and white marble, the hot new look in 2022 will be a bit of a throwback. Gorham says stones with warmer tones like browns, golds and copper will be everywhere. "You'll see it in coasters, planters and table tops," she says. "But it will also be making a statement with large conference tables where the entire top is stone or wall accent panels made of stone." If the rise in stone already sounds familiar, Gorham says that's because 2020 saw the comeback of terrazzo—the almost collaged-style composite material made of pieces of marble or glass.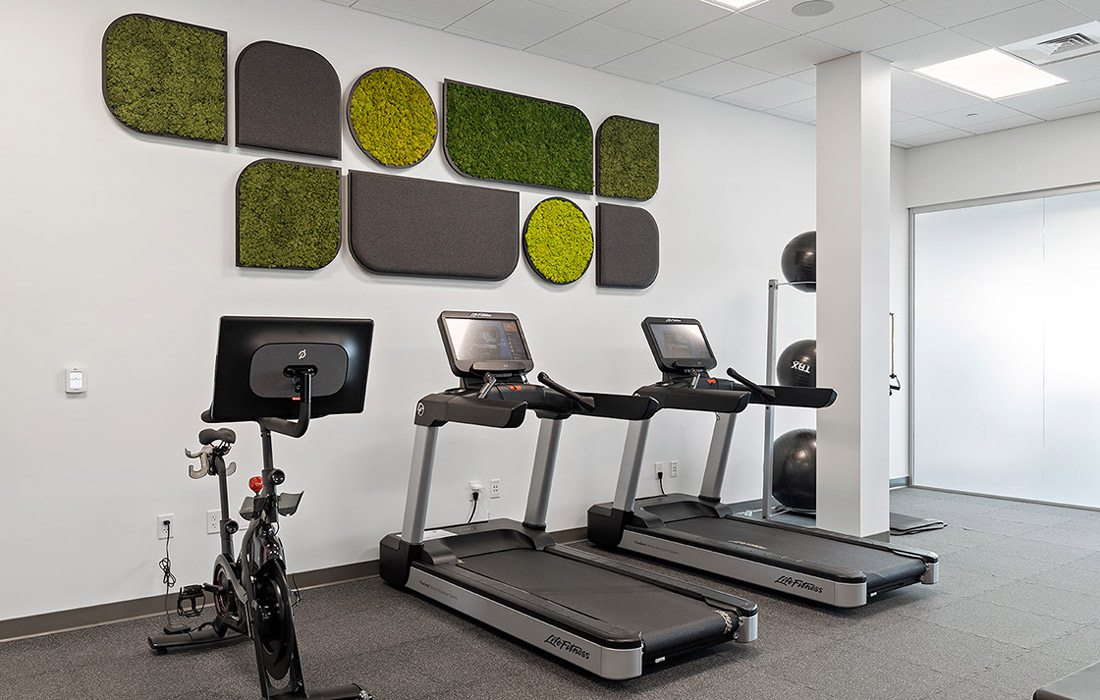 3. Noise Cancelling Moss Panels
Why We Love It: Living walls were all the rage in 2019, and now there's a new and updated version that pulls double duty. Get ready for the rise of moss walls. "These panels look great and add greenery to your space, but they also absorb noise," Gorham says. "Because they come in different shapes and sizes, you can treat them almost like art and arrange them in all sorts of ways. This is a great option for someone who would rather add greenery versus art to their office."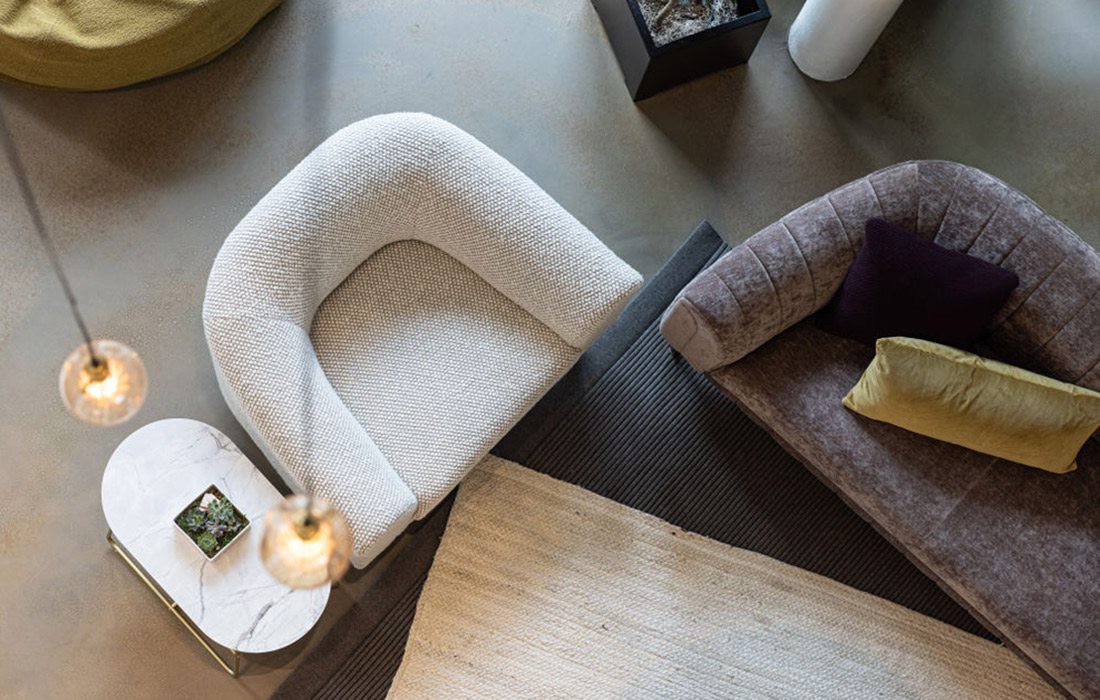 4. Curves
Why We Love It: Goodbye rigid straight lines. The new year will be all about curves. "You'll see curves coming back in all facets," Gorham says. "We're seeing this in credenzas, sofas, conference tables… curves are back!" This style really took the design world by storm from the 1950s to 1970s before it was eventually edged out by more angular, modern designs. But now that it's back, we're welcoming the bulbus curves and pop-art style with open arms. This look is playful and welcoming while still polished and professional.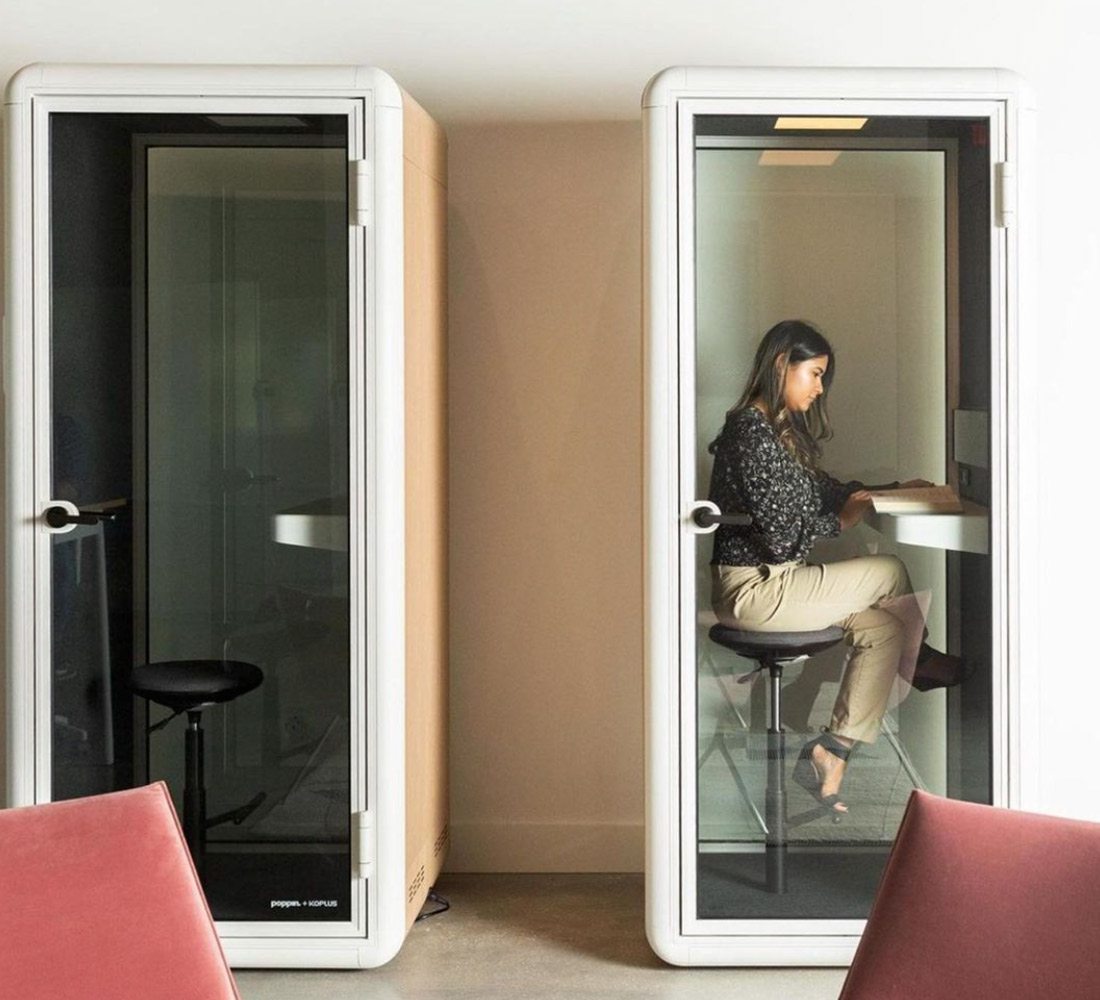 5. PoppinPods
Why We Love It: The shared workspace isn't going away anytime soon, and while we love the increased collaboration this style of office encourages, we still need a bit of privacy now and then. That's where PoppinPods are handy. These sound-proof cubes can be installed just about anywhere and come in a range of sizes. So if your office needs a spot for a team member to step away and take a phone call or have a one-on-one meeting, without the real estate or ability to build a physical room, the pod is the perfect spot. "They're so easy to add if your office design doesn't allow for much privacy," Gorham says. "Having these simple private spaces essentially gives your employee a modern-day phone booth. Allowing them a place to pop into as needed without a reservation or taking up the meeting rooms that always seem to be hot commodity."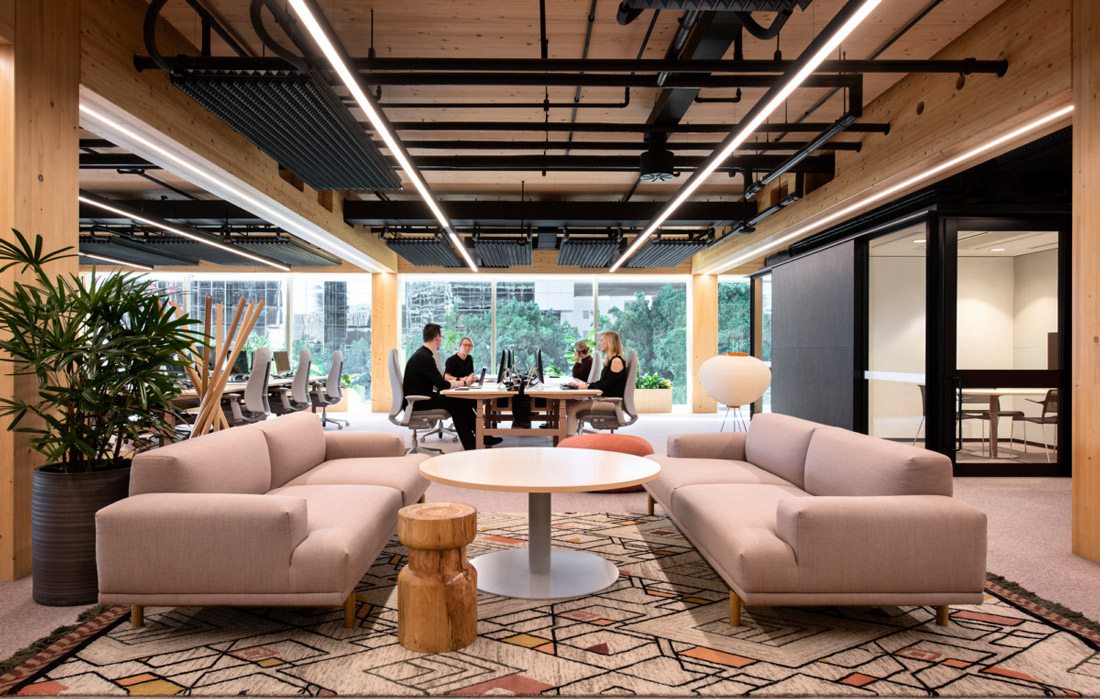 6. Rugs
Why We Love It: Rugs are an inexpensive power tool in your arsenal of office decor. They create a focal point, they can add color and whimsy or play up a minimal and modern palette. "You just have to have them," Gorham says. "They make your space homier and they add layers and depth in your workspace. We're seeing more offices add rugs to casual meeting spaces where they need to designate breakout areas or to breakrooms where they want to create a more laid back atmosphere that's easy to switch out every few years. The magic of rugs is they can help you create whatever atmosphere you want."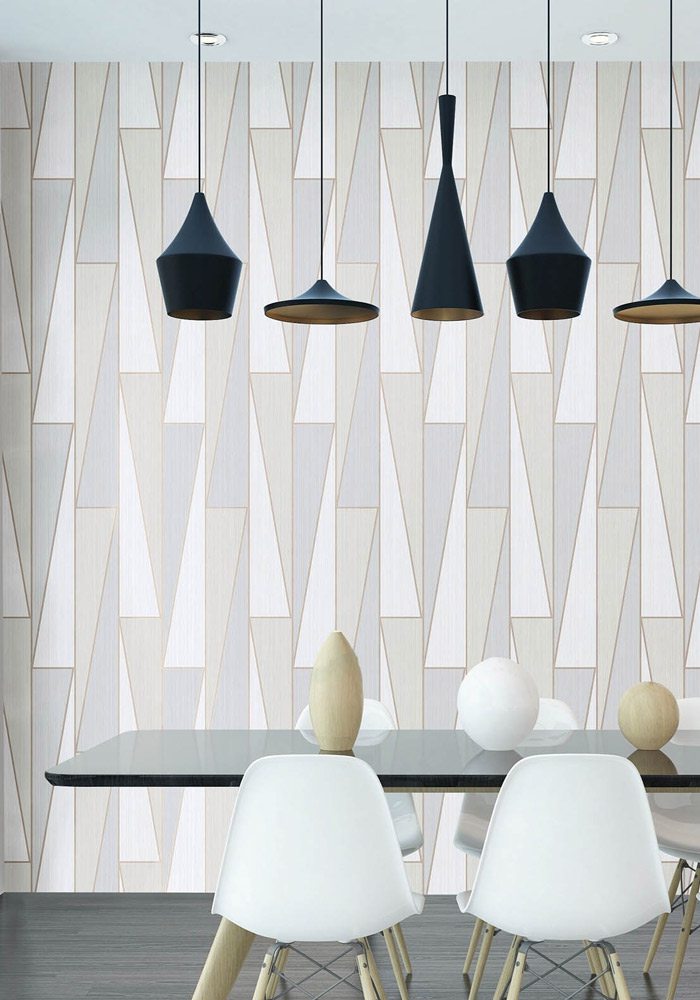 7. Wallcoverings
Why We Love It: There was a time when wallcoverings were all the rage. Then it seemed like everyone collectively moved away from them, and all-white walls were the new "it" look for a long time. Now, finally, wallcoverings are back! "They add fun patterns and artwork," Gorham says. "But the nice part is they can add those elements on a large scale, so you really revamp an entire room by just adding a wallcovering." Grooms loves the look so much, the company added a colorful wallcovering to one area of the office to create a pop wall. Gorham says she's even seen clients add wallcoverings to their ceiling to draw the eye up.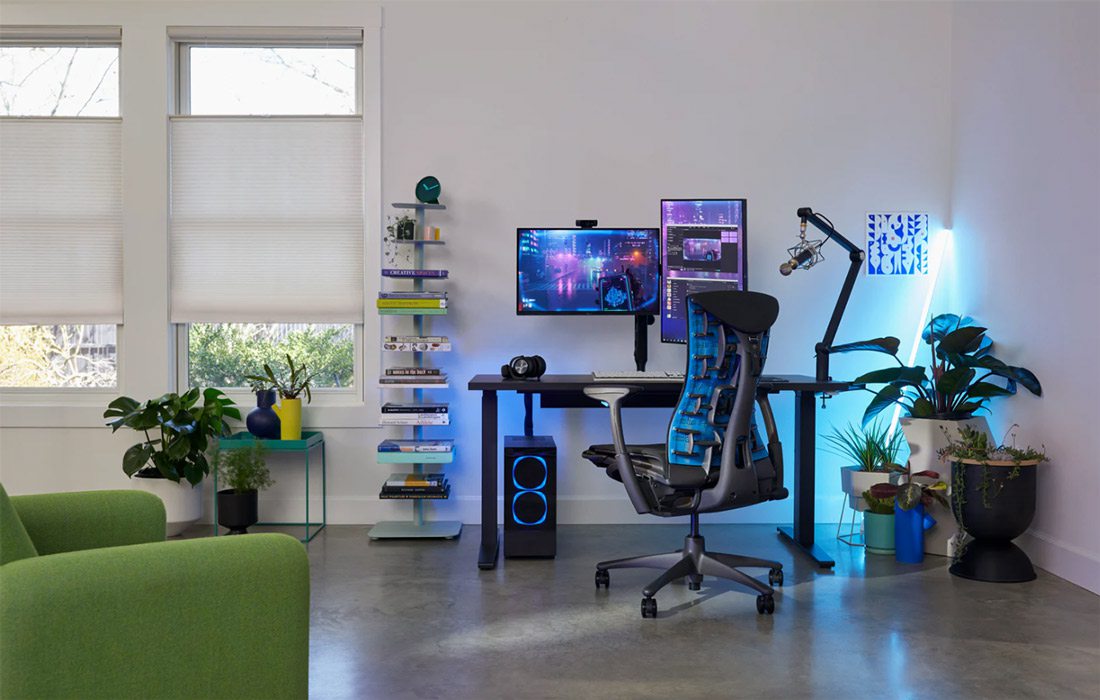 8. Gaming Chairs
Why We Love It: Grooms has been an advocate of Herman Miller office chairs for a long time. Their designs are world leaders in ergonomics and the positive effects are undeniable, so now that Herman Miller has teamed up with Logitech to create a family of gaming chairs, Grooms is obviously excited. One of their most popular gaming chairs, the Embody, takes a renowned office chair that is design to be used for 40+ hours a week a new home for gamers who should be utilizing the same technology to be gaming more ergonomically. The new chairs are a great option for those who have eSports teams like Drury and Missouri State University. The chair takes the classic Herman Miller Embody design and adds an extra layer of foam for lasting comfort plus a copper-fused cooling foam technology to prevent heat buildup while you're seated.
Grooms Office Environments
For more than 44 years, Grooms Office Environment has provided commercial interior design services including furnishings, space planning, and project and move management as a full-service Herman Miller dealership. Whether you need a new office chair, design for your new office space, or to furnish an entire a new building, Grooms' expertise can work for you. A few of Grooms' clients include CoxHealth Network, Jack Henry, Legacy Bank and Drury University.