Women in Business
What You Missed from Ladies Who Launch 2020
Didn't get the chance to tune into our annual conference geared for southwest Missouri's working women? We've rounded up a few top takeaways.
By Jenna deJong
Jul 16 2020 at 7 p.m.
Though this year's Ladies Who Launch conference looked a little different, the day left audience members still on a high from the plethora of motivational speakers and educators. Nearly 350 viewers were tuned in at any given time to watch the four-hour-long conference, emceed by Dr. Alina Lehnert, founder at Lehnert Leadership Group, LLC. In addition, Volt Credit Union gifted registered attendees branded socks, and during the conference, attendees were encouraged to snap a photo of themselves wearing them and post to social media using #85kSparks. For every post, Volt is donating $5.00 to either Safe To Sleep, The Victim Center, or Women In Need. All of these charities are focused on lifting up and supporting women in our community.
Think Like an Entrepreneur
Nancy Allen, bestselling author of the Ozarks Mystery Series and former lawyer
Though she's never owned her own business, Nancy Allen knows a thing or two about what it takes to sell something successfully. Through vivid and lively storytelling, Allen took the audience on a journey through her career path, touting the moments she persevered and noting when she knew to walk away. At a young age, Allen, who was then one of the first female attorneys to work in the Greene County Prosecuting Office, knew she wanted to publish a book. Though it only took her six months to write her first novel, which was based in 417-land, it took her over a year and a half and over 200 letters to find the right agent willing to represent her and land a deal with one of New York's largest publishing firms. Allen's determination and grit not only landed her a deal with one of those publishing firms, it also led her to bestselling author James Patterson and a few potential TV and film deals. To think like an entrepreneur, Allen advised the crowd to work like crazy, to be who they are and not apologize for their roots, to identify the advantages innate to their own experiences, to believe in their cause and to throw conventional rules out the window when nothing is working. 
SPONSORED BY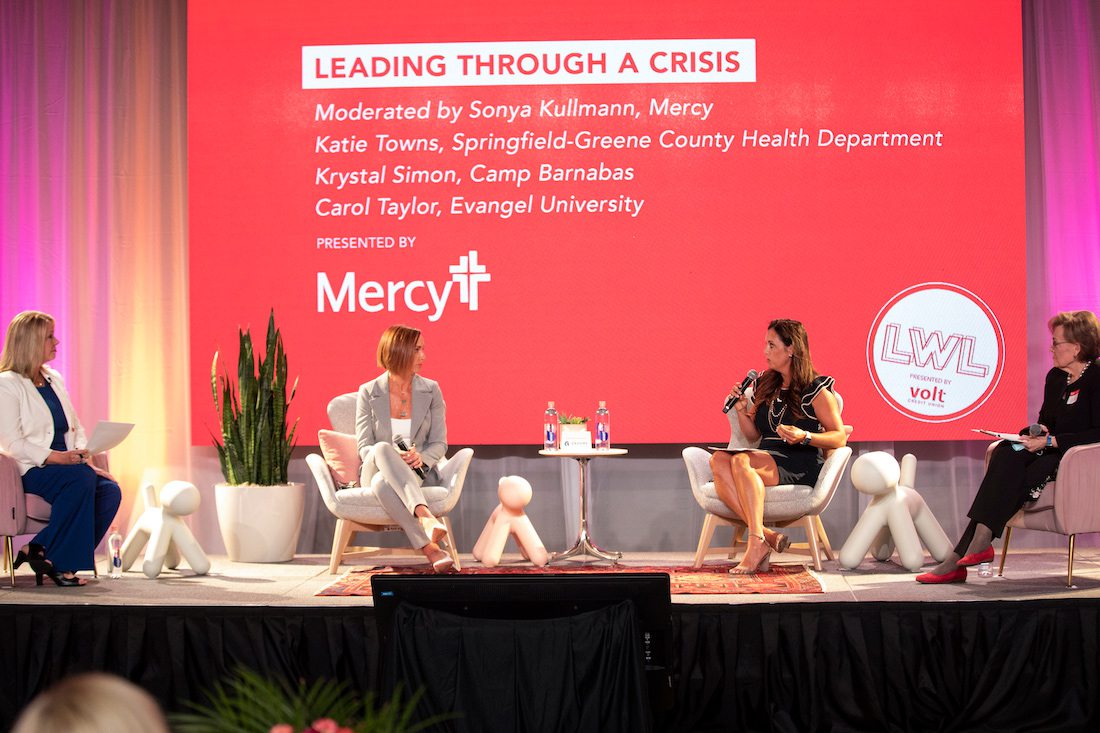 Leading Through a Crisis
Emceed by Sonya Kullmann, Mercy; Katie Towns, Springfield-Greene County Health Department; Carol Taylor, Evangel University; Krystal Simon, Camp Barnabas
Though all three women come from different organizations and industries, Katie Towns, Krystal Simon, and Carol Taylor have led their teams through COVID-19, one of the most difficult stages of their careers to date. Each member of the panel touched on the decisions and experiences their organization has faced in the last few months, and each followed the account up with how they stayed grounded and centered. This summer, Towns made a commitment to herself to run every day, even if just for a mile, to alleviate anxiety. Simon focused on the things she could control, which included her attitude, her response to a situation, and her disciplined routine. Taylor noted the importance of self-care and encouraged her team to take a break from work for a week. 
SPONSORED BY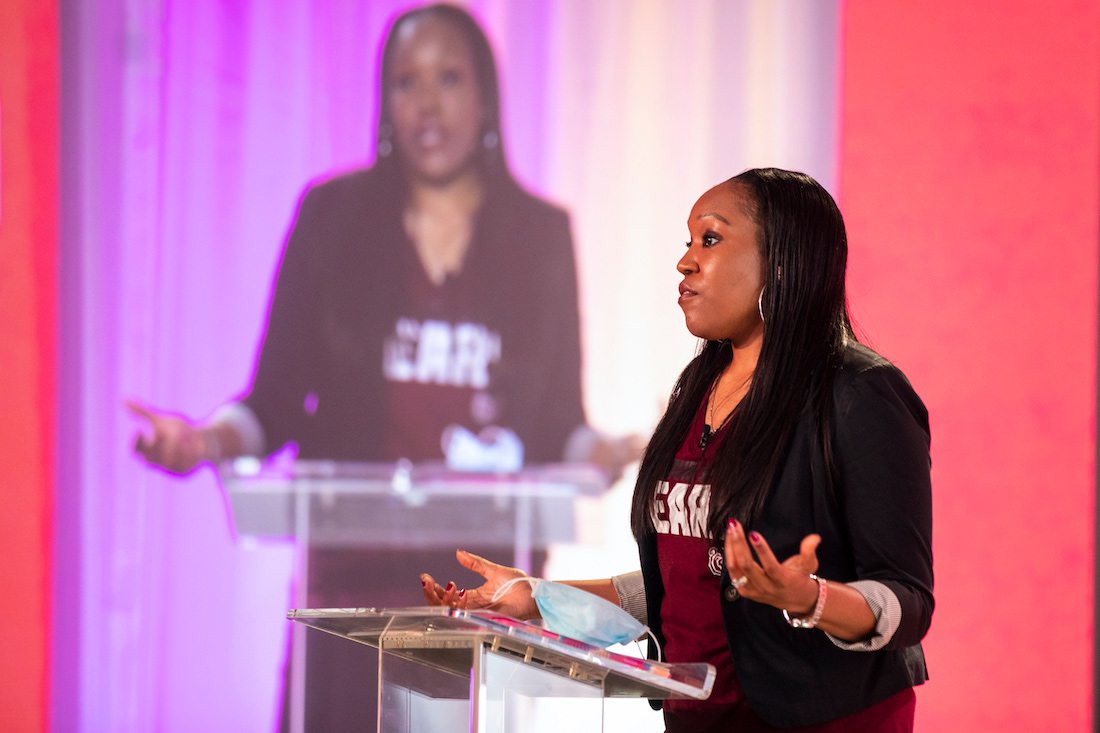 In It To Win It: Empowering Women and Championing Diversity
Amaka "Coach Mox" Agugua-Hamilton, Missouri State University's Women's Basketball Head Coach
Amaka "Coach Mox" Agugua-Hamilton believes that if all she did was teach her team how to be better basketball players, then she's failed as a coach. Since landing the role as head coach of Missouri State University's women's basketball team, Coach Mox has put a focus on educating her players about life after college by introducing them to life skills. She's coordinated discussions with outsourced speakers on topics like maintaining a healthy skincare routine, mental health training sessions, cooking classes, finance and budgeting discussions, sleep training and even how to clean. But Coach Mox's education goes further than life skills. She's also striving to teach the next generation to be empathetic of racial and social injustice, which she said requires sensitivity and compassion. She said "the unaffected have to be as enraged as the affected in order to see change," and that means encouraging everyone to use their personal voice and step out of their comfort zones. 
SPONSORED BY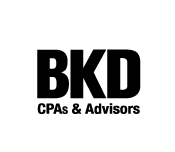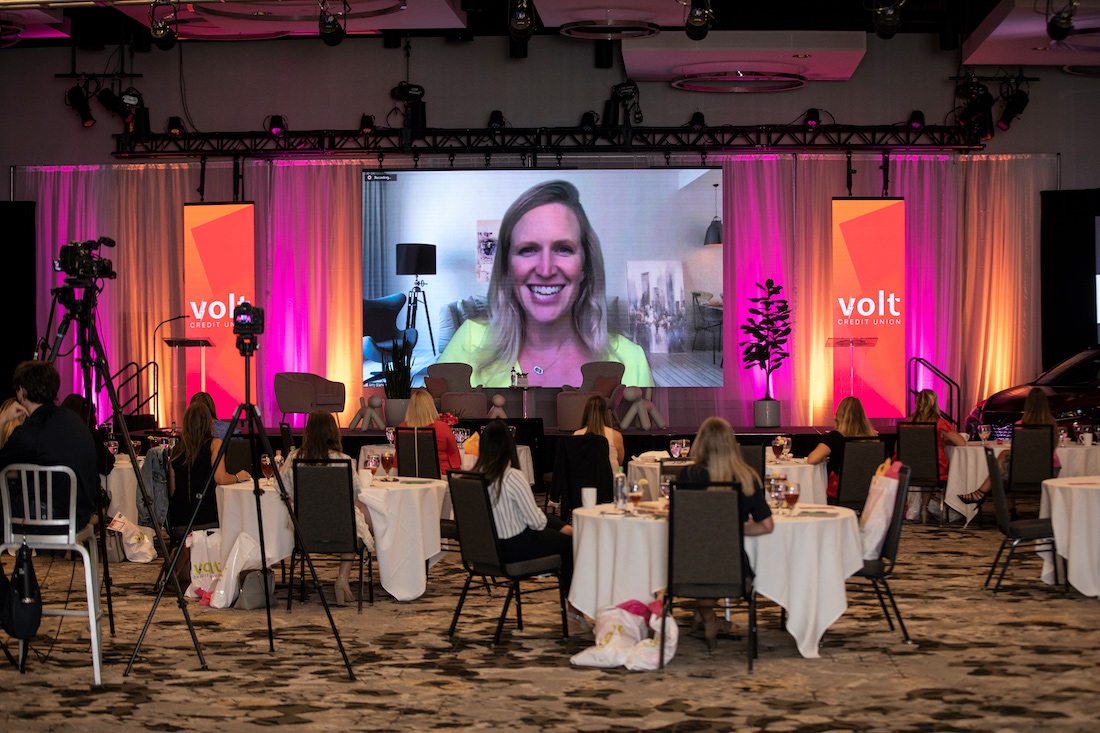 Fearless Positivity 
Amy Blankson, bestselling author, motivational researcher, happiness expert, Harvard graduate, TEDx speaker
When Amy Blankson learned about a study that reported Americans are more unhappy than they've been in 50 years, she decided she wanted to learn more about fearless positivity and what it meant. Blankson concluded that fearless positivity is when people stop saying, "I'll be happy when…" Instead, it's when people find happiness even in the midst of difficult and stressful situations. She decided to investigate how people thrive in the midst of change. She learned that "a positive mindset is the single greatest competitive advantage in the modern economy," and eventually she found that 10% of your happiness is based on external circumstances. The remaining 90% is determined by your genes and perception of your situation—not your environment. Blankson said this tells us that we have the capacity to choose and change our level of perception. To do this, Blankson says to boost your through journaling, gratitude, acts of kindness, meditation, and exercise. These activities boost happiness, which in turn creates success. 
SPONSORED BY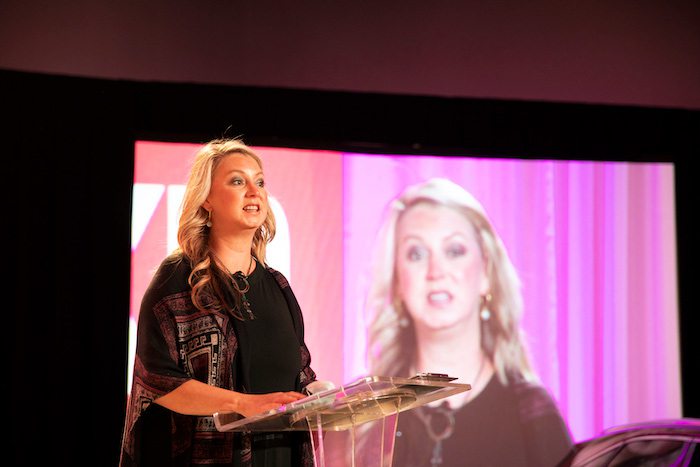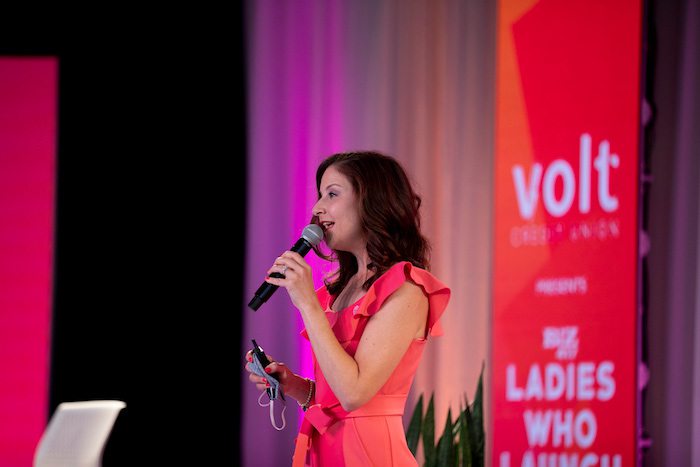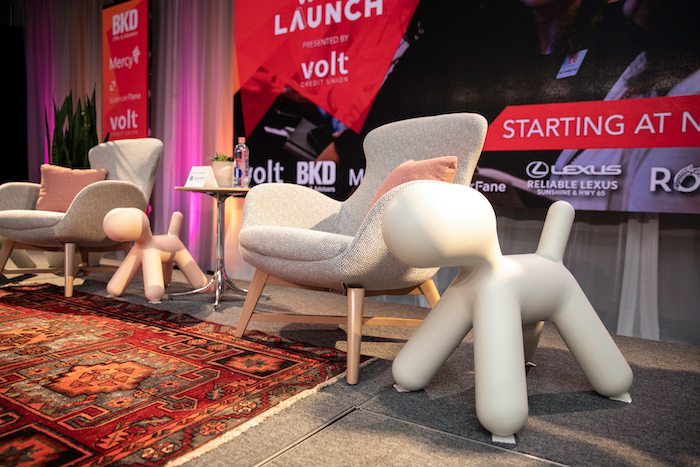 Biz 417's Ladies Who Launch 2020