Strategy
7 Ways to Make Strategic Planning Fun
The last thing you want is for your strategic planning session to be a flop. Here's how to bring some energy to your goal-setting meetings and keep team members engaged throughout.
By Rae Swan Snobl
Aug 21 2019 at 8:27 a.m.
Strategic planning is a vital part of any business, but sometimes long-term, goal setting meetings can be draining or just downright boring. So, how do you keep employee morale and energy up while still hitting company goals? We asked local experts for tips on ways to liven up strategic meetings and keep team members engaged.
PRESENTED BY
1. Get out of the office.
A different environment can produce innovative ideas and often has fewer distractions. "When meetings are held on-site, the probability of interruptions is high," says Paula Ankrom, Executive Administrative Assistant of American Products. Look for a turnkey meeting space with ample room for your needs, technology, good food and a professional atmosphere. Bill Squires, President of SMC, chose to move the company's monthly board meetings to the Oasis Hotel and Convention Center more than 10 years ago. "We like the tropical-inspired resort atmosphere and the quiet, relaxed ambiance," he says. Most strategic planning meetings happen toward the end of the year, so be sure to book your space early. 
2. Stay positive. 
Strategic planning can be intense, especially when discussing difficult topics like failed goals or major changes, but that doesn't mean it has to be a negative experience. Diana Royalty, Chief Operating Officer of People Centric Consulting Group says "Remind everyone that thinking about how to move the company forward is in and of itself exciting." She says it's also important to also provide a "psychologically safe space" so people feel free to speak without negative reactions. Set the tone from the beginning of the meeting by setting ground rules for a positive atmosphere.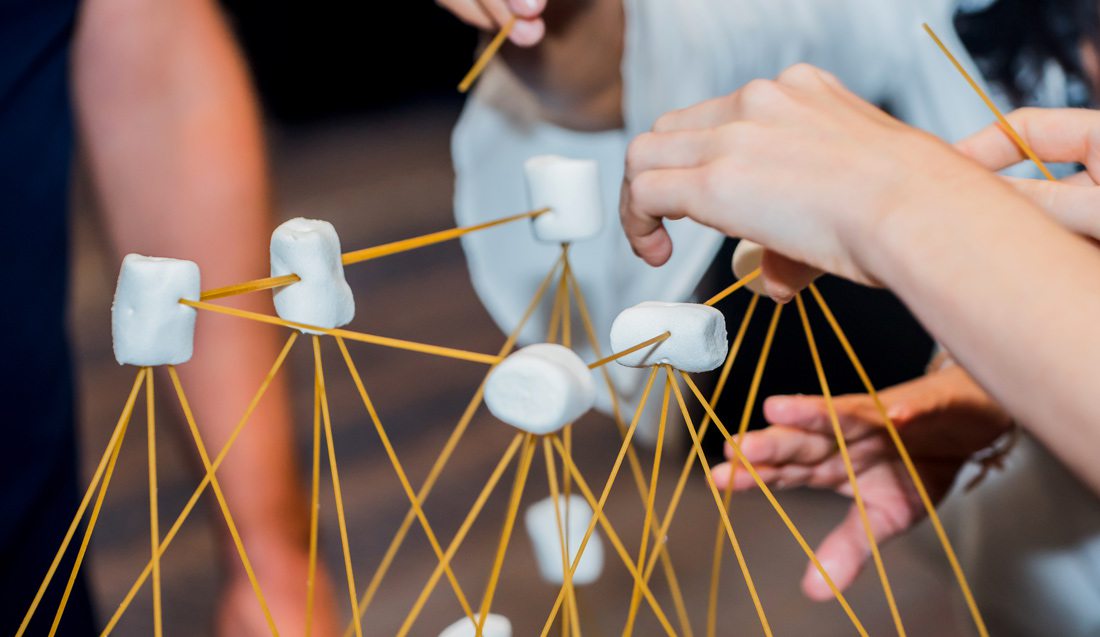 3. Play a game.
Planning doesn't have to be all work. Shake things up by adding activities that also contribute to the process. "Place two people back to back," Royalty says. "Make one person be the speaker and one person the receiver. The speaker gets a small drawing made up of several shapes and tells the receiver how to draw that picture. The receiver's picture never looks like the communicator's which shows that even when we feel like we are being very specific and precise, people will always interpret it in their own way." Ask your facility to have things set up ahead of time for any extra aids you may need for activities like more chairs, white boards, or AV equipment. 
4. Take breaks.
People can only stay focused for so long before their minds start to wander. Scheduling breaks gives everyone a chance to recharge, check in at the office, answer messages, move around and reset before moving on to the next thing. Breaks are also a great time for team members to interact and socialize. Bonus: Sometimes the big ideas are born during side conversations. So, give the team a chance to chat outside of the meeting and see what kind of magic happens.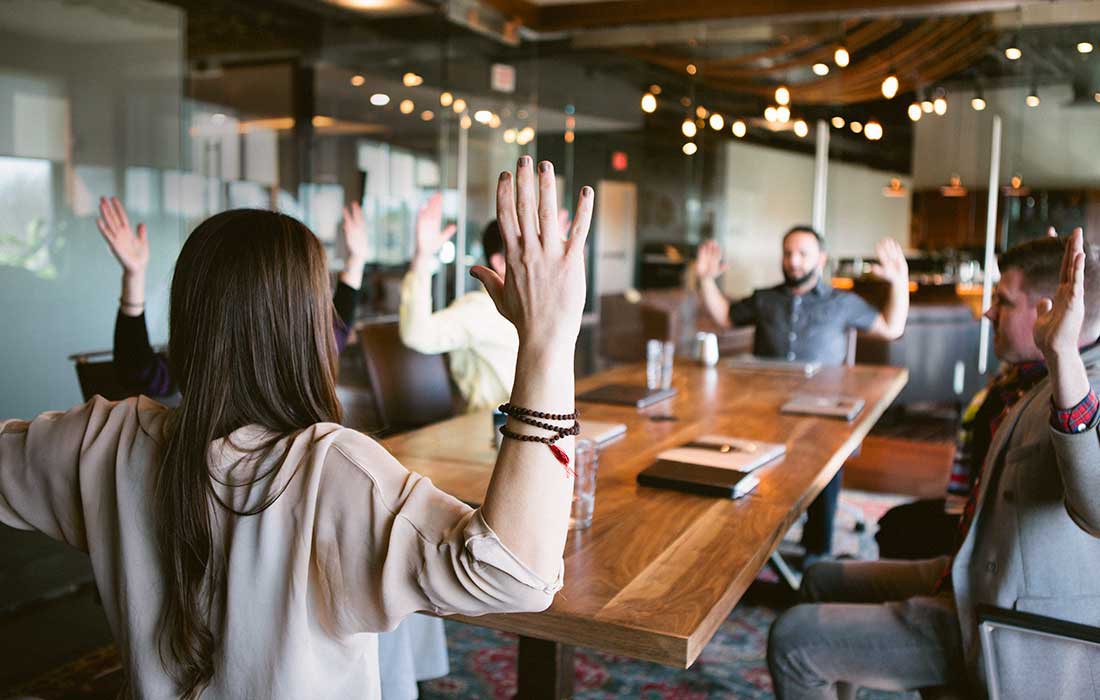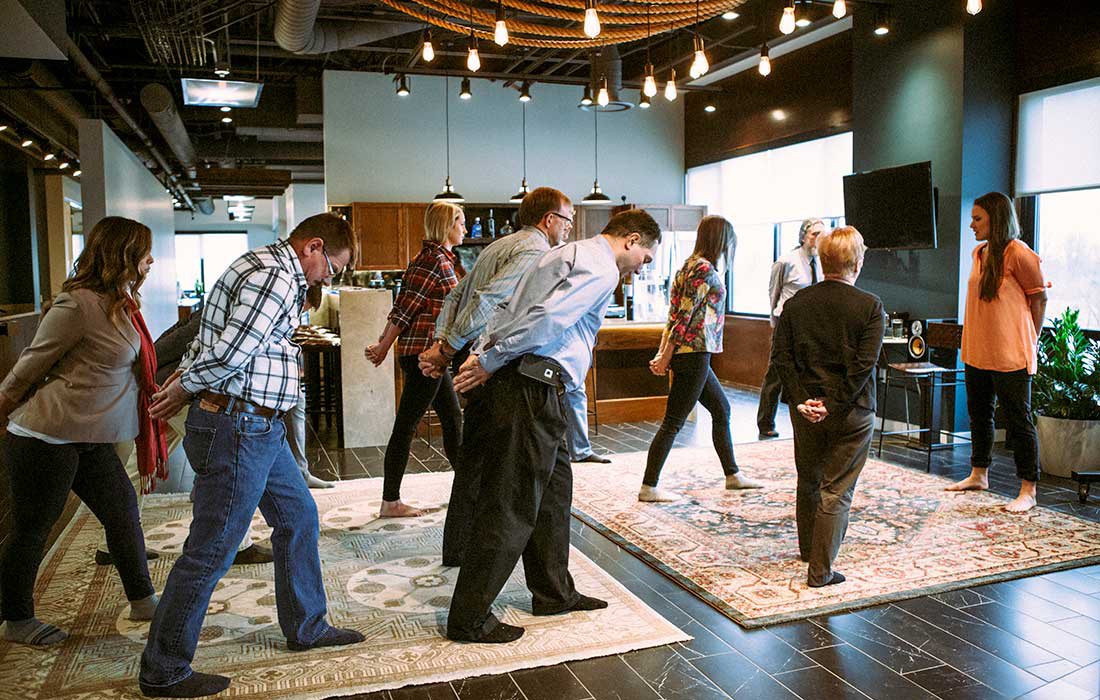 Photos courtesy Jessy Scott Local yoga expert Jayme Sweere helps professionals get back to balance through stretching and breathing exercises.
5. Be flexible and get moving.
Flexibility and movement apply to both the planning process and physical activity. "Business moves fast and that means that sometimes the best laid plans need some adjustment," Royalty says. "So, the ability to adapt and change is imperative." Just as flexibility is important in planning, it's also important for our bodies. She suggests having a brainstorming session while standing or stretching or playing some music and have a dance party to celebrate a big idea. Moving around gets the blood flowing and can spark new ideas. Invite a fitness-enthusiast employee to lead the group in an exercise routine. Just be sure to communicate this to your facility and choose a location with enough space.
6. Serve food.
When blood sugar levels tank, so do the ideas. The right food can make all the difference. Missy Handyside, General Manager at the Oasis Hotel and Convention Center says, "Meeting planners should be cautious when selecting food items—heavy lunches and snacks can sometimes make attendees tired for the remainder of the meeting. We recommend healthy options like our fresh-baked granola bars, fresh fruit, light lunches and, yes, lots of caffeine." A fully-equipped meeting space is ideal because food can be ordered ahead of time and brought in quietly at specific, requested times while a wait-staff can ensure the coffee and other beverages never run low.
7. Make it social.
Strategic planning is a great opportunity to share company branding and goals on social media. Royalty recommends taking pictures. "Group selfies are always a good idea," she says. Bring a selfie stick and grab some candid shots of the higher-ups playing games and having fun. Look for fun backdrops at your meeting space and strike a pose. This makes it feel more festive during the meeting but also shows off team camaraderie to your social media followers.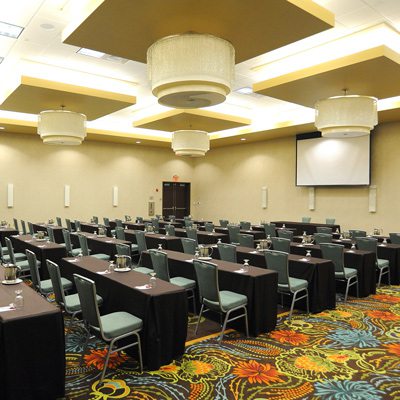 About the Oasis Hotel and Convention Center:  With more than 30,000 square feet of versatile  meeting space, the Oasis Hotel and Convention Center can accommodate meetings for up to 1,500. The friendly staff works directly with office meeting planners to make hosting offsite meetings easy and stress-free.The tropical-themed, resort-inspired atmosphere provides a relaxed and comfortable setting where attendees can escape the office free from distractions. Meeting space is equipped with top-of-the-line audio-visual equipment, drop-down screens, and high speed Wi-Fi while the culinary team is known for creating extraordinary food to fit any dietary needs. Oasis clients consist of local, state and regional groups and companies like SMC Electric and American Products.