5 Things to Look Forward to at SPIN66
No big deal: Someone could win $10,000.
By Rachel Smith
Apr 25 2017 at 3:52 a.m.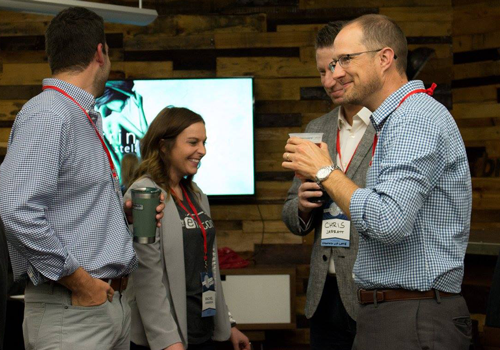 Springfield's ultimate innovation and entrepreneurship conference, SPIN66, will be here before you know it. Here's what you have to look forward to May 4–5 at The eFactory.
1. The kickoff party
The conference begins with a kick off party on Thursday, May 4 at 6 p.m. Connect with speakers, organizers and other attendees, and get pumped for what's to come. Then, get back to the eFactory bright and early on Friday, May 5 for the main attraction.
2. The speakers
This year's lineup is no short of awesome. Three big-name speakers include:
• Joyce King Thomas, the thought leader behind MasterCard's "Priceless" campaign and the Staples "Easy Button." She discusses her journey with McCann New York, which recently dropped "The Fearless Girl" next to Wall Street's Charging Bull.
• Scott Perket, product designer at Amazon Web Services. He talks about life in Silicon Valley.
• Bryce Rutter, a leading expert in ergonomic design. He discusses the art and science of creating beautiful handheld products.
A panel of techies includes:
• Mary Louise Helbig, entrepreneur in residence of ITEN
• Josh Burch, co-captain of 40Digits
• Charles Daniels, senior vice president of Netsmart Technologies
3. The Pitch Pit
Watch five of southwest Missouri's top early-stage ventures fight it out in the Pitch Pit. They have six minutes to sell a panel of expert judges on their pitch in hopes of winning $10,000.
4. The Ignite talks
Eight presenters are put to the test in the Ignite segment of the event. Each one quickly shares their personal and professional passions while their PowerPoint slides auto-advance every 15 second.
Presenters include local names like Jarad Johnson from Mostly Serious, Mark Steiner from GigSalad, Josh Sullivan from Mother's Brewing Company and Megan Buchbinder from Revel Advertising.
5. The happy hour
The conference concludes with a high-energy happy hour filled with local food and drinks. Talk about your takeaways and map out your plan of attack for your next big innovation.
Get tickets here.