Excellence in Technology
Introducing the Six Winners of the 2019 Excellence in Technology Awards
Biz 417 and AITP of the Ozarks' third annual Excellence in Technology Awards recognize three organizations and three individuals for their innovation.
By Jenna deJong
Feb 28 2019 at 3:07 p.m.
For the third consecutive year, Biz 417 and AITP of the Ozarks have partnered to recognize the best organizations and leaders of southwest Missouri's technology sector. The honorees are pioneers leading their field into tomorrow, and on February 28 three organizations and three individuals were announced winners of this year's award series. 
In the corporate category, the efactory won the Community Impact Award, SelectSitter won Most Innovative Startup and Paperwise was recognized for the Enterprise Technology Award. 
Individual awards were given to Jordan Morgan with Buffer for Engineer of the Year; Jordan McAdoo with Stitch Fix for Rising Star and Nick Lofaro with Guaranty Bank for IT Executive of the Year.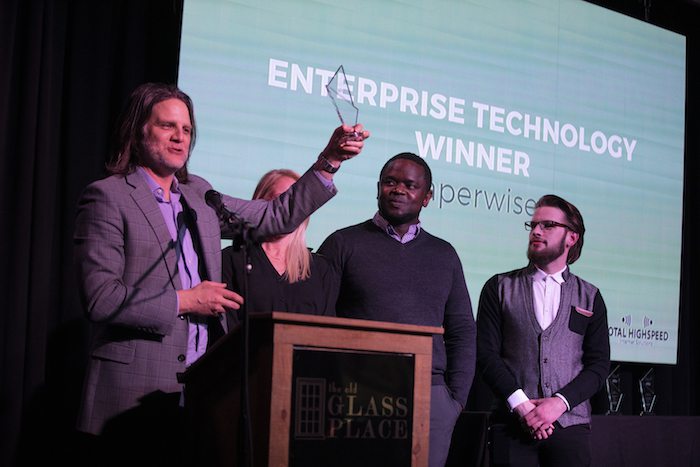 Paperwise wins the Enterprise Technology Award at the 2019 Excellence in Technology Awards.
Purchase Photo
Photos by Brandon Alms
The contest is an ode to the importance of technology in business. It is open to all organizations and entities and recognizes the innovators who are using technology to shape business for the better. An outside panel of judges from various AITP chapters outside 417-land reviews and scores all nominees based on the following criteria: overall accomplishments, the relevance of accomplishments to the technology sector, their scope of impact and involvement in the greater IT industry/community. The call for nominations begins in October each year, and nominees are required to submit a questionnaire to be considered for any award.
Read more about the winners in the May/June issue of Biz 417. Subscribe here.
2019 Finalists
Winners were chosen from a pool of 18 finalists, with three finalists for each category. Below is the complete list for this year's pool.
Individual Awards
Engineer of the Year 
Jordan Morgan, Buffer
Chris Bailey, City Utilities
Austin Cummins, Added Innovation
Rising Star
Jordan McAdoo, Stitch Fix 
Levi Zitting, Mostly Serious
Zach O'Connor, Prime, Inc. 
IT Executive of the Year 
Nick Lofaro, Guaranty Bank 
Shannon McMurtrey, Cart32
Mark Whisler, Added Innovation
Corporate Awards
Community Impact 
efactory 
Jordan Valley Innovation Center
The Geek Foundation
Most Innovative Startup
SelectSitter
Easy Access Hunts
FitbyPhase, LLC
Enterprise Technology
Paperwise 
EmegencMe
Added Innovation