Women Who Mean Business
Angi Blevins is a Woman Who Means Business
Angi Blevins, co-owner and project manager at Bailey Pyle Builders, is seeking ways to encourage female leaders in southwest Missouri.
By Kate Duby | Art Direction by Danielle Giarratano and Sarah Patton | Photography by Brandon Alms
Mar 2022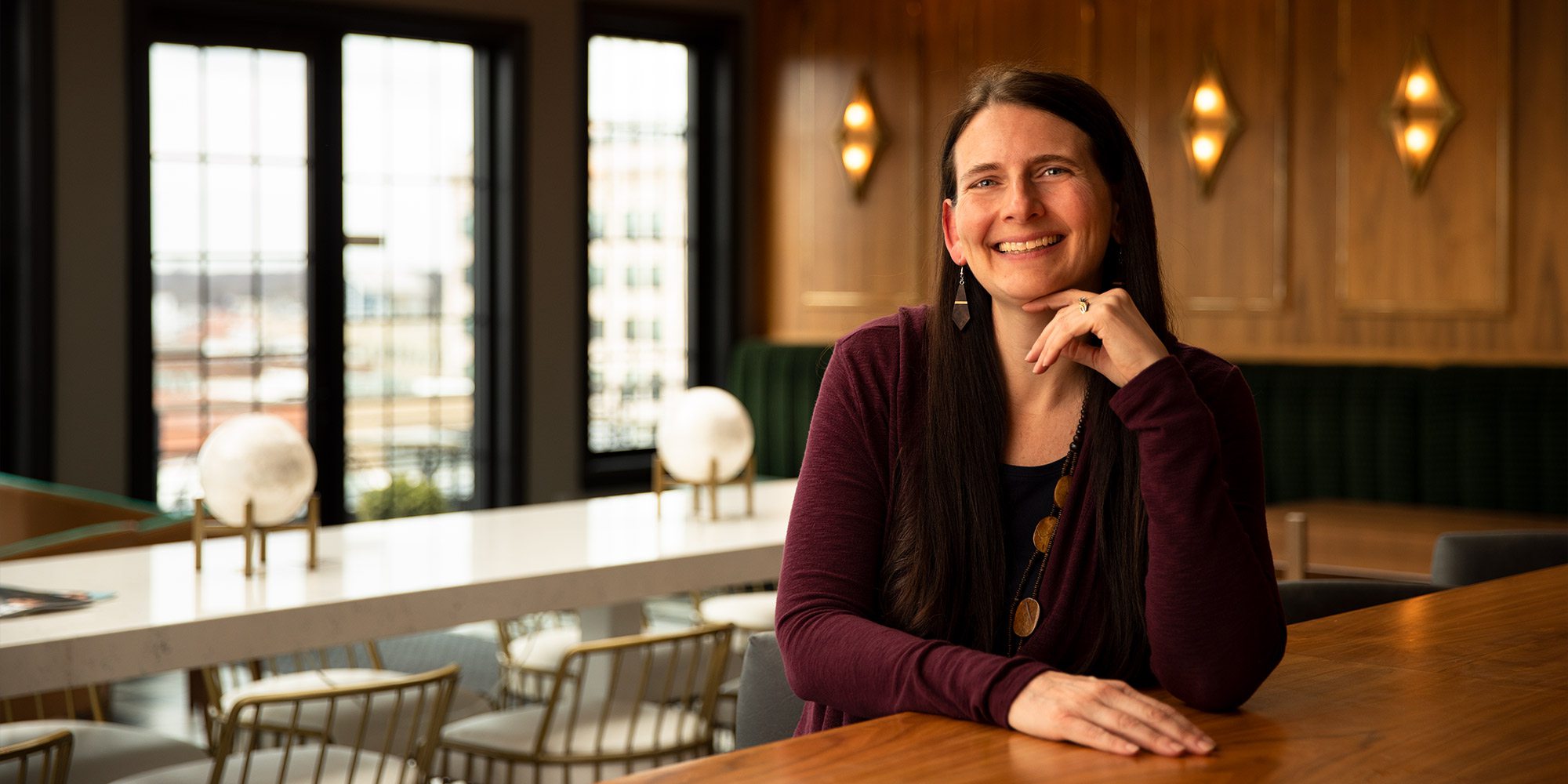 For Angi Blevins, it's not unusual to be the only female voice in the room, and now, she loves that she's starting to hear more. She's been around construction her entire life. She's watched the industry morph through the decades as it has adapted to meet the needs of a growing Springfield metro, bounced back from recessions and moved in harmony with changing trends. Her parents founded Howard Bailey Company, now known as Bailey Pyle Builders, in 1972. Fifty years later, Blevins is steering the company into the modern era—and laying a foundation for women in construction.

"For a while, I was the only girl ever," Blevins says. "In any meeting, it was me." After witnessing many women enter and excel in architecture, she says the construction industry is catching up. She recalls a recent day on the job when she saw a woman on HVAC installation and thought, "Woah—finally!"
Blevins graduated from Clever High School and attended Drury University. She had applied for college with every intention of pursuing a degree in architecture, but she shifted gears the summer before she arrived––"I thought, 'I don't want to do all that math,'" she jokes. Blevins got her bachelor's degree in communication with an emphasis in journalism. Her mom, whom she considers one of the greatest mentors she had growing up, encouraged her talent for writing, which has proved an asset to her throughout her career.

After graduating, Blevins worked as a news producer for KY3 until 2000, when she was asked to come work for the family company. Her mother had suffered two heart attacks and was ready to slow down at work. When her parents retired five years later, Blevins and her brother launched the next iteration of the family business––taking over an existing construction company can come with a lot of liability challenges, she says. The new Bailey Company eventually merged to become Bailey Pyle Builders, which employs a large number of Blevins' family members, including her brother, her sister-in-law and her husband.
"For a while, I was the only girl ever. In any meeting, it was me."
— Angi Blevins
When she first started working for the company, Blevins was an office manager and bookkeeper. She quickly moved into project management, which has been her role since. She works with architects and property owners on commercial project development, and she works directly with owners on personal project development. Once the company has secured a job, Blevins takes charge of the next phase, in which she manages budgeting, scheduling and keeping up with orders. Although most of her work is off-site, she visits project sites periodically.

Blevins has always sought out ways to support and encourage female leaders in 417-land. She is the former president of the Junior League of Springfield, which she has been a member of since 2005. She also serves as the chairperson of the Watershed Committee of the Ozarks and the president of Think Big, a subsidiary board of Big Brothers Big Sisters of the Ozarks. In 2023, she will be inaugurated as the new president of Big Brothers Big Sisters.
COMPANY
Bailey-Pyle Builders.
HER LEADERSHIP STYLE
"Collaborative. I always have a gut instinct on what I want to do, but I will gather opinions of the people I am working with and sometimes the direction I want to go alters a bit."
HER COFFEE ORDER
No coffee—hot tea or iced tea, black!
HER FIVE-WORD PEP TALK
"There is always a way."
HER MID-AFTERNOON ENERGY BOOST
"Truthfully, I don't eat a midday snack. I do eat yogurt with apples after my early evening workout."
HER SECRET CONFIDENCE FORMULA
Crack a joke.