Style
Joel Thomas's Personal Style
With an affinity for colorful chinos and tongue-in-cheek prints, Joel Thomas puts a playful spin on what he calls, "active business casual."
By Colin Shea Denniston
May 2022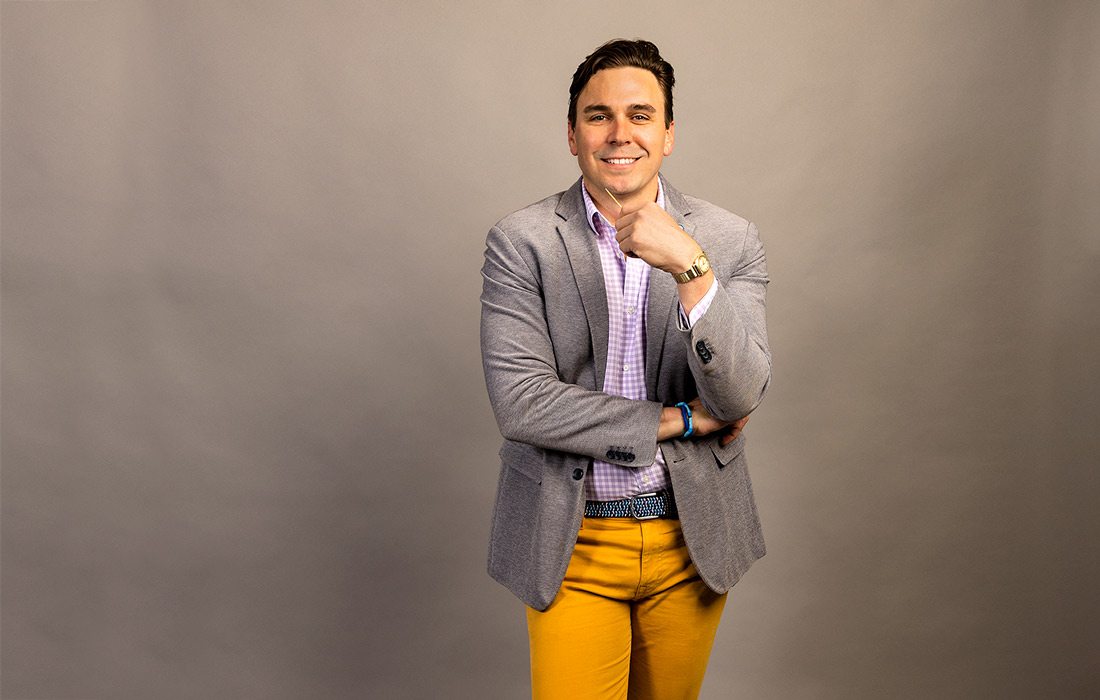 Office meetings, construction site visits and client happy hours are all parts of a typical workday for Joel Thomas. As Principal Architect at BUF Studio, Thomas needs a wardrobe that's professional, practical and easily adaptable. 
"Because of just the role I'm in and especially being with a small company, I have to wear many hats," says Thomas. "I'll layer myself for different stuff—I may throw a blazer on if I'm going to meet with somebody or I'll keep a pair of galoshes in the trunk." And to ensure he always smells as good as he looks, a backup cologne can always be found in Thomas's car.
A 2006 graduate of Drury University's architecture program, Thomas worked at two other firms before landing at BUF Studio two years ago. His style—which has evolved alongside his career—has grown from youthful casual to buttoned-up sophistication. Jeans and polo shirts were standard attire for Thomas at his first firm, followed by a 180-degree switch to suits, ties and pocket squares at his second position. "So that was my transition: from super casual to not casual at all," Thomas reflects.
Now Thomas's style is somewhere in between. His current workweek wardrobe sticks mostly to chinos and button-up shirts, but he still finds a way to add his own colorful panache. "I'll wear a plaid button-up with chinos one day, but then on another day I'll wear a short-sleeved kind of Hawaiian shirt with avocados on it," he says. "I like to throw in a weird piece every now and then. I'm not afraid to wear stuff like that." 
If you've interacted with Thomas recently, you've probably noticed the clothing-adjacent accessory for which he's become known: his signature toothpick. "I was trying to break myself from chewing gum all of the time," he says. "I guess I dropped one bad habit and gained another."