Strategy
How Do You Bring Employees Back to the Office?
Experts from Ollis/Akers/Arney and Neale & Newman share firsthand advice on bringing your team members back to the office and rebuilding your company culture post COVID-19.
By Savannah Waszczuk
Mar 2021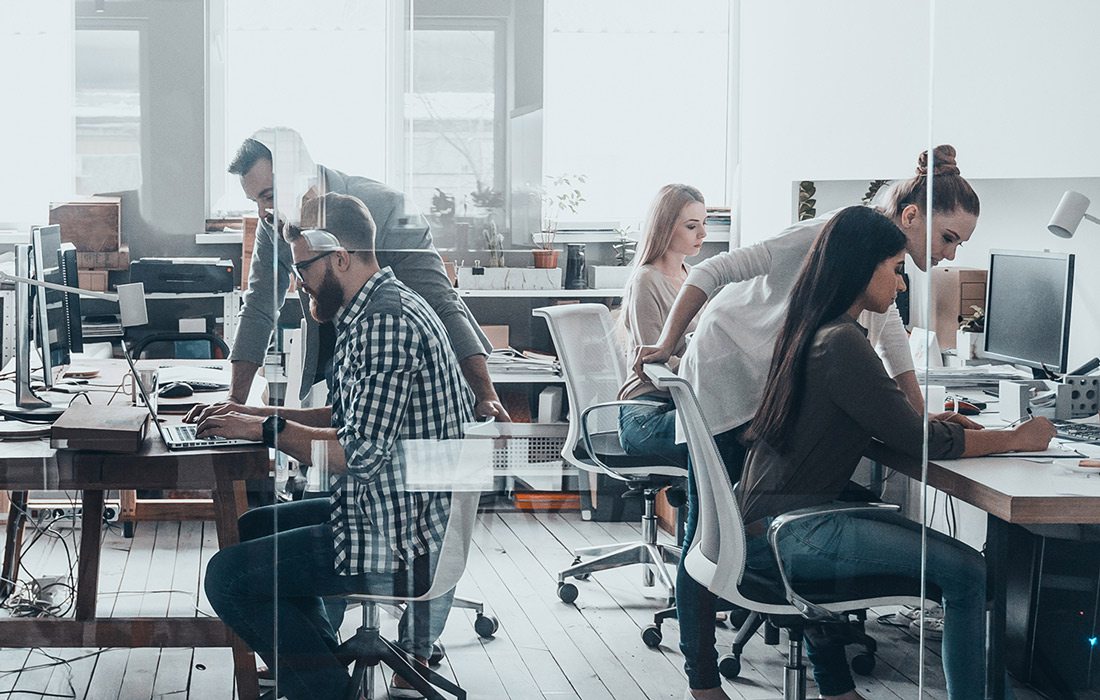 In early 2020, businesses worldwide navigated uncharted waters as the COVID-19 pandemic forced them to close their doors and find ways for their employees to work remotely. A little more than a year later, vaccines are being distributed and it finally feels like things might return to normal—or at least a new normal. But how can associates return to the workplace safely, and how can you resurrect your workplace culture? Experts at Ollis/Akers/Arney and Neale & Newman share firsthand advice.

Create a Written Action Plan
Karen Shannon is vice president of business consulting at Ollis/Akers/Arney, which means she's helped numerous clients bring their teams back into the office. She is also Ollis/Akers/Arney's chief human resources officer, so she was one of the key individuals in charge of developing Ollis's return plan for its own workforce of nearly 60. "We developed a pretty comprehensive Return to Work action plan that we use," Shannon says.
The written guide features 12 heavily transcribed pages outlining numerous topics that all companies should think through before inviting their staff back to work, including a phased-return timeline; details on employee health screening and reporting; what to do and when to return when an employee tests positive for COVID-19; expectations surrounding workplace social distancing, masking and cleaning; CDC travel recommendations and more. This guide not only ensures all safety protocols are covered from a company standpoint, it also acts as a great tool for team members to stay better informed and protect themselves as vaccine distribution increases and teams return to work.
Consider a Phased Approach
The team at Ollis/Akers/Arney returned in three phases. "Some associates worked Monday/Tuesday, others worked Thursday/Friday, and we'd alternate Wednesdays," Shannon says. "This was important—if we had an outbreak, we didn't want to have 100% exposure and have to send everyone back home again." Ollis/Akers/Arney also had individuals within each department alternate schedules to ensure an entire team wouldn't all be exposed and (later) out at once.
Shannon Cape, Firm Administrator at Neale & Newman, was one of the key individuals in charge of bringing the law firm's team back to the office in May 2020. In addition to thinking through the same safety and cleaning protocols recommended by Ollis/Akers/Arney, Cape recommends ensuring your workplace is properly equipped for your new rules and regulations. "We outfitted all of our conference rooms with cameras and made sure everyone had the capability to attend virtual meetings," she says. This was necessary, as virtual meetings are still a regular occurrence due to distancing guidelines. Cape also had masks with the Neale & Newman logo printed, and she made sure they're readily available to the team and guests. Cape is also in charge of sending out a daily COVID questionnaire via email to gauge employee wellness and log their team and client interactions.
Keeping Workplace Culture Alive
Whether your team is working remotely or is back in the office, it's crucial to devote time to maintaining company culture. "This takes a lot more thought and intention in the current climate, but it is possible," Cape says. The marketing team at Ollis/Akers/Arney sent multiple care packages to team members while they were at home, and Cape regularly schedules "virtual lunch breaks" where she has a virtual meeting to eat and talk about non-work related things with various staff members. In addition, Ollis hosted virtual happy hours and even a virtual beer tasting with some help from Mother's Brewing Company.
At Neale and Newman, the team was still able to enjoy the annual company Christmas party—this year, however, everyone ate a hot catered meal that was delivered to their desk. "It was certainly different, but it went over really well," says Bryan Fisher, an attorney at the firm. "Of course we're all looking forward to things going back to normal, but in some ways, this has helped us. It has made the interactions that we do have with one another more meaningful. We've all learned to appreciate the little things a lot more."