Entrees
Tournedos of Beef with Champagne Sauce
A perfect dish for throwing a Parisian dinner party for two. Recipe courtesy Viking Cooking School.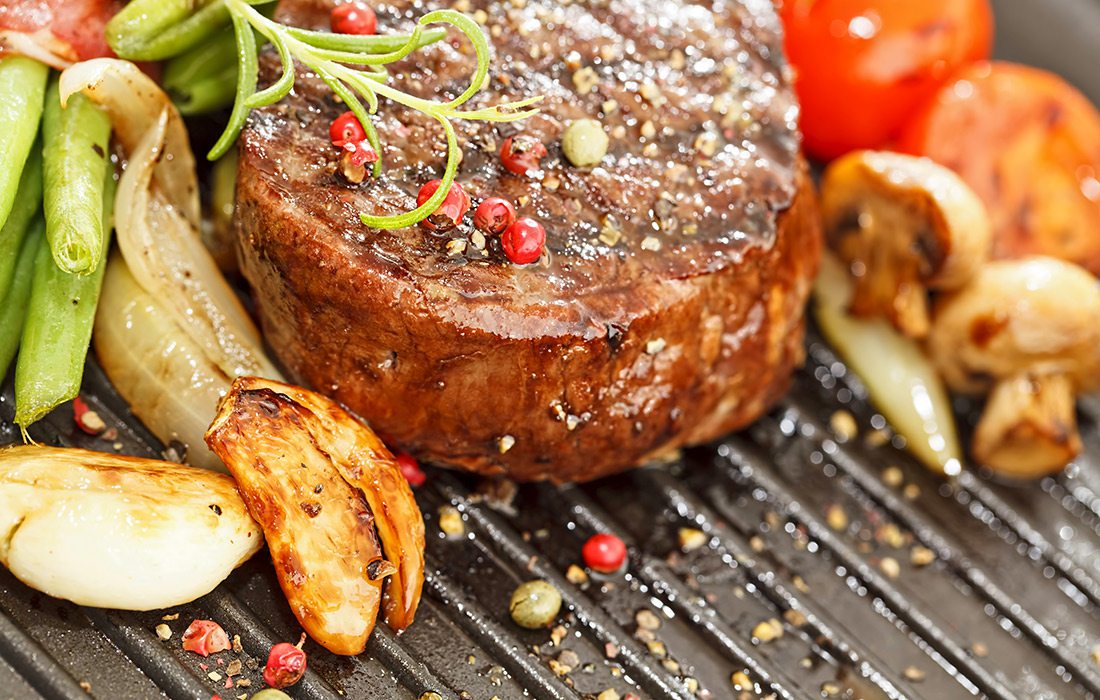 Recipe courtesy Viking Cooking School, Greenwood, MS
Champagne Sauce
1 T minced shallot
⅓ C dry champagne of drinkable quality
3 T tarragon vinegar
1 t freshly squeezed lemon juice
8 black peppercorns
3 sprigs fresh thyme
¼ C heavy cream
1½ sticks cold butter cut into pieces
½ t tomato paste, room temperature
To Prepare
Combine shallots, champagne vinegar, lemon juice, peppercorns and thyme in a small sauce pan. Place over medium-high heat and cook until the sauce has reduced and the pan is nearly dry.
Add heavy cream and continue cooking until sauce has thickened and coats the back of a spoon.
Remove pan from heat. Whisk in cold butter one piece at a time until all is incorporated. Whisk in tomato paste to combine.
Strain sauce through a fine mesh strainer. Serve immediately or store in a thermos or warm water bath until needed.


Tournedos
2 slices good quality firm white bread
1 T extra-virgin olive oil
4 2½ to 3-ounce beef tenderloin medallions, approximately 2 inches thick
1 clove garlic, peeled and lightly crushed
Salt and freshly ground black pepper to taste
1 T canola oil
1 t butter
To Prepare
Preheat oven to 450 F. Using a 2½-inch round cuter, cut two circles from each slice of bread to make four bread circles. Save trimmings to make breadcrumbs for another time. Brush both sides of each bread circle lightly with olive oil. Place on a baking sheet. Toast until crisp and golden brown, approximately 5 to 6 minutes. Set aside until needed.
Tie a piece of butcher's twine snugly around the circumference of each medallion to help maintain the shape. Rub the crushed garlic over beef on all sides. Season to taste with salt and pepper.
Heat a small ovenproof saute pan over medium-high heat.  Add canola oil and butter and heat through. Add beef medallions to pan and sear until both sides have formed a nice, mahogany brown crust, about 2 minutes per side. Transfer pan to oven and cook to desired degree of doneness, approximately 2 minutes for rare (125 F), 3 to 4 minutes for medium-rare (130–135 F), and 5 minutes for medium (140 F). Remove from oven and transfer to a warm plate. Lightly cover with aluminum foil and let rest for 5 minutes.
To serve, remove butcher's twine. Place 2 toasted bread circles on each plate. Top with a medallion of beef. Spoon champagne sauce onto the plate around the beef. Serve immediately.