Entrees
Tenderloin with Truffle Yukon Gold Potatoes and Amaretto Almond Green Beans
Plus a Borolo wine reduction and sweet shallots. Recipe by Nicola Gilardi of Nicola's Ristorante.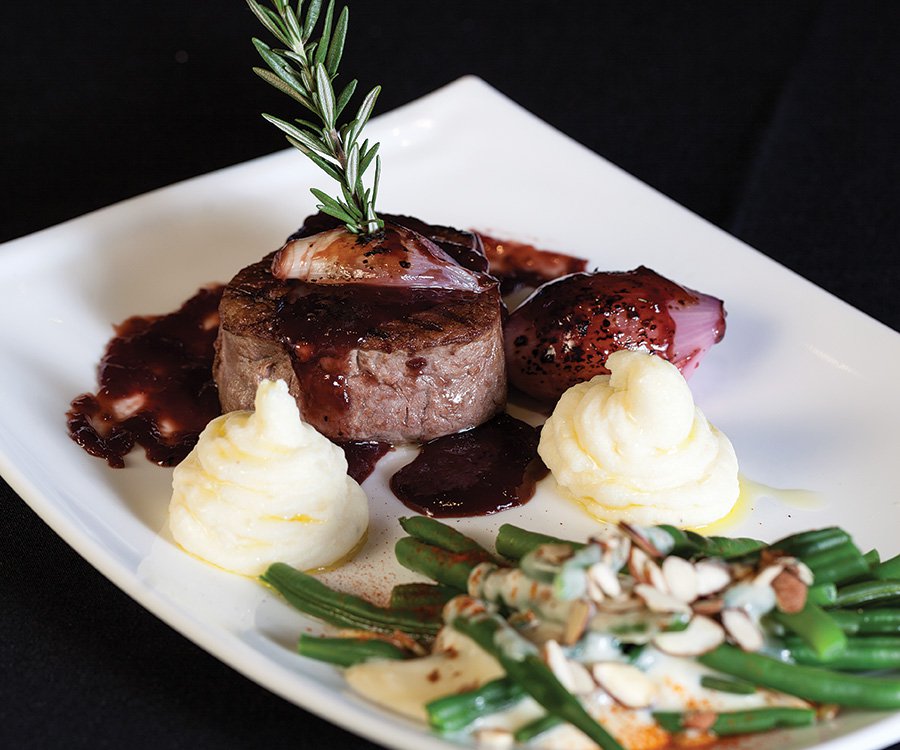 Ingredients for tenderloin
4 8-ounce tenderloins 
Salt 
Pepper 
1 tablespoon olive oil
5 shallots, sliced
2 cloves of garlic, peeled and diced
3 cups red wine
1 cup your favorite berry liqueur 
To prepare tenderloin
Season tenderloins with salt and pepper to taste. Grill or sauté tenderloins to desired temperature. Heat olive oil in a separate saute pan. Add shallots and garlic, and cook until sautéed. Add wine and liqueur, and let reduce until creamy. (Be careful, alcohol can flame while boiling.) Place meat on plate, and top with sauce.  
Ingredients for truffle Yukon gold potatoes
8 Yukon Gold potatoes 
½ stick butter
⅓ cup chicken broth 
⅓ cup cream
½ teaspoon roasted garlic, minced
1 tablespoon truffle oil
Kosher salt
Pepper 
To prepare truffle Yukon gold potatoes
Add potatoes to a pot of salted water, and heat to a boil. Cook until soft. After cooked, puree potatoes in a food processor, then return to pot. Add butter, broth, cream and garlic to potatoes, and whisk together. Divide potatoes among plates, then drizzle with truffle oil. Season with salt and pepper to taste.
Ingredients for amaretto almond green beans
6 cups fresh green beans
½ tablespoon Kosher salt 
⅓ cup butter 
½ cup sliced almonds
¼ cup amaretto liqueur
½ cup cream 
½ tablespoon lemon juice 
½ tablespoon grated nutmeg 
½ teaspoon paprika  
To prepare amaretto almond green beans
Fill a large pot halfway with water. Add green beans and salt. Heat to a boil, and boil 10 minutes. Simmer until tender, then drain, and place in an ice bath to keep color. Add butter, almonds, liqueur and cream to a saute pan, and season with salt to taste. Simmer 10 to 15 minutes. Add green beans, plus lemon juice and nutmeg. Divide among plates, then season with salt to taste. Sprinkle with paprika and serve.