Entrees
Spicy Shrimp and Mango Tacos
Spice up your next taco Tuesday with Good Flavors mango habanero seasoning from Red Monkey Foods, headquartered in Republic, MO.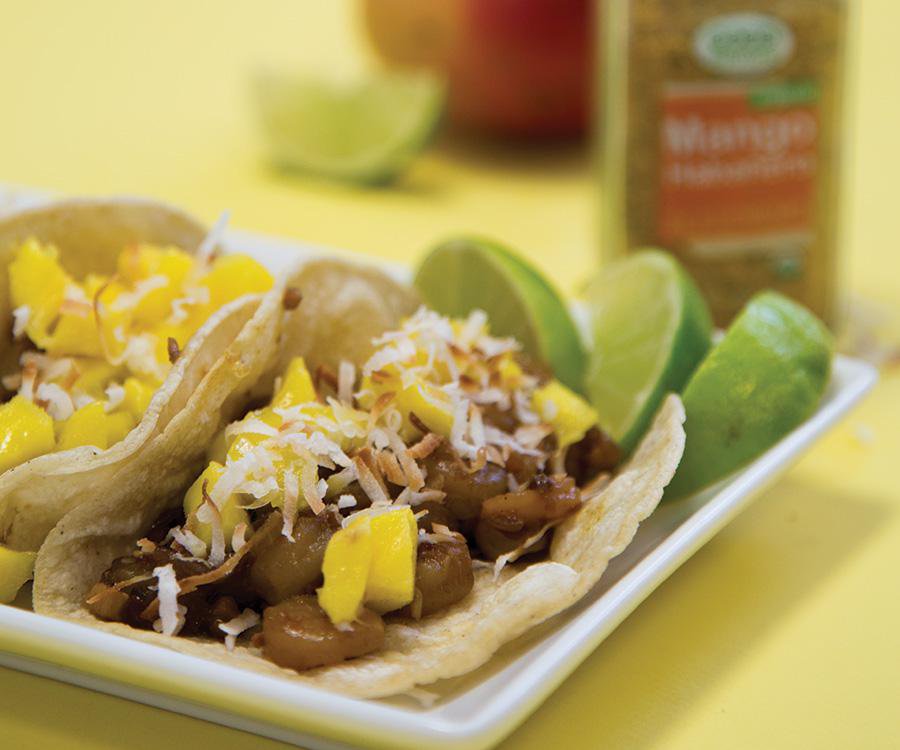 Ingredients

2 tablespoons vegetable oil
1 cup onion, chopped
4 garlic cloves, chopped
1 teaspoon red pepper flakes
2 tablespoons soy sauce
1 tablespoon lime juice, plus wedges 
1 pound shrimp, peeled and de-veined, tails removed
6 white corn tortillas
1 mango, diced 
¼ cup toasted coconut flakes
To prepare
Heat oil in a large skillet over medium heat. Add the onion and cook, stirring occasionally, until golden—about 5 minutes.

Add the garlic, red pepper flakes, mango habanero seasoning, soy sauce and lime juice. Stir to combine, then add the shrimp and cook until the shrimp is pink throughout. Break the shrimp into bite sized pieces.

Place a clean, ungreased skillet over medium heat. Working one at a time, heat the tortillas in the skillet 20-30 seconds per side.

Transfer to a plate, and fill each tortilla with shrimp. Top with mango and toasted coconut flakes. Squeeze a lime wedge over each taco before eating.