Entrees
Sous Vide Bistro Filet
Plus goat cheese polenta, asparagus, rosemary red wine reduction and crispy pearl onion rings. Recipe by Executive Chef Branden Bentley from Mangia! A Nonna's Italian Kitchen.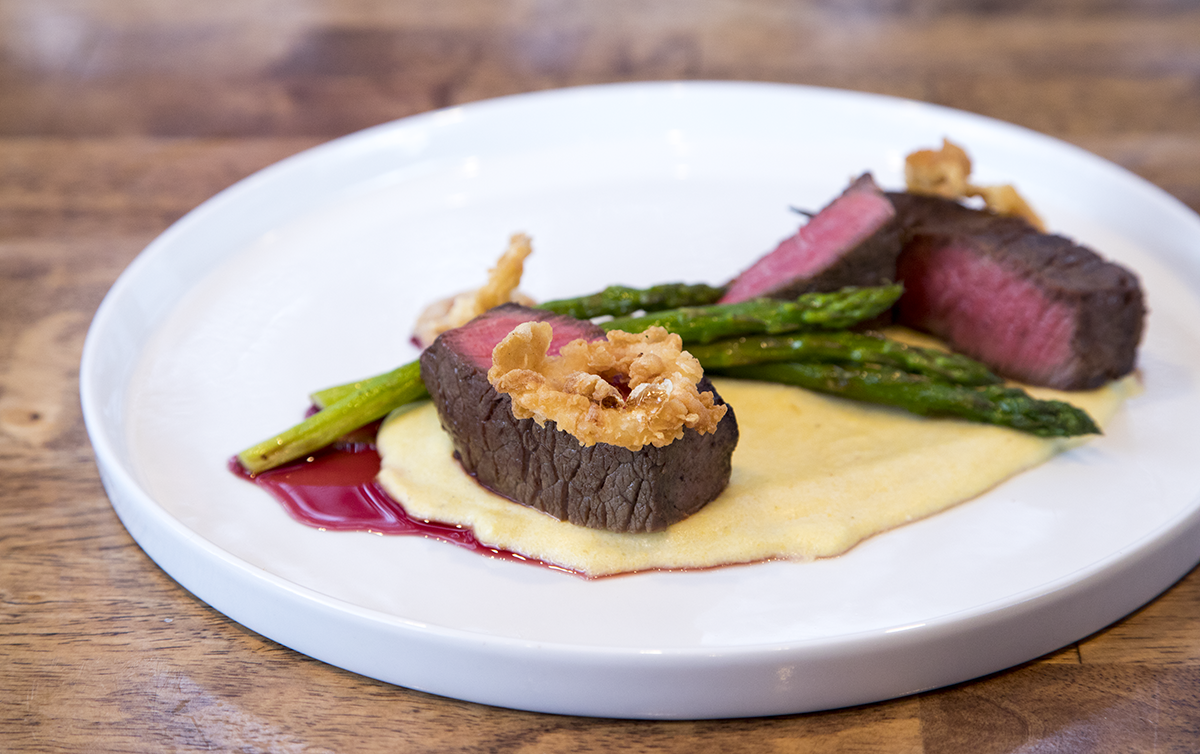 Serves 4. Best paired with Apaltagua Envero Carmenere. Recipe by Executive Chef Branden Bentley from Mangia! A Nonna's Italian Kitchen. From our February 2017 Cooking Class.

How do you like your steak? Changing the temperature on your circulator will vary the doneness of your meat. Here's a quick guide from Chef Branden Bentley:

Blue: 122 degrees
Rare: 126 degrees
Medium-rare: 129 degrees
Medium: 133 degrees
Medium-well: 140 degrees
Well-done: 147 degrees

Ingredients
4 8-ounce bistro filets
2 tablespoons kosher salt
2 tablespoons black pepper
4 peeled garlic cloves
4 sprigs fresh rosemary
4 bay leaves
8 tablespoons butter, divided

To Prepare
Set an immersion circulator to 129˚ for medium-rare steaks and attach to a pot of water. Coat steaks with salt and pepper. Place steaks in individual plastic bags dividing garlic, rosemary, bay leaves and 4 tablespoons of butter equally among the bags. Drop sealed bags into the pot for 1 hour. Remove steaks from water, and pat dry with paper towels. Sear steaks in iron skillet with 4 tablespoons of butter for 2 minutes per side. Allow steaks to rest for five minutes then slice each in half. Serve with polenta, asparagus and onion rings and finish with red wine reduction.


Ingredients for Goat Cheese Polenta
2 cups milk
2 cups water
1 cup polenta
1 tablespoon lemon zest
1 teaspoon kosher salt
4 ounces goat cheese

To Prepare Goat Cheese Polenta
Bring milk and water to a boil. Reduce heat to medium low, and slowly add polenta. Continue to cook and stir for five minutes. Stir in remaining ingredients.


Ingredients for Charred Asparagus
16 asparagus spears
1 tablespoon butter
Pinch of salt and black pepper
Squeeze of lemon

To Prepare Charred Asparagus
Bring medium pot of water to a rolling boil and blanch asparagus for 60 seconds. Shock asparagus in a bath of ice water to stop the cooking process. While beef rests, cook asparagus for three to four minutes in a saute pan with butter, salt, pepper and lemon.


Ingredients for Rosemary Red Wine Reduction
3 cups red wine
1 cup red wine vinegar
2 cups granulated sugar
1 spring fresh rosemary

To Prepare Rosemary Red Wine Reduction
Combine all ingredients in small saucepan and heat until reduced by half.


Ingredients for Crispy Pearl Onion Rings
2 quarts vegetable oil
1 cup flour
2 large eggs
3 pearl onions, peeled and sliced into rings

To Prepare Crispy Pearl Onion Rings
Heat oil in a medium sauce pot to 350˚. Add flour to a medium bowl. In a separate bowl¸ whisk eggs. Dredge onion rings in flour, then eggs, then flour once again. Fry in oil until golden brown, about 45 seconds to a minute.