Entrees
Retro Chicken Pot "Pie" Casserole
Retro Chicken Pot "Pie" Casserole is the perfect blend of retro comfort food and trendy tastes. Recipe courtesy Sharon Koechner.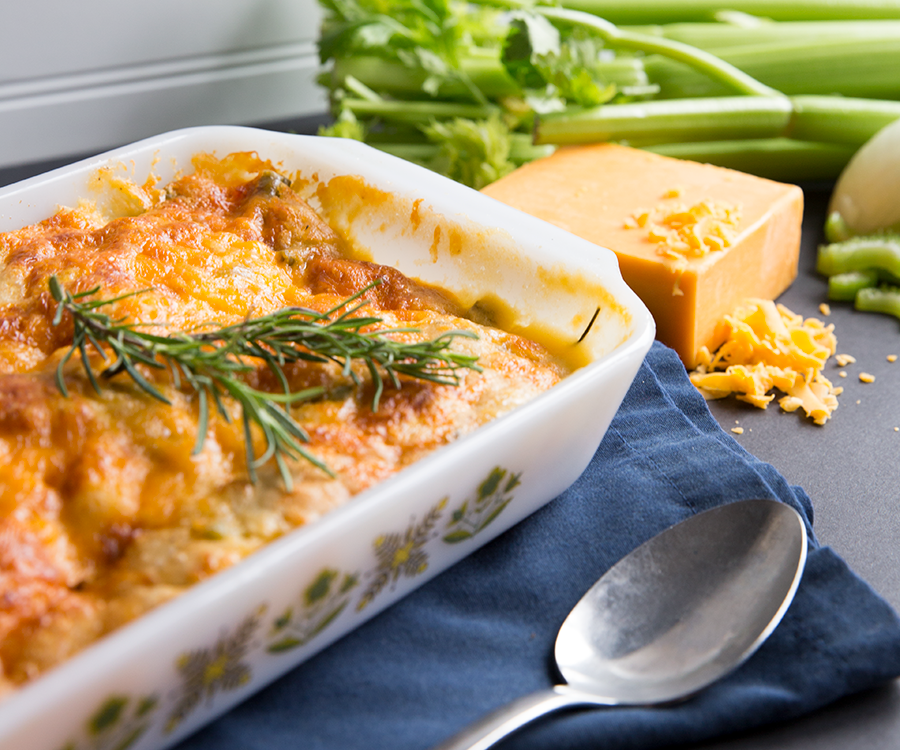 Recipe courtesy Sharon Koechner.

Ingredients
¼ cup butter
2 cups shredded chicken (you can use rotisserie chicken for convenience)
½ small sweet onion chopped
2 stalks of celery chopped (optional)
1 teaspoon dried rosemary
1 teaspoon dried sage
1 teaspoon dried thyme
½  teaspoon ground white pepper
Salt to taste
2 cups frozen mixed vegetables 
½  cup chopped roasted red peppers
2 cups baking mix (Bisquick or similar)
1½ cups whole milk
1 10.5-ounce can of condensed chicken broth or stock, or broth of your choice
1 10.5-ounce can cream of celery soup or cream of chicken soup 
1 cup finely shredded sharp cheddar cheese

To Prepare
Heat oven to 375˚F. Melt butter and drizzle over bottom and sides of 9-by-13-inch casserole dish until covered. Layer chicken, chopped onion and celery equally in the bottom of the casserole. Sprinkle ½ teaspoon rosemary, ½ teaspoon sage, ½ teaspoon thyme and ¼ teaspoon white pepper over chicken mixture. Salt to taste. Top with frozen veggies and roasted red peppers. Note: Do not stir the layers! Stir the remainder of thyme, sage, rosemary and white pepper into baking mixture and whisk in milk until mixed. Pour over entire dish. Whisk together chicken broth and cream soup. Pour mixture over entire dish. Top with cheddar cheese, and bake uncovered at 375˚F for 35 to 40 minutes until top is golden brown.