Entrees
Quinoa-Encrusted Medallions of Beef Tenderloin
Plus sautéed Napa cabbage, roasted heirloom tomatoes and curry cauliflower. Recipe by Chef Jeff Luzius at Level 2 Steakhouse.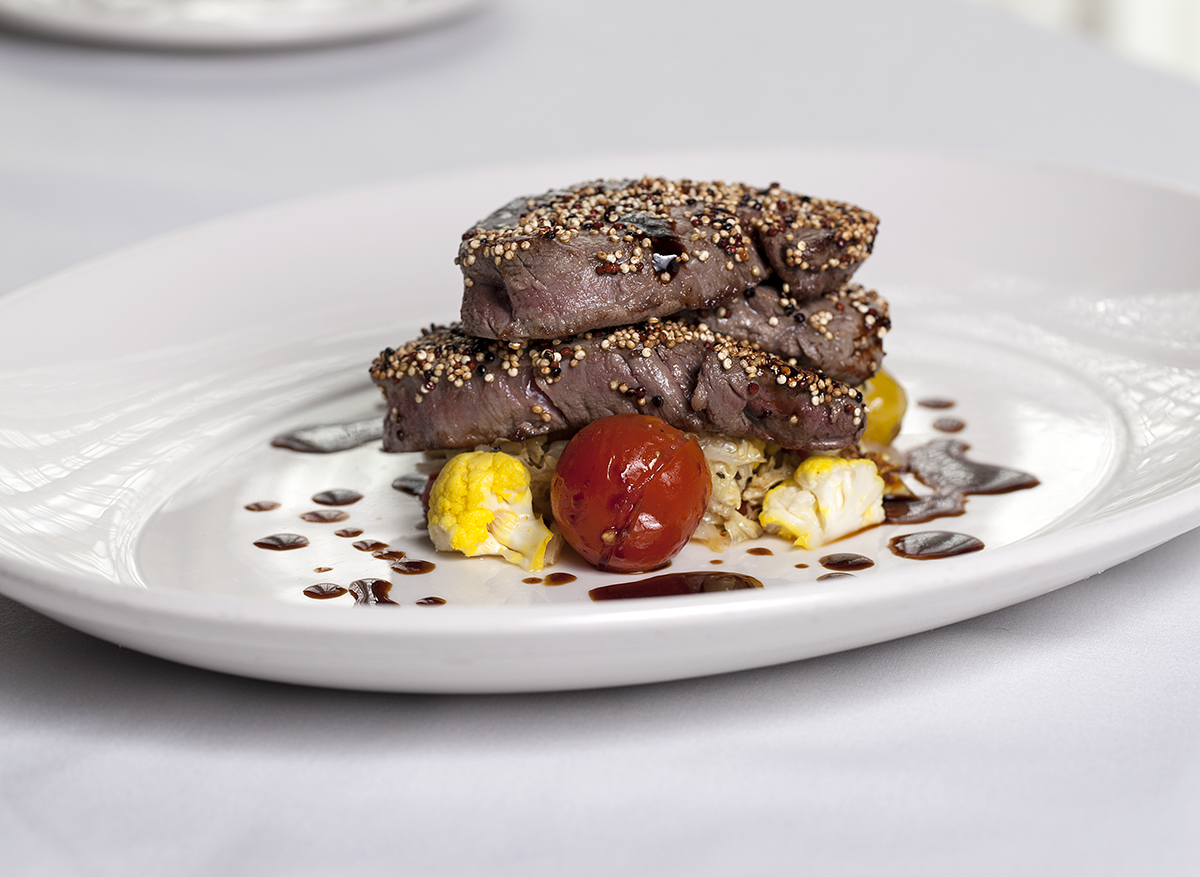 Serves 6. Best paired with Chateau Smith Cabernet Sauvignon. Recipe by Chef Jeff Luzius of Level 2 Steakhouse. From our September 2016 Cooking Class.

Ingredients for Beef Medallions
3 4-ounce beef tenderloin medallions
1 cup raw quinoa 
2 ounces napa cabbage, sautéed
3 heirloom tomatoes, roasted
3 pieces curry cauliflower
2 ounces ginger demi-glace
80/20 blend oil 

To Prepare Beef Medallions
Heat oven to 350F. Dredge the medallions in the quinoa and lightly sear in a non-stick pan. Once the quinoa turns golden brown, transfer the medallions to a sheet pan and cook to desired internal temperature in the oven. Toss the cabbage, tomatoes and cauliflower together and put in center of the plate. Place the medallions on top of the vegetables. Drizzle ginger demi-glace in a circle around the dish and serve. 


Ingredients for Ginger Demi-Glace
1½ cups orange juice
1 13-ounce can pineapple juice
1 cup pickled ginger juice
½ cup flour
½ cup butter
1 quart demi-glace
1 tablespoon fresh ginger, peeled and minced
1 teaspoon smoked soy sauce

To Prepare Ginger Demi-Glace
Put the pineapple juice, orange juice and pickled ginger juice together in a small sauce pot. Reduce to one third and set aside. In a clean sauce pot, melt the butter on low heat. Add flower slowly while mixing. Continue cooking and stirring for 10–15 minutes until the roux starts to brown. Add all other ingredients and stir until smooth. Strain through a chinois and serve.