Breakfast & Brunch
Pork Belly Eggs Benedict
Agave and buttermilk biscuit topped with ham, petite filet, poached egg and hollandaise. From 417 Magazine's Cooking Class with Patrick Duran of Vespa Kitchen.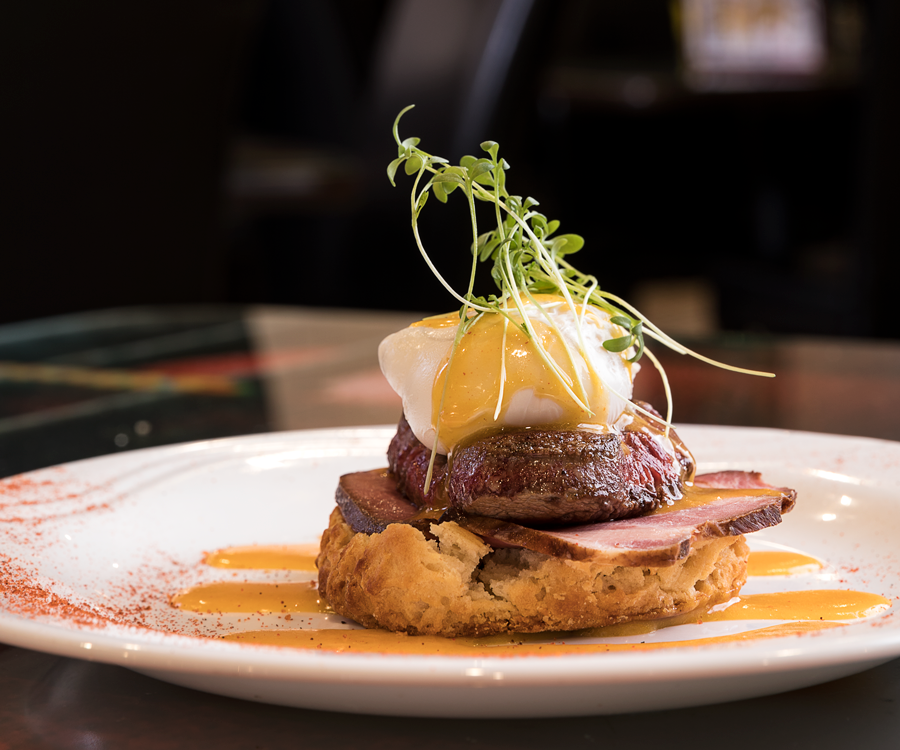 From 417 Magazine's Cooking Class with Patrick Duran of Vespa Kitchen.
Serves 4 
Paired with Faust Cabernet Sauvignon


Ingredients for the Pork Belly Eggs Benedict

Agave buttermilk biscuits
8 slices ham, seared and heated
8, 3-ounce beef tenderloin filets, seared and cooked to temp.
3 ounces hollandaise sauce, prepared
4 poached eggs
Ingredients for biscuits
4 cups flour
½ teaspoon baking soda
2 tablespoons baking powder
1½ cups buttermilk
½ cup agave nectar
6 ounces unsalted butter, cubed and frozen
Additional butter, melted, for serving
To prepare biscuits
Combine flour, baking soda and baking powder in a food processor. Combine buttermilk and agave nectar in a measuring cup. Process the flour mixture on medium speed. While still pulsing, add butter until the mixture beads. Small pearls of butter should still be visible. Pulse all the liquids into the mix quickly and stop the processor. Turn the mix out onto a floured surface and form into a uniform shape about 1½ inches thick. Cut biscuits with cutters, and freeze half for later use. Bake the rest at 350°F for 12 minutes. When done, remove from oven and brush with melted butter.
To plate
Line four plates on the counter. Slice four biscuits in half, and place one biscuit on each plate. Top each half with one ham slice and one filet, plus one egg per plate. Top with hollandaise sauce and desired garnish and serve.