Entrees
Pork Belly Chili Relleno
Plus hatch green chili sauce. Recipe by Chef Jeff Luzius at Level 2 Steakhouse.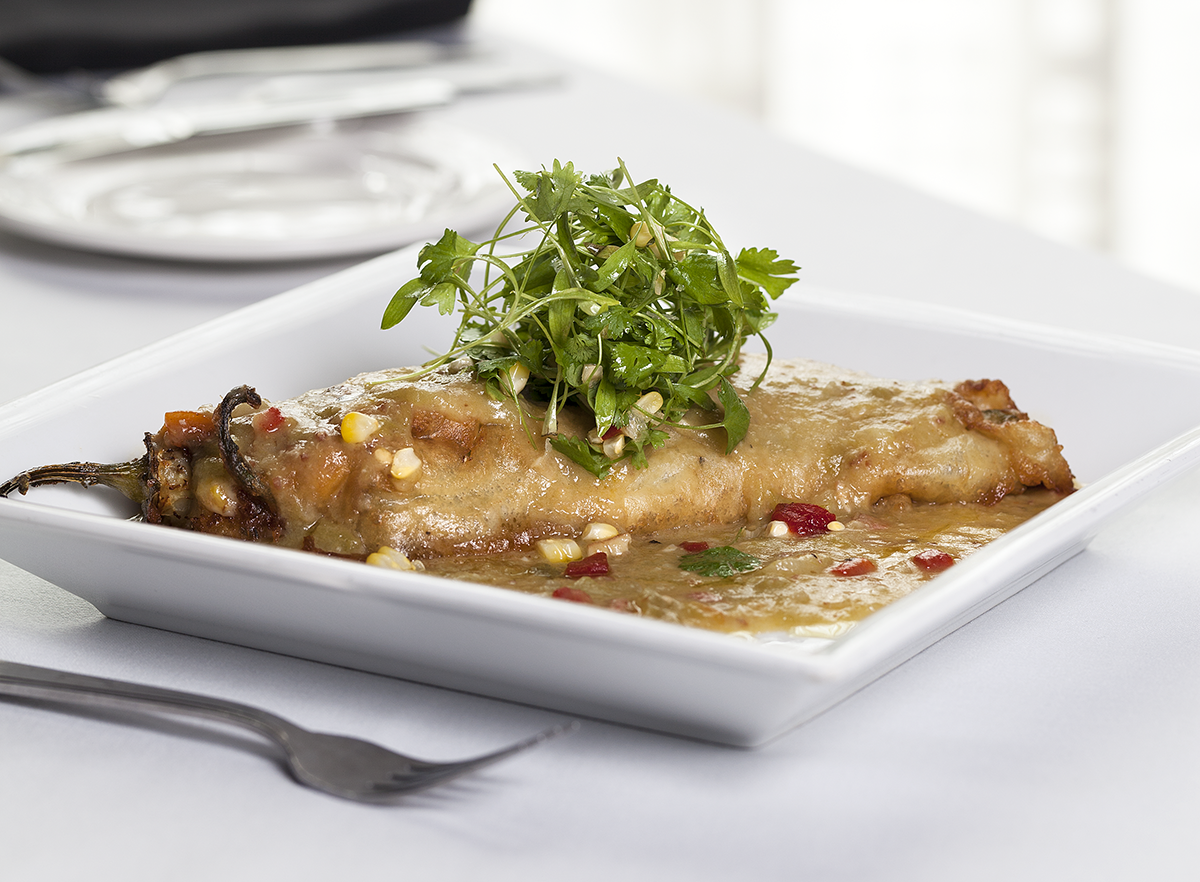 Serves 4—6. Best paired with Secco Italian Bubbles Chardonnay. Recipe by Chef Jeff Luzius of Level 2 Steakhouse. From our September 2016 Cooking Class.

Ingredients for Chili Relleno
2 cobs of corn
8 Roma tomatoes, diced small
1 small or ½ large red onion, diced small
2 serrano chilies, deseeded and minced 
2 garlic cloves, minced 
¼ ounce micro cilantro
2 limes, zested and juiced
Salt and pepper to taste
4 green chilies
1 large or 2 small lemons, zested and juiced
3 pounds uncured pork belly 

To Prepare
Heat the oven to 375F. Roast the corn and set aside to cool. Separate the corn from the cob and add to a medium mixing bowl. Add the tomatoes, red onion, serrano chili, garlic, cilantro, and zest and juice of one lime. Season with salt and pepper to taste. Refrigerate for 8 hours or overnight. Stuff the mix into the green chili and wrap with a paper towel for at least an hour so it holds the shape. Bake the chili for 10–15 minutes. Slice the pork belly into 2-ounce slices and shingle them in the center of the plate. Place chili on top, cover with green chili sauce and top with cilantro.


Ingredients for Green Chili Sauce
½ cup all-purpose flour
½ cup unsalted butter
2 roasted red peppers
4 garlic cloves, minced
1 large yellow onion, diced
1 tablespoon oil 
3 pounds Hatch green chilies, half diced small and half minced 
1 lime, juiced
1 lemon, juiced
Salt and pepper to taste

To Prepare
Melt the butter on low heat and whisk in flour to create a roux. Cook the roux for 10 minutes on low heat, stirring every minute. In a second pan, sweat the garlic and onion in the oil. Add to the roux. Slowly add chicken stock ½ cup at a time while whisking. Mix in all other ingredients and simmer for 45 minutes.