Entrees
Pasta Carbonara
If you're not up for a night out, make this pasta carbonara recipe for two. Recipe courtesy Jerry (Salvatore) DeMoro of Salvatore's Fresh Ristorante Italiano.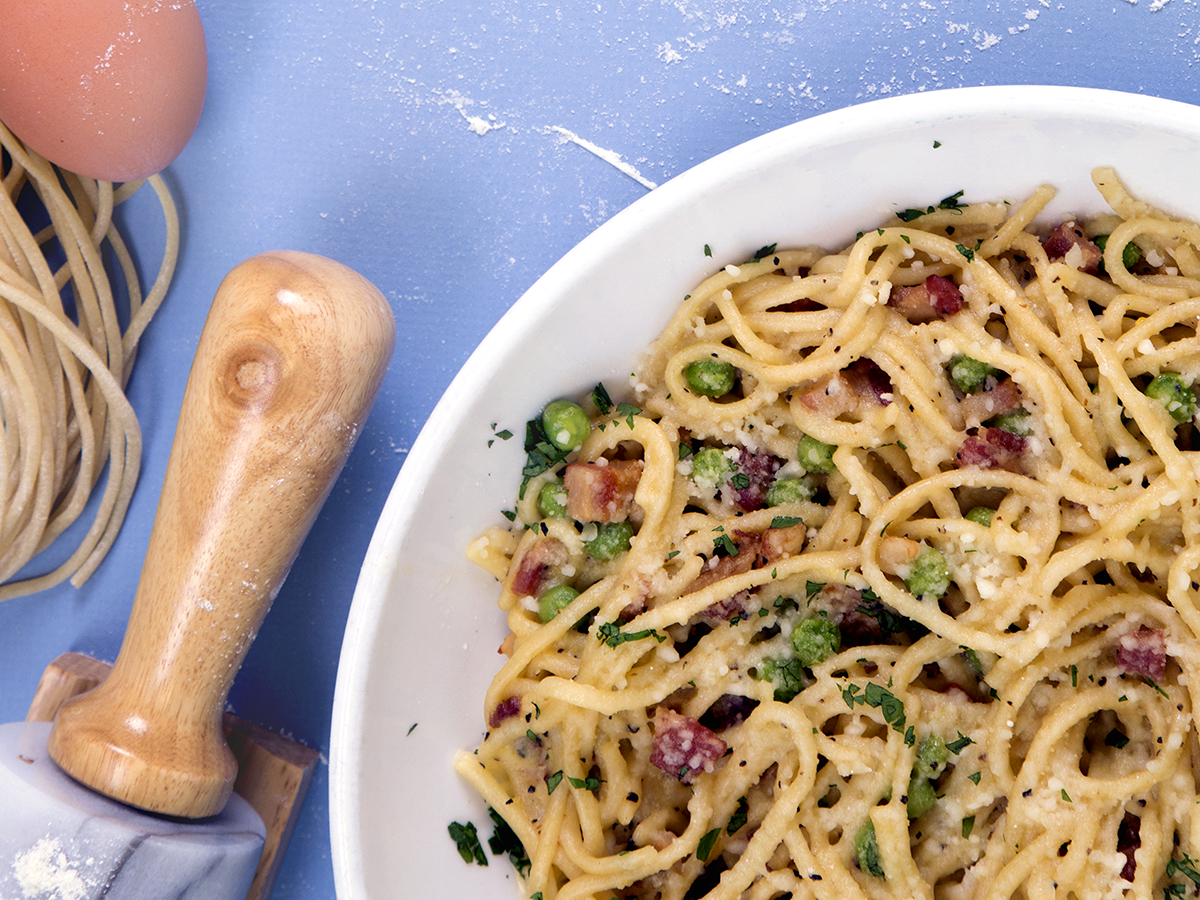 Recipe courtesy Jerry (Salvatore) DeMoro of Salvatore's Fresh Ristorante Italiano.

Ingredients for the Pasta Dough
3 cups caputo 00 flour
3 cups semolina flour
1 tablespoon salt
¼ cup olive oil
3 eggs, beaten
Approximately 1 cup water

To Prepare Pasta
Combine dry ingredients on a clean, flat surface. Create a well in the center and add oil and eggs. Add water into the well while combining ingredients with a fork. Check for consistency—it should be pliable, but not too soft. Add water or flour until you are happy with consistency. Knead for 15 minutes. Cover the ball of dough for 30 minutes to rest. If you have access to a table-top pasta maker, use it to roll out pasta and cut into noodles. Form one-fourth of the dough at a time and flatten until it fits through the rollers, then roll to desired thickness. If you don't have a machine, use a rolling pin. Cut the dough sheets into noodles (spaghetti, linguine or fettuccine) using a pie crust trimmer. Add pasta to a pot of boiling water and cook for 3 to 4 minutes. Drain.


Ingredients for Carbonara
4 ounces of pancetta
1 teaspoon coarse black pepper
2 tablespoons extra virgin olive oil
6 tablespoons butter
¼ cup frozen peas
¼ cup good white wine
Fresh pasta, cooked 
2 large egg yolks
2 ounces pecorino Romano cheese

To Prepare Carbonara
Add pancetta, black pepper and olive oil to a large saute pan. Cook until pancetta starts to brown. Add butter and let it melt and start to bubble. Add peas and heat through. Pour in white wine. Heat until some of the alcohol burns out. Add cooked pasta. Toss until well coated. Pull pan off heat, add egg yolks and stir. Add plenty of grated Romano cheese and serve.