Desserts
Local Goat Cheese Cheesecake
Local goat cheese cheesecake with blackberry coulis, toasted marshmallow, pecans and pickled green apple. Recipe by Chef Damien Tiregol of Crabby's Seafood Bar & Grill in Joplin.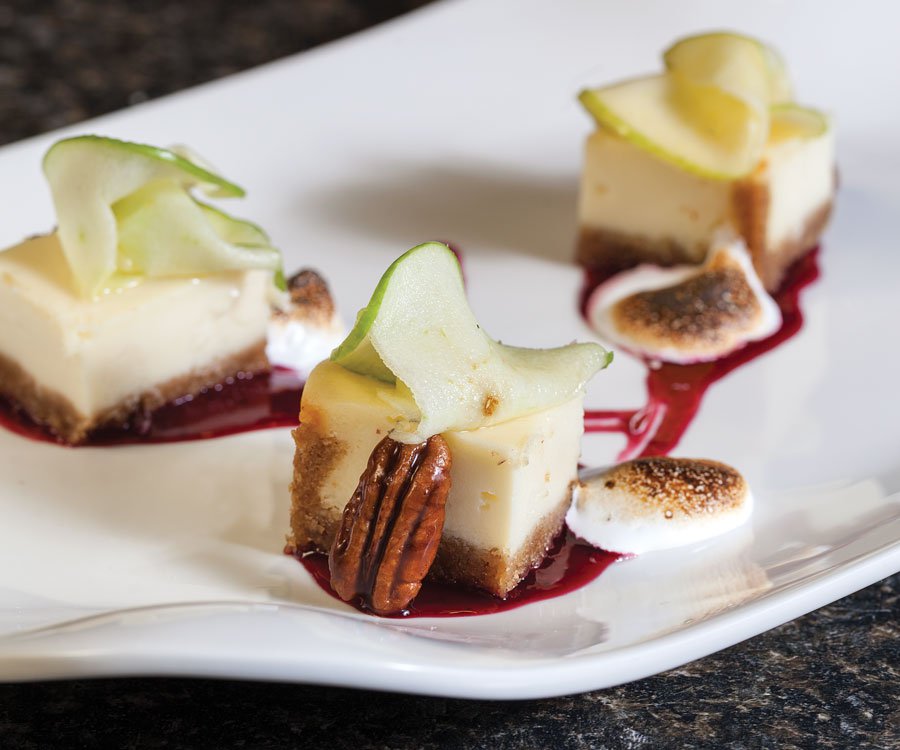 Ingredients for Goat Cheese Cheesecake 
Filling 
16 ounces cream cheese, at room temperature
12 ounces goat cheese
4 eggs
1 cup sugar
2 teaspoons vanilla
To prepare Goat Cheese Cheesecake
Prepare the crust by heating the oven to 350°F. Melt the butter in a small sauce pan over low heat. Mix the other crust ingredients in a mixing bowl. Add the melted butter until the mixture will hold together. Evenly spread the crust mixture over the bottom and sides of a medium sized springform pan. Bake for 10 minutes, remove from oven and let cool for 20 minutes. Pour filling over crust and bake for 35–45 minutes. Place a little dollop of marshmallow cream next to each piece. Drizzle the blackberry coulis in between each piece. Place one solid pecan next to the marshmallow cream and cheesecake. Top with pickled apples. 
Ingredients for Goat Cheese Cheesecake Crust
2 cups shortbread cookie crumbs
6 tablespoons butter
¼ cup sugar
pinch salt
Blackberry coulis
1½ cups fresh blackberries 
1 cup sugar
¼ cup honey 
½ cup water
To prepare cheesecake filling
Cook the blackberry coulis ingredients in a sauce pan on medium heat until the sugar is dissolved and the blackberries are soft. Pass through a chinois to remove seeds. Blend in a blender until smooth. Let cool for at least 12 hours.
While the crust is baking, make the filling by creaming the eggs and sugar together with a mixer until smooth. Add the other filling ingredients and mix at medium speed until smooth. Pour filling in the springform pan on top of the crust and bake for 35–45 minutes until a toothpick comes out clean. Cut cheesecake into square sections, about 1 ½ inches wide. 
Ingredients for Pickled Apples
1 cup water
1 cup cider vinegar
1 cup white sugar
1 tablespoon allspice berries
1 tablespoon ground nutmeg
1 tablespoon ground ginger
1 tablespoon cloves
6 granny smith apples, chopped
½ cup lemon juice
To prepare Pickled Apples
Warm the water, vinegar, sugar, allspice berries, nutmeg, ginger and cloves in a sauce pan until sugar is dissolved. Toss the chopped apples in lemon juice and distribute into Mason jars. Top the apples with the hot mixture. Seal the jars tightly and do not open for at least one week. Take the pickled apples cut into thin strips, and lay three strips directly on top of each setting.
Ingredients for Toasted Marshmallows
3 cups of mini marshmallows
1 teaspoon butter 
To prepare Marshmallows 
Melt the marshmallows and butter together on low heat until it creates a cream. Transfer to a pastry bag with no tip. Lightly toast the marshmallow cream with a brûlée torch.
Ingredients for Pecans
1 cup whole pecans
¼ cup brown sugar
2 tablespoons butter
1 teaspoon cinnamon
½ teaspoon nutmeg
To prepare Pecans
Melt butter, brown sugar and spices together over medium heat until the sugar dissolves. Add the pecans and mix until fully coated. Turn the heat up and let caramelize for three to four minutes. Remove from pan and cool on sheet pan.