Entrees
Homemade Ravioli
With braised short ribs. Recipe by Chef James Martin of Gilardi's Ristorante.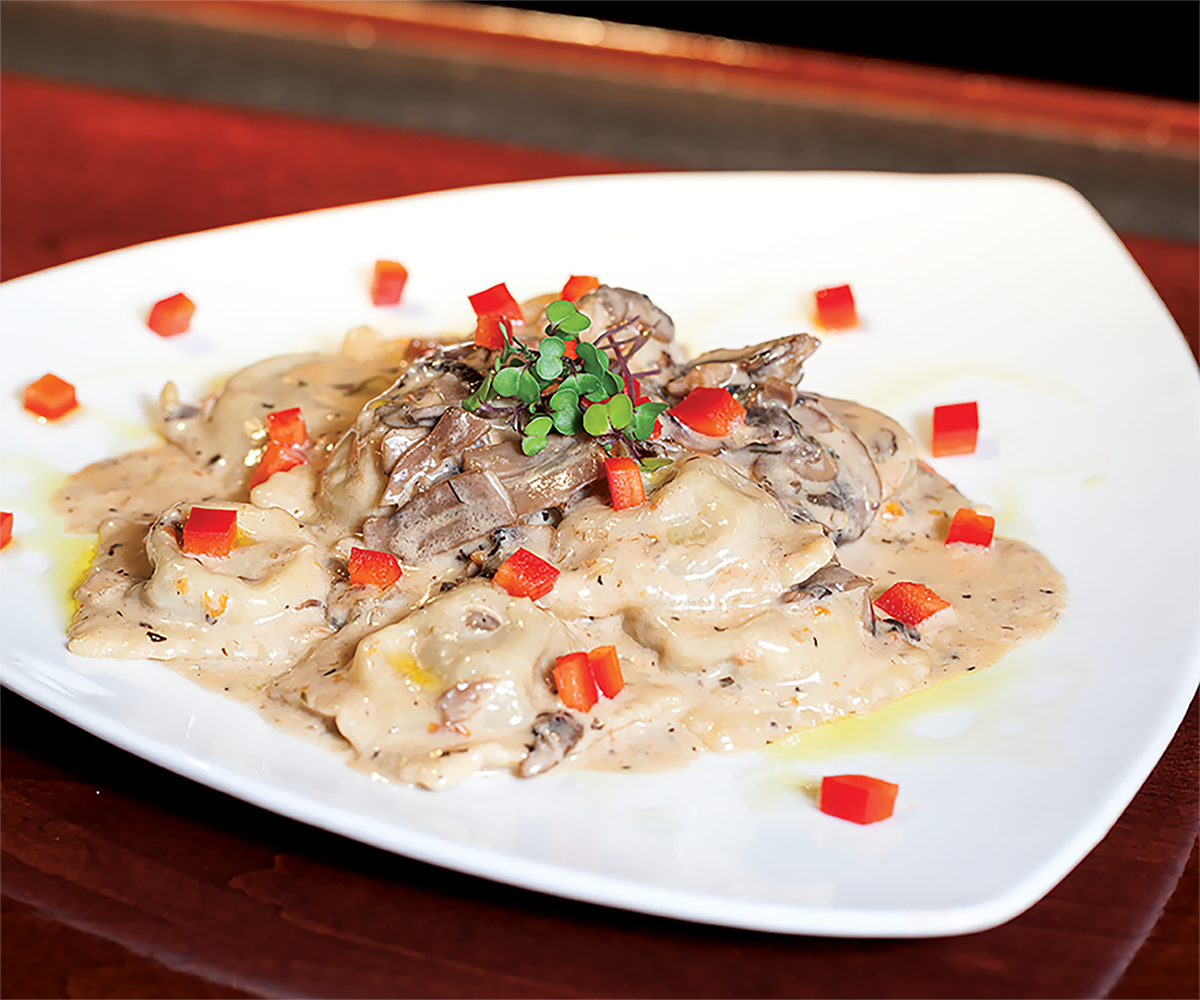 Serves 4. Best paired with Cusumano Nero d'Avola. Recipe by Chef James Martin of Gilardi's Ristorante. From our April 2016 Cooking Class.

Ingredients for Braised Short Ribs
2 beef short ribs
Salt and pepper to taste
2 tablespoons unsalted butter
½ cup diced carrot
½ cup diced celery
½ cup diced yellow onion
2 tablespoons chopped fresh basil
2 tablespoons chopped fresh oregano
1 tablespoon fresh thyme
1 cup red wine
1½ quarts beef stock
1 bay leaf

To Prepare Braised Short Ribs
Season beef with salt and pepper. Brown beef in a large pot with the butter. Remove beef, and add carrots, celery, onion and herbs. Cook until the vegetables are softened. Add wine and simmer for 2 minutes. Add stock and bay leaf and return ribs to pan. Bring back to a simmer, cover well and place in a 350°F oven for 3.5 hours. Remove ribs and set jus aside for use in sauce.


Ingredients for Ravioli Filling
2 braised short ribs, shredded
1 tablespoon horseradish
¼ cup cream cheese

To Prepare Ravioli Filling
Add all ingredients in a food processor and mix until well combined.


Ingredients for Ravioli Dough
1⅔ cups semolina
2⅓ cups all-purpose flour
5 eggs
3 tablespoons olive oil
Pinch of salt

To Prepare Ravioli Dough
Put all ingredients in the bowl of a mixer with a dough-paddle attachment. Mix well for 10 to 15 minutes. If the mixture is too dry, add more oil. If it's too moist, add more flour. Lay the dough on a flat surface and roll out two sheets to a 2-millimeter thickness (too thin and the ravioli will break during cooking; too thick and the ravioli will be chewy). Using a ravioli form, add 1 ounce of the filling per ravioli and top with another sheet. Flip the ravioli form upside down and press firmly to seal. Cut off extra dough. Lay raviolis on a sheet tray and place in freezer until frozen. Boil ravioli for 6 to 10 minutes, depending on thickness. 


Ingredients for Sauce
8 to 10 ounces of reserved jus from short ribs
Mirepoix from short ribs (all cooked carrots, celery, onions and herbs)

To Prepare Sauce
In a medium saucepan, reduce 8 to 10 ounces of the reserved jus and the mirepoix from the short-rib braise for about 5 minutes until sauce is the consistency of gravy. When the sauce is about 5 minutes from final reduction, add the boiled raviolis and turn the heat to low. Allow the ravioli to absorb the remaining sauce, which makes the dough more tender by easing the glutens into the flour. Lay finished raviolis on a plate and garnish with parsley as desired.