Breakfast & Brunch
French Toast with Fresh Fruit
A rich egg bread French toast served with a fresh fruit garnish. From 417 Magazine's Cooking Class with Patrick Duran of Vespa Kitchen.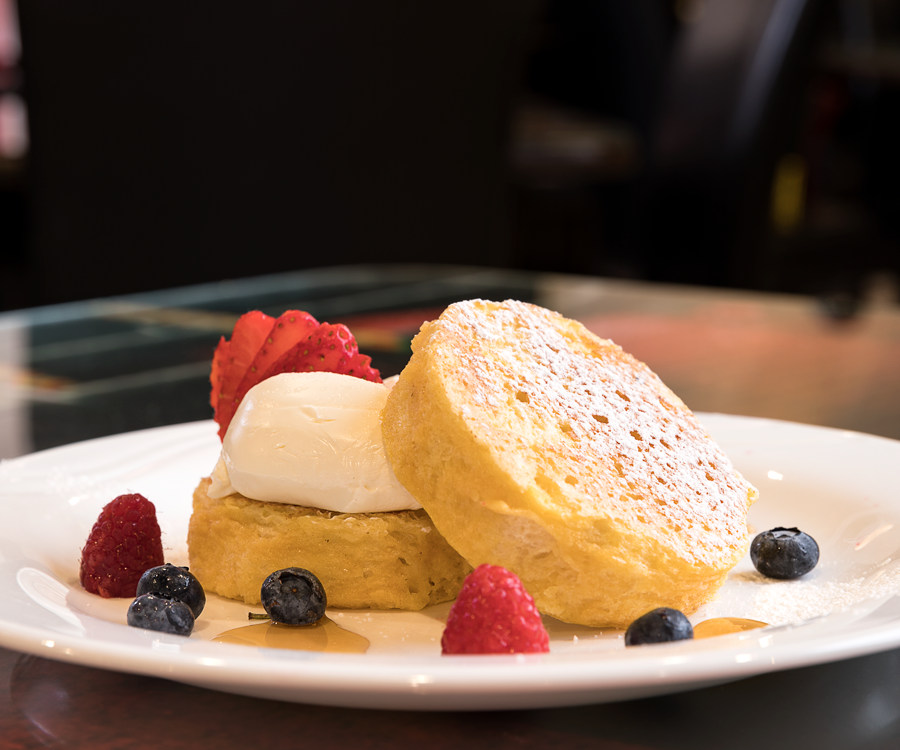 From 417 Magazine's Cooking Class with Patrick Duran of Vespa Kitchen.
Serves 6 
Paired with Ca'Bianca Brachetto d'aqui
Ingredients for the Fremont Hills Finish French Toast
6 pieces of French toast, prepared using your favorite recipe
Bavarian cream
Fresh fruit of choice (for garnish)
Caramel sauce
Powdered sugar for serving

For Bavarian cream
2 tablespoons unflavored gelatin
½ cup cold water
4 egg yolks
½ cup sugar
Pinch of salt
2 cups heavy cream
1 teaspoon pure vanilla extract

To prepare Bavarian cream
Whisk together gelatin and water and allow to bloom for 15 minutes. In a separate bowl, whisk egg yolks, sugar and salt until smooth. Heat the cream to a boil in a saucepan, then slowly pour into the yolk mixture, whisking vigorously. Return the mixture to heat and cook until thickened. Pass through a strainer. Stir gelatin mix and vanilla into strained liquid and cool.

Ingredients for caramel sauce
1 cup brown sugar
½ cup butter
¼ cup milk
1 teaspoon vanilla extract
¼ cup dark rum, flamed off in a pan

To prepare caramel sauce
Heat brown sugar, butter and milk to a gentle boil until it thickens and coats the back of a spoon. Remove from heat and cool for five minutes. Stir in vanilla extract and rum.

To plate
Place each piece of French toast on a serving plate. Top or pipe Bavarian cream onto toast, and top with fresh fruit. Drizzle prepared caramel sauce over each portion and dust with powdered sugar. Garnish additionally as desired and serve.