Veg-Friendly
Eggplant Parmesan with Tomato Sauce
Eggplants are hearty and savory, making them a perfect substitution for meat in vegetarian dishes such as this. Recipe courtesy of The Food Channel.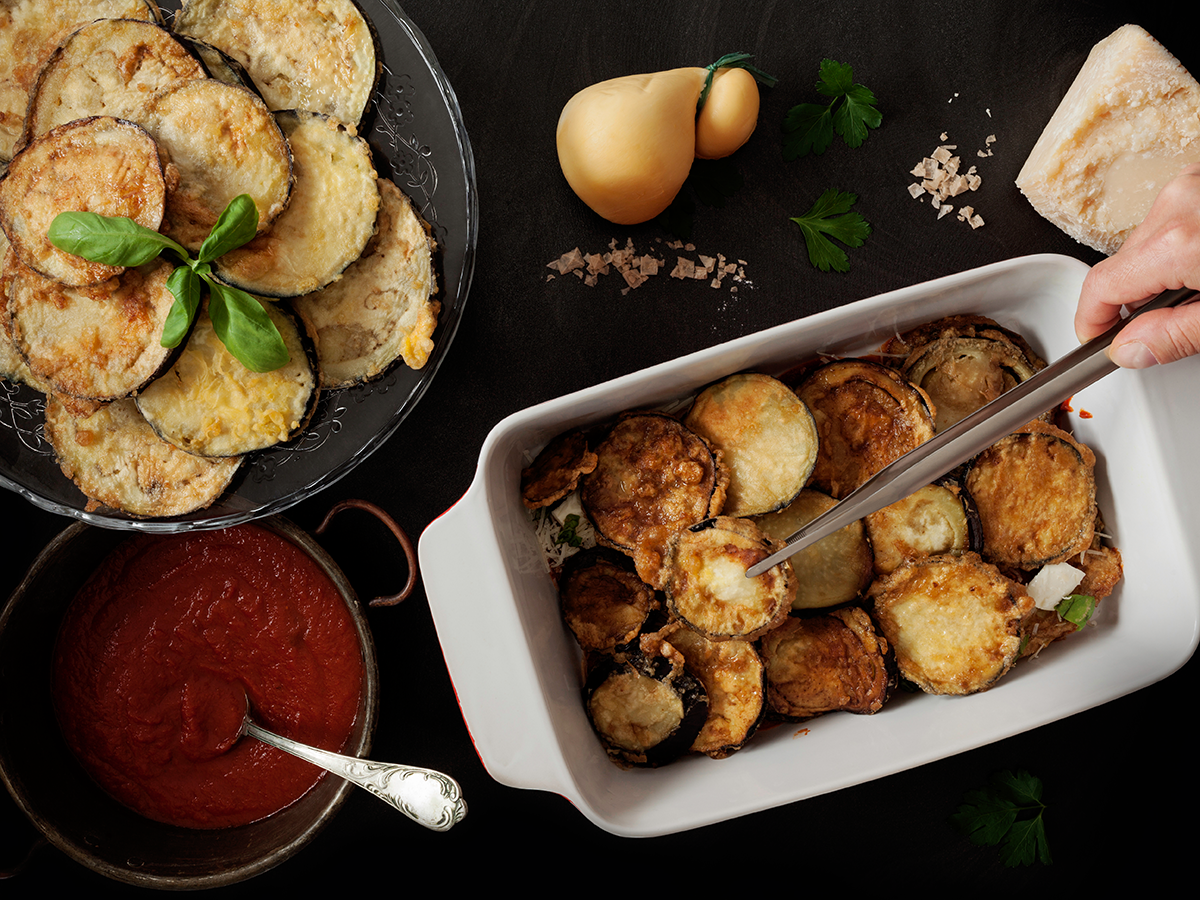 Recipe courtesy of The Food Channel.


Ingredients
2 or 3 medium eggplants, cut horizontally into ½-inch rounds (You will need 16 slices.)
¾ cup Parmesan cheese
5 cups panko
Butter for greasing the pan
5 large eggs, beaten
2 tablespoons water
3 tablespoons olive oil
12 ounces grated mozzarella 
½ pound fresh mozzarella, freshly sliced
Flour, salt and pepper for frying eggplant

To Prepare Eggplant Parmesan
Preheat oven to 400ºF. Lightly butter the bottom and sides of eight individual 4-by-6-inch baking dishes. Place panko in a large shallow bowl. In another shallow bowl, whisk eggs and water together. Season each eggplant slice with salt and pepper on both sides. Dredge each slice in flour, tapping off excess. Dip slices in egg, then dredge in breadcrumbs. Shake off excess breading and transfer each eggplant slice to a baking sheet. In a saute pan over medium heat, heat 3 tablespoons of olive oil. Working in small batches, fry eggplant slices, turning once, for about 3 minutes or until golden brown. Using tongs, transfer to paper towel–lined plate. Repeat with remaining eggplant. 

Ingredients for Tomato Sauce
3 tablespoons olive oil
2 cups yellow onion, chopped
4 garlic cloves, minced
1 28-ounce can tomato puree
1 28-ounce can diced tomatoes
1 8-ounce can tomato paste
¼ cup flat leaf parsley, chopped
½ cup basil leaves, chopped
1½ teaspoons kosher salt
½ teaspoon coarse ground black pepper
To Prepare Tomato Sauce
Heat olive oil in a large pan over medium-low heat. Add onion and saute for five minutes. Add garlic and cook for one minute until fragrant. Add tomatoes, tomato puree, tomato paste, parsley, basil, salt and pepper. Simmer over medium-low heat, uncovered, for 15 to 20 minutes or until thick. 

To Assemble
Cover the bottom of the prepared baking dish with tomato sauce and arrange eggplant slices on top. Cover eggplant slices with more sauce and grated mozzarella. Repeat to make more layers, ending with sauce. Top with fresh mozzarella and Parmesan cheese. Bake until hot and just beginning to brown, about 30 minutes. Let rest 10 minutes before serving.