Salads
Cured Ahi Tuna Salad
Plus lemon thyme vinaigrette and pickled watermelon radish. Recipe by Chef Jeff Luzius at Level 2 Steakhouse.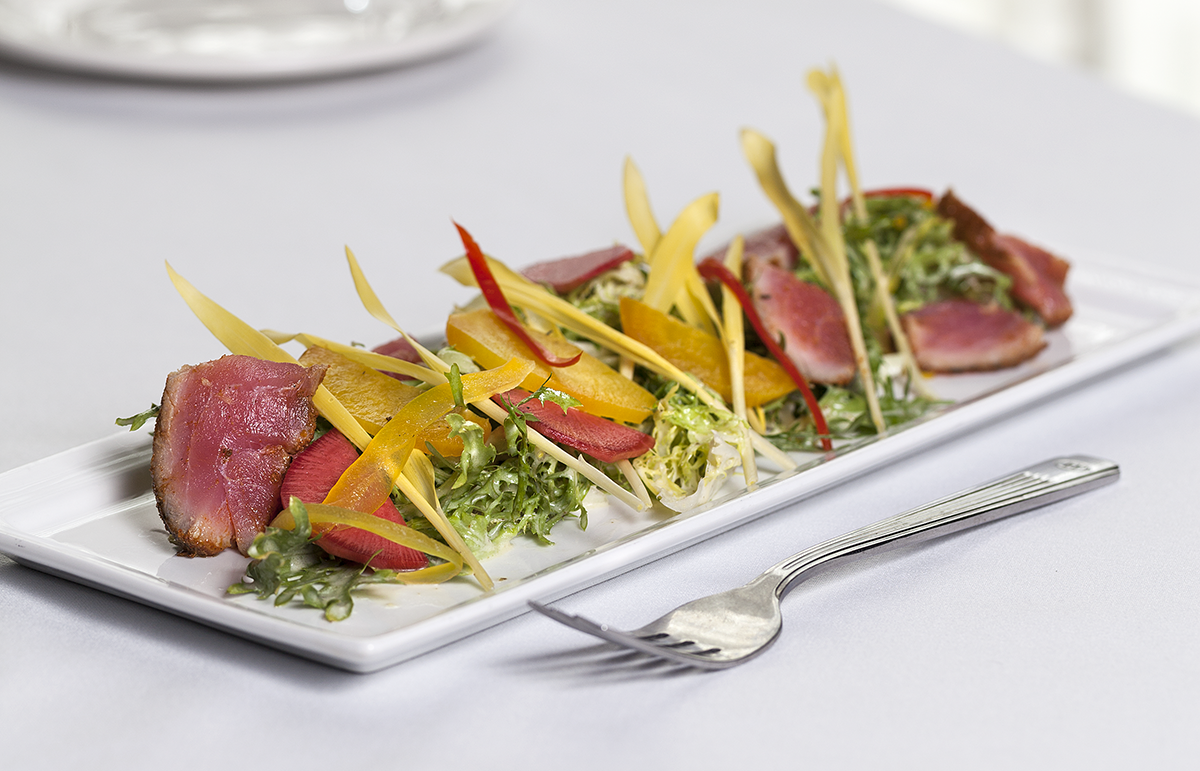 Serves 4. Best paired with Planeta Rosé. Recipe by Chef Jeff Luzius of Level 2 Steakhouse. From our September 2016 Cooking Class.

Ingredients for Cured Ahi Tuna Salad
1 loin (about 2 pounds) Pacific albacore tuna
⅓ cup fine sea salt
⅓ cup unrefined cane sugar
1 teaspoon freshly ground black pepper
2 tablespoons vodka 
Frisee or similar salad mix
Roasted gold beets, cut into 1-inch cubes
Lemon thyme vinaigrette
Pickled watermelon radish

To Prepare Cured Ahi Tuna Salad
To cure tuna, mix the tuna loin, sea salt, cane sugar, pepper and vodka in a bowl and cover in the fridge for four days. To make the salad, toss greens with the lemon thyme vinaigrette, and pile in center of the plate. Place four beet cubes, three thin slices of watermelon radish, and one-fourth of the tuna on top of greens.


Ingredients for Lemon Thyme Vinaigrette
3 sprigs fresh thyme, roughly chopped
2 tablespoons Dijon mustard
½ cup sweet chili sauce
1 lemon, grilled and juiced
1 lime, grilled and juiced
1 orange, grilled and juiced
1 shallot, minced
½ cup rice wine vinegar
½ cup white balsamic vinegar
2 cups extra virgin olive oil
Salt and pepper to taste

To Prepare Lemon Thyme Vinaigrette
Add all ingredients except the olive oil together in a bowl. Blend with an emulsion blender and slowly add the oil while still blending.


Ingredients for Pickled Watermelon Radish
½ cup sugar
½ cup water
2 cups red wine vinegar
1 tablespoon peppercorns
4 bay leaves, crushed
2 cloves
1 lemon, juiced
5 watermelon radishes 

To Prepare Pickled Watermelon Radish
Put all ingredients except radishes together in a pot and bring to a boil. Cut watermelon radishes in thin half-moons. Pour boiling mixture over the cut radish. Place a clean towel inside the liquid to weigh down the radishes and keep them completely submerged. Place uncovered in the fridge overnight.