Entrees
Creole Gumbo
Plus spicy sausage, lump crab, crab claws and gulf shrimp. Recipe by Jennifer Smith of The Traveling Chef.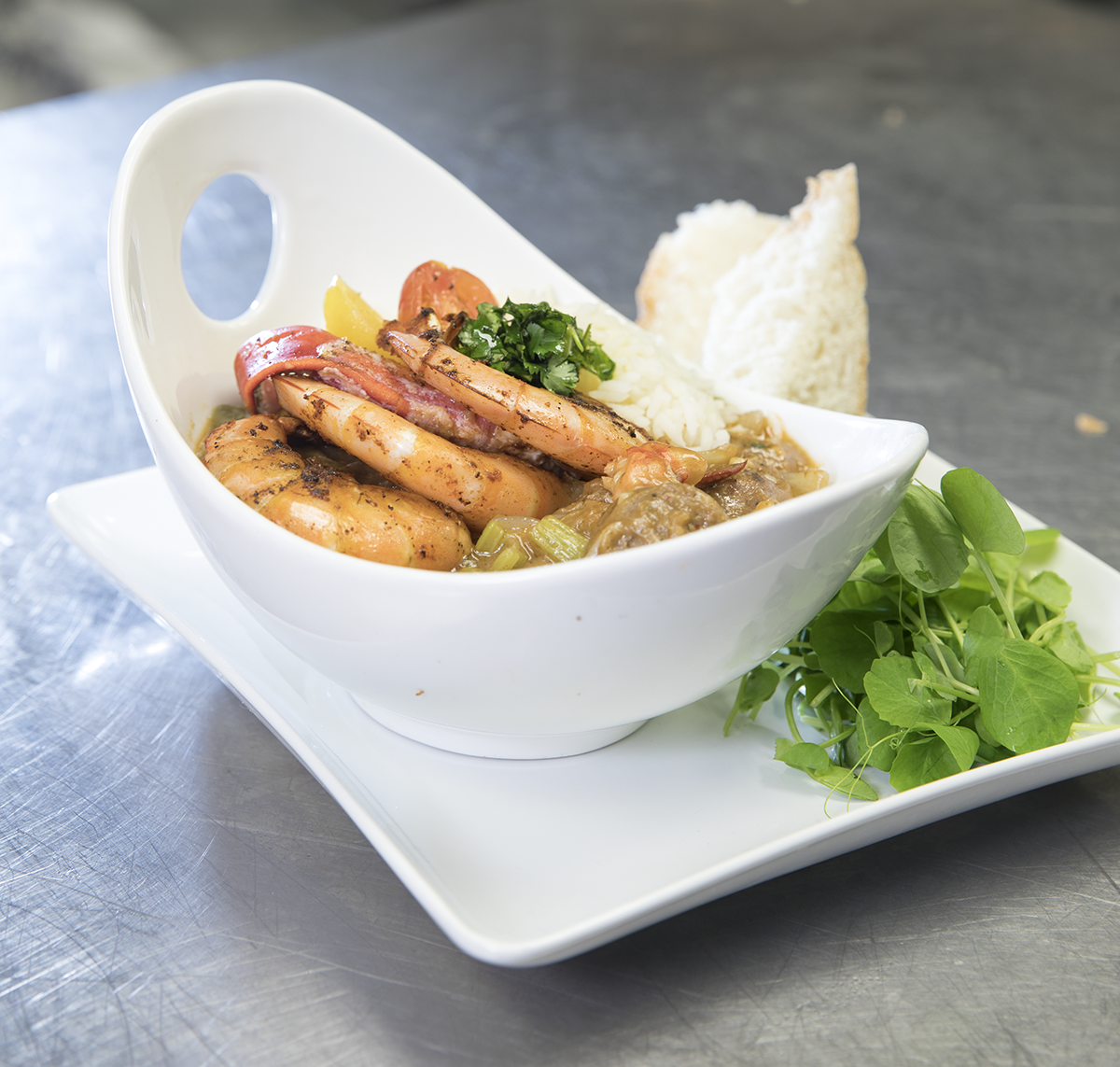 Serves 6. Best paired with Ernie Els Big Easy Chenin Blanc. Recipe by Jennifer Smith of The Traveling Chef. From our March 2017 Cooking Class.

Ingredients
¾ pound Creole hot sausage (if available), cut into 1-inch rounds
½ cup plus 2 tablespoons vegetable oil
½ cup all-purpose flour
2 large onions, coarsely chopped
2 large onions, coarsely chopped
1 bunch flat-leaf parsley, chopped
5 stalks celery, chopped
1 bunch green onion, chopped
1 large green bell pepper, chopped
4 quarts seafood stock or chicken stock
4 bay leaves
2 pounds frozen okra cut into rounds
1 dozen cooked crab claws or legs
1 pound lump crab meat
2 pounds cooked and chilled shrimp, peeled and deveined 
2 tablespoons Creole seasoning
4 tablespoons gumbo filé powder
Salt and pepper to taste
6 cups steamed white rice

To Prepare
Cook the sausages in a skillet in batches over medium heat, turning occasionally, until the pieces are slightly brown and much of the fat has been rendered. Remove the sausage and set aside on a paper towel-lined plate to drain. Discard the excess fat remaining in the skillet before cooking the next batch of sausage.

Place the 1/2-cup vegetable oil in a 12-quart stockpot. Heat the oil over medium heat. Once the oil is hot, one tablespoon at a time slowly add the 1/2-cup flour to prepare the roux, stirring constantly. Once all the flour has been added continue heating and stirring the roux until it becomes a medium brown color, somewhere between the color of caramel and milk chocolate, about 10 to 15 minutes. Add the onions to the roux, stirring constantly. Once the onions are wilted, add the garlic, parsley, celery, green onions and bell pepper, Add the seafood stock or chicken stock and bring to a simmer. Add the browned sausage and bay leaves and bring everything to a boil over medium-high heat. Then reduce the heat to medium and continue to cook.

Add okra to the gumbo pot. Continue cooking the gumbo for 60 minutes. Add the cooked crab and shrimp and cook for 15 minutes longer. Remove the gumbo from the heat and stir in the Creole seasoning and gumbo filé powder. Let the gumbo rest for 15 to 20 minutes. Taste the gumbo and adjust seasoning with more salt and pepper as needed. Serve the gumbo ladled over steamed rice.