Desserts
Chocolate Mint Thins with Candy Cane Crunch
The pepperminty candy cane adds a nice crunch to these chocolate mint thins. Recipe by Claire Porter, adapted from The New York Times.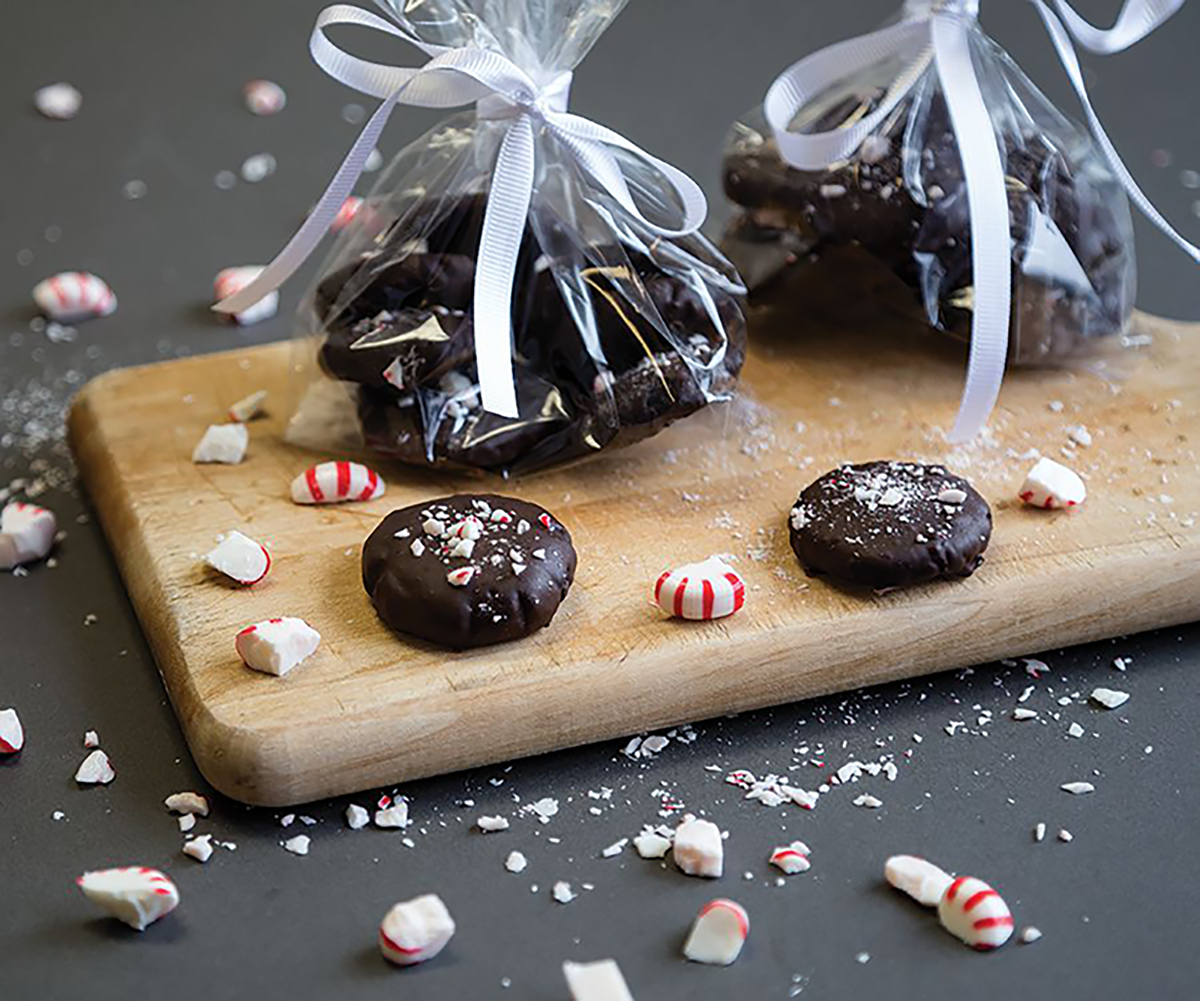 Yields 5 dozen cookies. Recipe by Claire Porter, adapted from The New York Times.

Ingredients for the Chocolate Mint Thins
1 cup plus 2 tablespoons granulated sugar
12 tablespoons unsalted butter, softened at room temperature
½ teaspoon kosher salt
1 egg
1 teaspoon peppermint extract
1 tablespoon water
1½ cups all-purpose flour
¾ cup unsweetened cocoa (preferably Dutch-process)

Ingredients for Candy Coating
8 to 12 candy canes
16 ounces semisweet or bittersweet chocolate
¼ teaspoon vanilla extract 
¼ to ½ teaspoon peppermint extract
2 tablespoons coconut oil

To Prepare Chocolate Mint Thins
Heat oven to 350°F. Line baking sheets with parchment paper or a nonstick liner. In the bowl of a mixer, cream sugar and butter together for at least three minutes until fluffy. Add salt, egg, peppermint extract and water, and mix until smooth. In a separate bowl, mix or sift flour and cocoa together, then add to the wet ingredients, and mix until combined. Break dough into chunks the size of two teaspoons, and roll into balls. Place three inches apart on baking sheet. Dust the bottom of a glass with cocoa, and use the glass to flatten each ball into a 1/8-inch-thick round. Bake about 15 minutes until cookies are flattened, firm and beginning to crisp. Remove from cookie sheets, and let cool on wire racks.

To Prepare Candy Coating
Place the candy canes in a plastic bag, and use a heavy skillet or rolling pin to pulverize them into a mix of dust and small chunks. Set aside in a cool place. Melt chocolate in a metal bowl set over barely simmering water. When smooth, stir in vanilla extract, ¼ teaspoon of peppermint extract and coconut oil. Taste, and add more peppermint extract if needed.

To Coat Cookies
Working one cookie at a time, use a spatula or shallow slotted spoon to submerge the cookie in chocolate. Gently press cookie to the bottom of the bowl. Slowly lift it out, letting chocolate drip evenly off the sides to make a smooth, thin coating on top. Gently shake off excess chocolate, and place cookies on a rack to cool. After about 15 minutes, start checking to see if the chocolate has set. When the chocolate is firm and almost cool, sprinkle tops evenly with candy cane dust and bits. (Don't do this step too soon, the candy cane bits will melt.) Store in the refrigerator in airtight containers in layers separated by parchment paper until it's time for packaging and gifting.