Entrees
Cauliflower Pizza Crust
A great, creative alternative to a traditional pizza crust. Also a gluten free option. Recipe by Peyson Shields.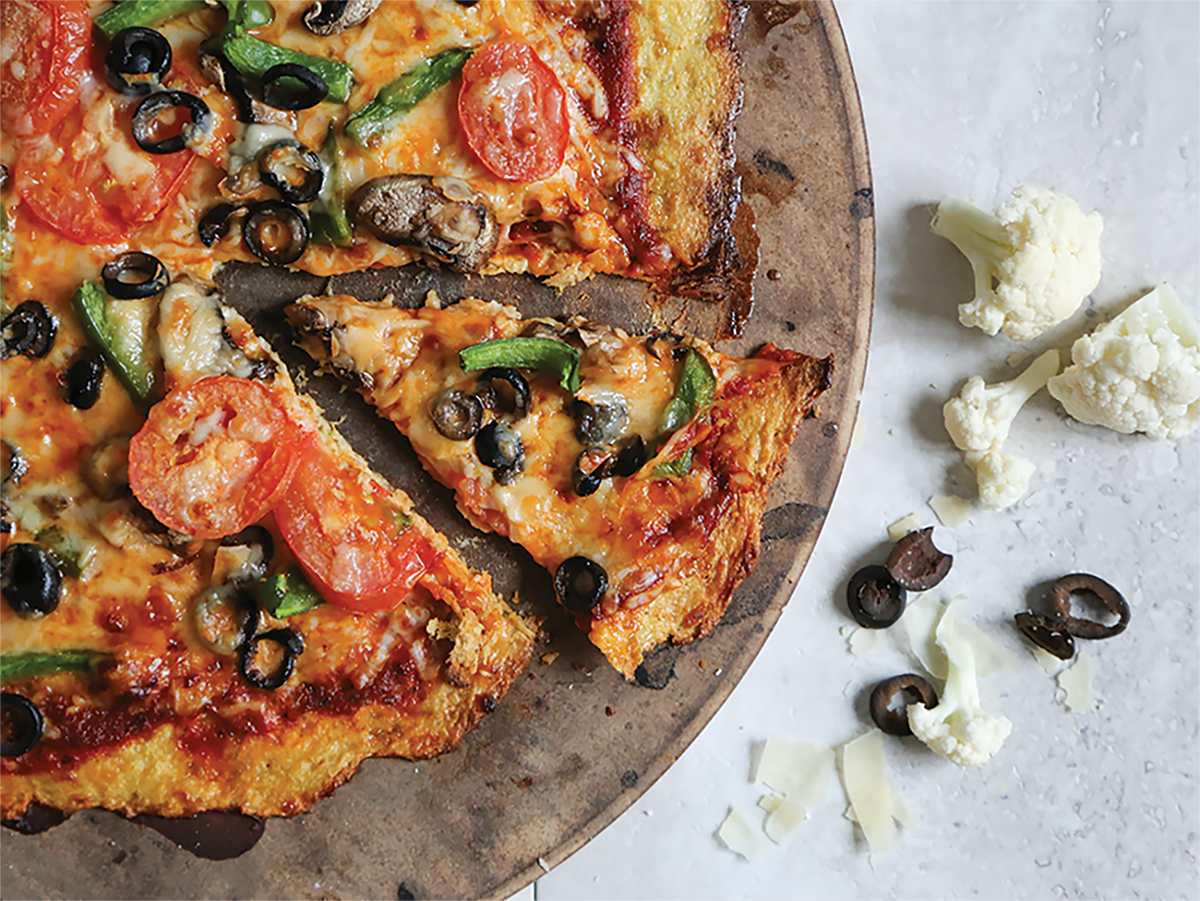 Recipe by Peyson Shields.

Ingredients
1 head cauliflower, broken into florets
2 eggs, beaten
½ cup shredded mozzarella 
½ cup grated Parmesan
1 teaspoon sea salt
½ teaspoon garlic powder
Additional spices (optional)

To Prepare
Preheat your oven to 400°F, and line two baking sheets or pizza pans with parchment paper. If you're using a pizza stone, place it in the oven to heat up. Place cauliflower florets into a food processor, and pulse until it's a rice-like consistency. (If you don't have a food processor, you can buy chopped cauliflower pieces for pizza crust and other recipes in the produce section of many grocery stores, including Price Cutter and Harter House.) Transfer to a large bowl, and cover with plastic wrap. Steam the cauliflower by microwaving it for five to six minutes. Let cool. Drain cauliflower in a metal sieve, then place in a tea towel or cheesecloth. Tightly squeeze out the moisture and remaining water. Your goal is for the cauliflower to be as dry as possible. Combine remaining ingredients, and stir until well incorporated. Divide mixture into two smaller portions or one large portion, creating two small crusts or one large crust, by spreading it out on your prepared baking sheets until it is ¼-inch, or so, thick. Bake for 10–15 minutes, and then top with your favorite goodies. Place back into the oven until everything is cooked through and melted.

*Make this vegan: Substitute dairy free cheese for the mozzarella, nutritional yeast for the Parmesan and two tablespoons of ground flax meal with six tablespoons of water for the egg.