Small Bites
Burrata with Lemony Spring Vegetables
The soft, creamy texture of the burrata pairs well with these crisp, spring vegetables.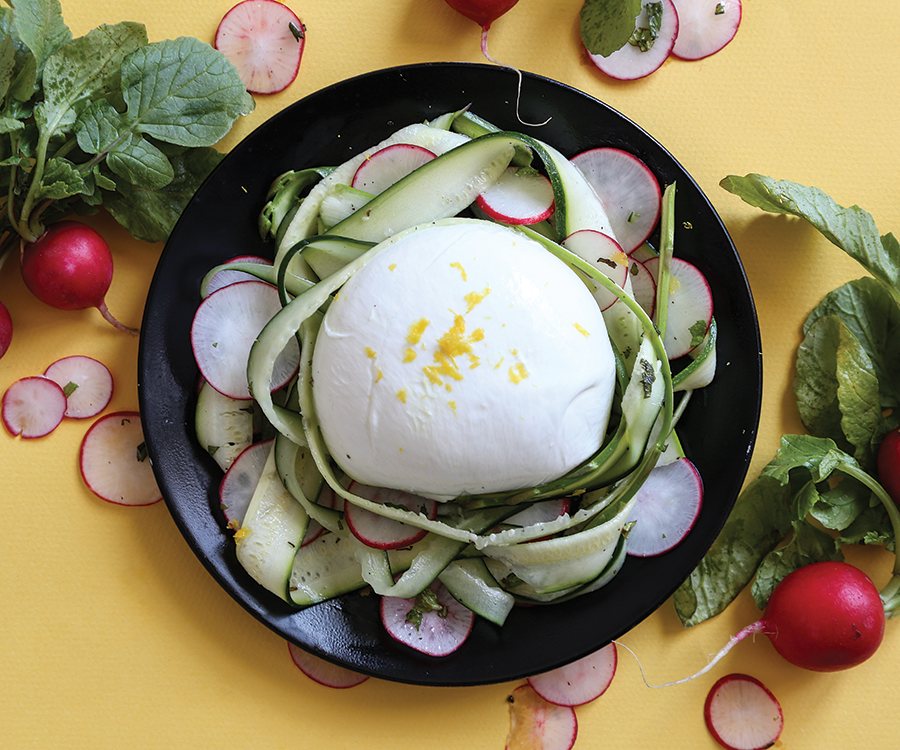 Ingredients
5 radishes (any type)
½ zucchini, sliced longways
½ cucumber, slice longways
2 asparagus stalks
1 tablespoon of chopped fresh mint
2 tablespoons extra virgin olive oil
1 tablespoon white balsamic vinegar
3 tablespoons lemon juice
salt and pepper to taste
1 ball of burrata (available at Brown Derby International Wine Center)
½ teaspoon lemon zest

To Prepare
Trim and blanch the asparagus. Slice the zucchini in half, so you have two long quarters. Do the same with the cucumber. Deseed the cucumber. Using a mandoline or vegetable peeler, slice the zucchini, cucumber and asparagus into long, very thin pieces. Slice the radishes into very thin rounds. In a bowl, whisk together olive oil, vinegar, lemon juice, salt and pepper to create a dressing. Set two teaspoons of the dressing aside. In another bowl, combine the veggies and mint. Drizzle the dressing over the top and toss until the vegetables are lightly coated. You might have leftover dressing. Arrange the veggies on a plate. Set the burrata on top. Drizzle the burrata with 2 teaspoons of the dressing, and sprinkle the dish with lemon zest.