Entrees
Bok Choy & Smoked Sausage Ragu
Grinding bok choy and sausage gives hearty texture to the creamy sauce, which is amped up by the addition of spicy mustard. Go the extra step and add a side of pickled bok choy.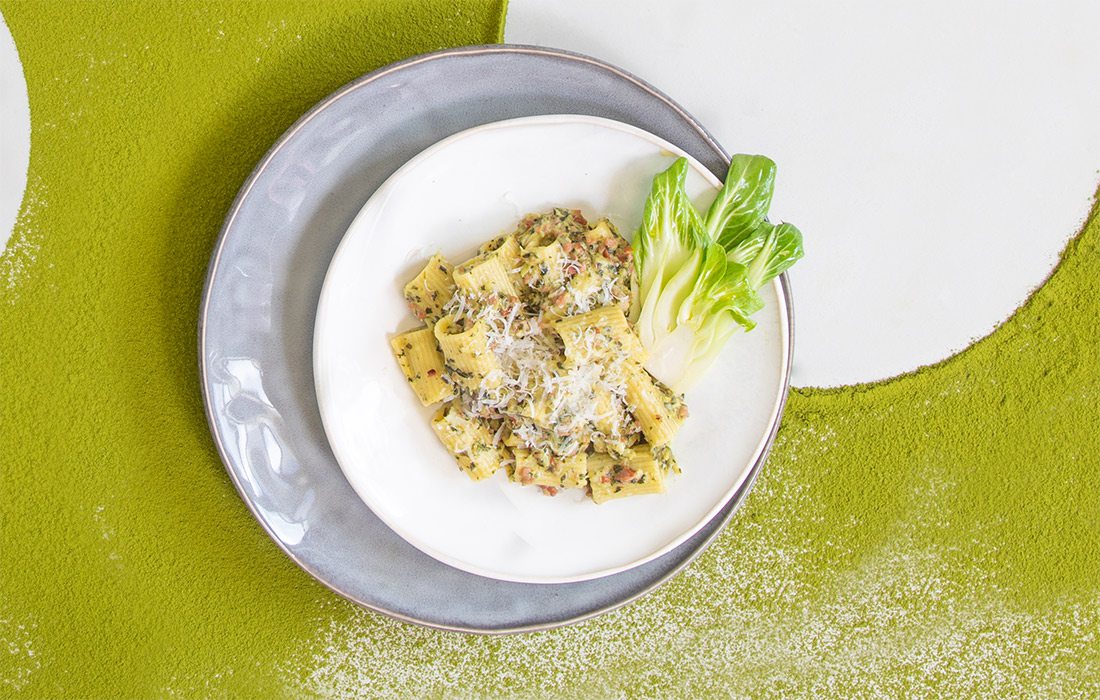 Recipe courtesy Sarah Kraber of Pino & Tink's

Serves 4–6
Quick-Pickled Bok Choy Ingredients
2 cups granulated sugar
1 cup rice vinegar 
2 tablespoons salt
5 cups bok choy or baby bok choy, sliced or cut into 2-inch strips, white and green parts
To Prepare
Combine sugar, salt and vinegar in a glass jar or plastic container with a lid. Add chopped bok choy, seal and shake jar gently to combine. Allow bok choy to marinate at least 30 minutes up to a few days. (Store in the fridge if pickling longer than 30 minutes.) 
Bok Choy and Smoked Sausage Ragu Ingredients
1 package (13–16 ounces) smoked turkey 
sausage, casing removed
4 cups bok choy
2 tablespoons butter
2 tablespoons olive oil 
½ teaspoon salt
½ teaspoon ground white pepper 
½ cup beer, lager recommended
¾ cup heavy cream 
1 tablespoon Chinese-style hot mustard 
1 tablespoon whole-grain mustard
1 pound rigatoni 
½ cup grated pecorino Romano
To Prepare 
Cut sausage into two-inch pieces. Add to a food processor and pulse six or seven times until ground. Remove from food processor and set aside. Add bok choy to food processor and pulse six or seven times until ground. In a large skillet over medium heat, heat butter and oil. Add smoked sausage and brown slightly, then add ground bok choy, salt and pepper. Continue cooking, stirring frequently, until sausage and bok choy are cooked and most of the liquid has evaporated. Deglaze the pan with the beer and continue cooking until mostly evaporated. Add heavy cream and reduce, stirring occasionally until you have a tight ragu consistency. Stir in mustards and adjust seasoning.
Meanwhile, cook pasta per package instructions, being sure to reserve ½ cup of pasta cooking water. Add pasta to sauce and stir to combine. Add pasta water a few splashes at a time to loosen the sauce and coat the pasta. Sprinkle in pecorino Romano and stir. Serve hot with pickled bok choy alongside.