Entrees
Blackened Beef Tenderloin & Shrimp
Plus smoked Gouda grits. Recipe by Jennifer Smith of The Traveling Chef.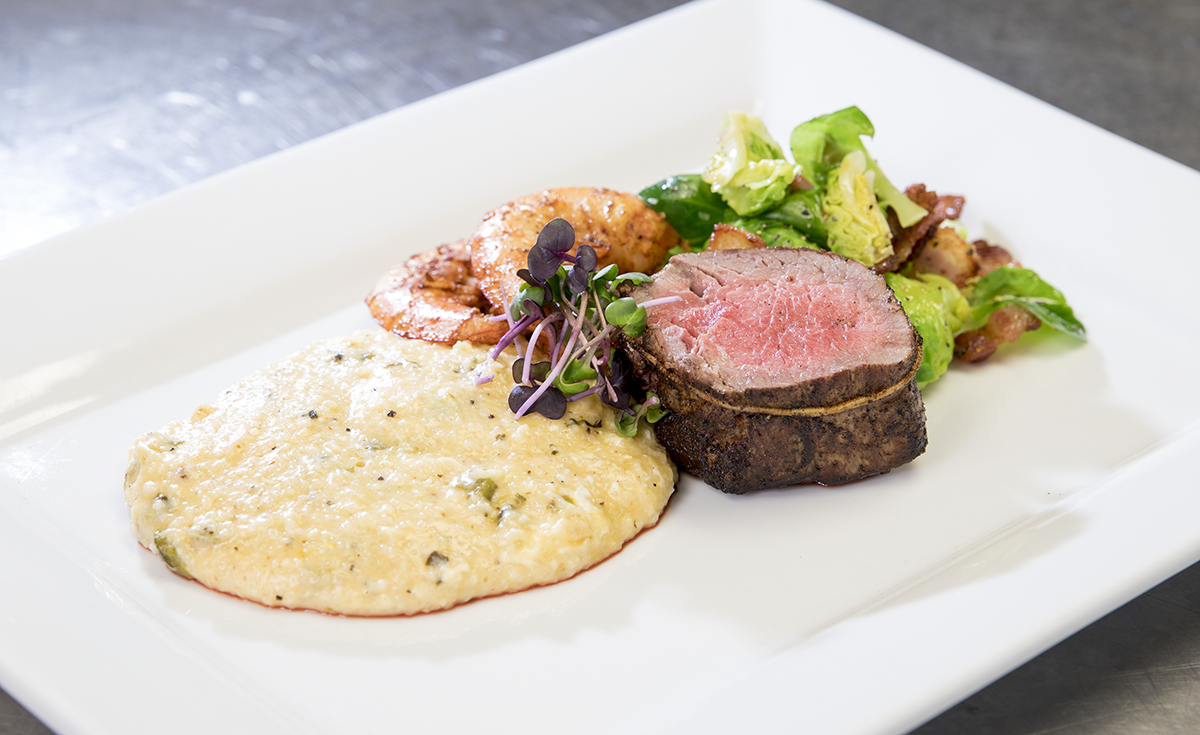 Serves 6. Best paired with Kaiken Ultra Malbec. Recipe by Jennifer Smith of The Traveling Chef. From our March 2017 Cooking Class.

Ingredients for Tenderloin and Shrimp
2 pounds shrimp
5 tablespoons olive oil, divided
5 tablespoons Cajun seasoning, divided
1 beef tenderloin

To Prepare Tenderloin and Shrimp
Heat oven to 400°F. In a bowl, coat shrimp in 3 tablespoons olive oil, and season with 2 tablespoons Cajun seasoning. Coat tenderloin in 2 tablespoons olive oil then evenly sprinkle 3 tablespoons Cajun seasoning over tenderloin, and gently press seasoning into meat.
Heat saute pan, and brown tenderloin on all sides. Place on sheet pan in oven until cooked to about 145°F. Remove and let sit for 15 to 20 minutes before cutting. Heat another saute pan, and add olive oil. Carefully place shrimp in pan, working in batches and making sure not to overcrowd the pan. Place one slice of beef tenderloin and two to three shrimp on a bed of grits and Brussels sprouts.


Ingredients for Smoked Gouda Grits
1 tablespoon olive oil
2 teaspoons garlic, chopped
½ teaspoon red pepper flakes
1 cup poblano pepper, chopped, roasted, deseeded and peeled
⅓ cup white wine
6 cups water
1 tablespoon chicken base
1 tablespoon kosher salt
1 teaspoon white pepper
½ teaspoon smoked paprika
¼ teaspoon cayenne
1½ cups old fashioned grits
4 ounces smoked Gouda
3 ounces cream cheese
¼ cup heavy cream
1 tablespoon fresh chopped parsley

To Prepare Smoked Gouda Grits
Saute the olive oil, garlic and red pepper flakes on medium for 2 to 5 minutes on medium heat. Add chopped poblano pepper. Deglaze the pan with the white wine and cook for 3 minutes. Add water, chicken base, kosher salt, white pepper, smoked paprika, and cayenne pepper. Bring the liquid to a brisk boil and slowly add grits. Cook for 15 to 20 minutes or until thickened, stirring often. Finish grits with shredded smoked Gouda, cream cheese, heavy cream and parsley. Keep warm until ready to serve.