Salads
Black and Bleu Salad
Blackened beef tips elevate this traditional salad to the next level. Recipe by Chef James Martin of Gilardi's Ristorante.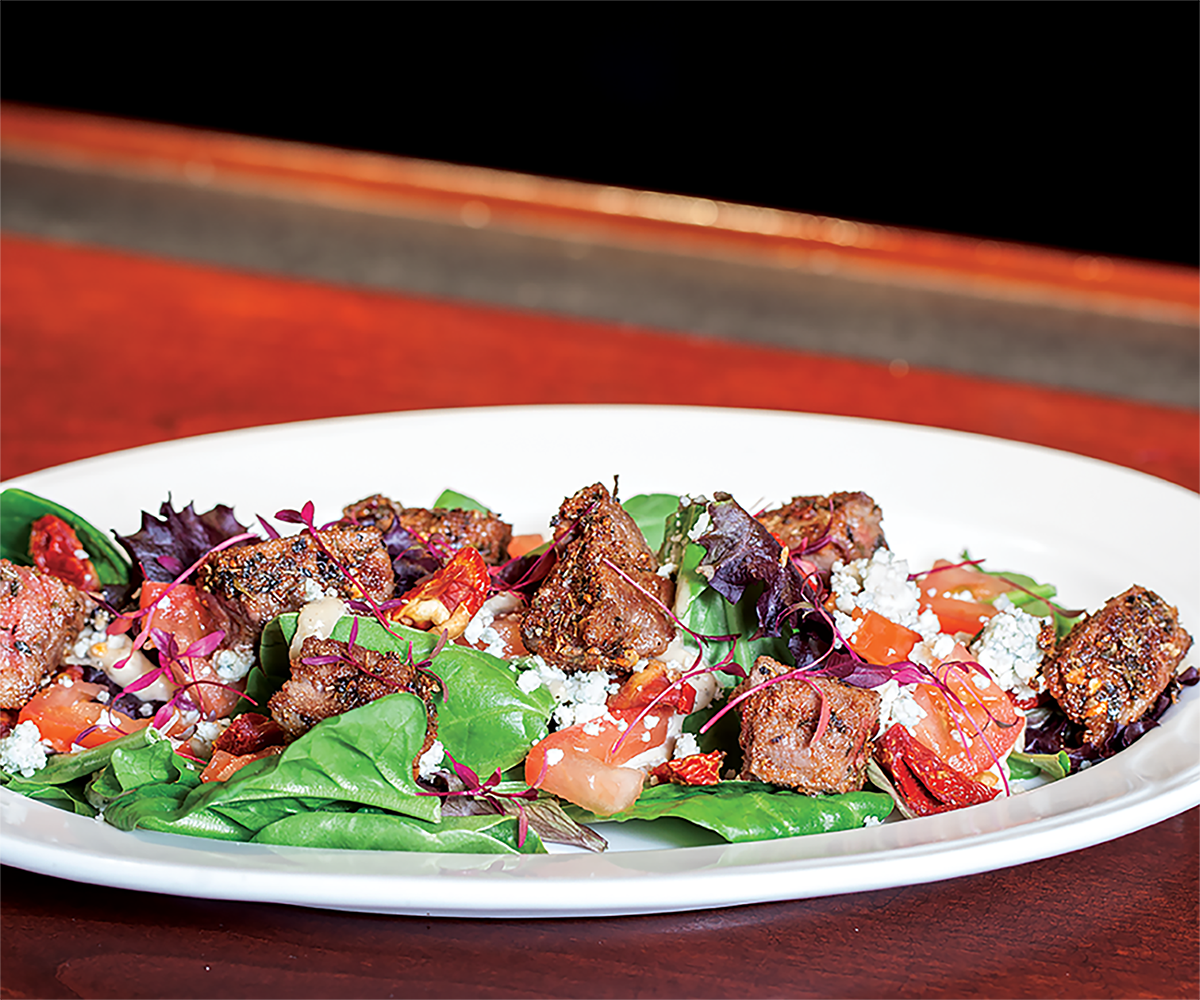 Serves 4. Best paired with Planeta Rosé. Recipe by Chef James Martin of Gilardi's Ristorante. From our April 2016 Cooking Class.

Ingredients for Blackened Beef Tips
¼ cup paprika
3 tablespoons granulated garlic
3 tablespoons granulated onion
1 tablespoon black pepper
1 tablespoon cayenne pepper
1 tablespoon dried basil
1 tablespoon dried oregano
2 6- to 8-ounce sirloin steaks, cubed

To Prepare Blackened Beef Tips
Mix the dry ingredients in a bowl. Toss the steak cubes in the seasoning and cook as desired, either in a pan or on the grill.


Ingredients for Salad Dressing
2 cups mayonnaise
½ teaspoon fresh parsley
2 garlic cloves, minced
1 tablespoon granulated garlic
2 teaspoons red wine vinegar
1 tablespoon granulated sugar
¼ teaspoon salt
½ teaspoon worcestershire
dash of tabasco sauce
1½ cups bleu cheese

To Prepare Salad Dressing
Add all ingredients except the bleu cheese in a bowl and mix well with an emulsion blender. Add bleu cheese and mix lightly again with the emulsion blender. 


Ingredients for Salad
4 ounces mixed salad greens
1 cup grape tomatoes, halved
1 cup Gorgonzola crumbles

To Assemble Salad
Toss salad greens with grape tomatoes, Gorgonzola and dressing. Layer the beef tips over the salad and serve.