Breakfast & Brunch
Parmesan Biscuits with Chicken Sausage and Sage Gravy
Warm and earthy sage plus a chicken base bring the breakfast favorite of B&G to a warm and wintry level.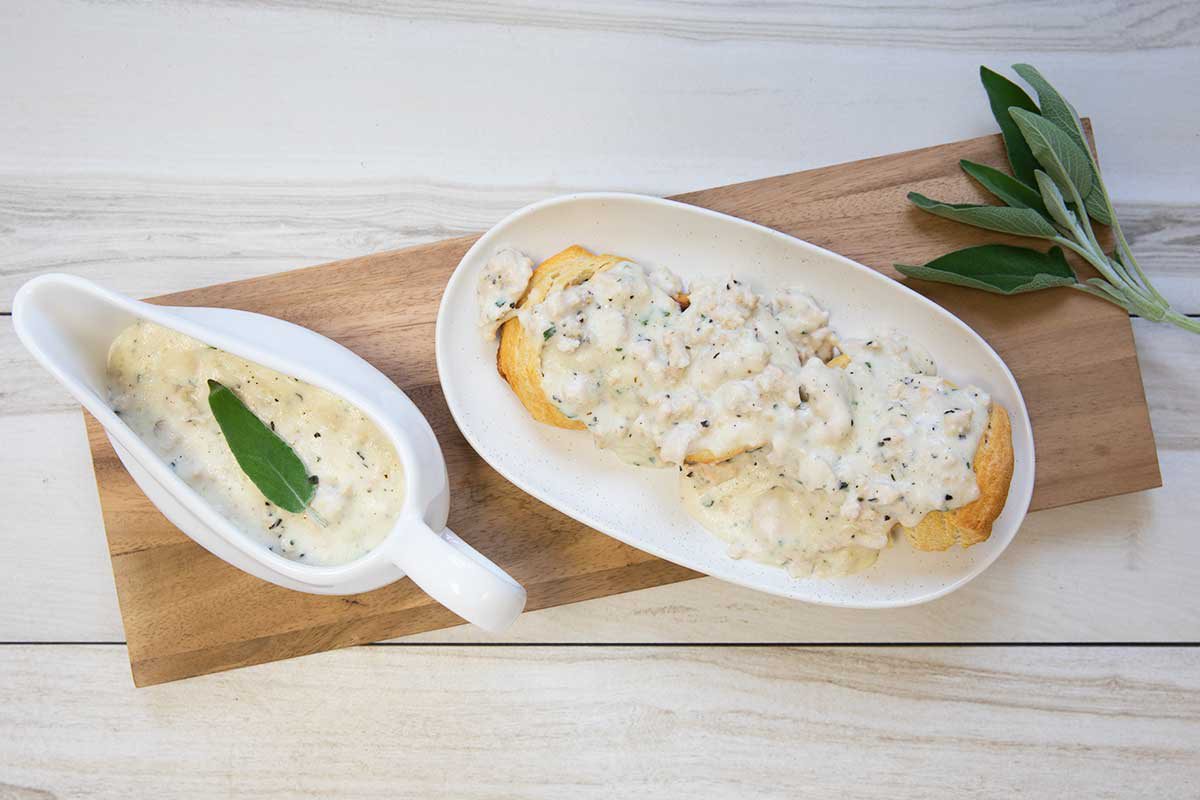 Time: 1 hour
Serves: 6

Ingredients
For the biscuits:
2 cups all-purpose flour
2 tablespoons baking powder
1 teaspoon sugar
½ teaspoon salt
½ cup (1 stick) cold butter, diced
1 cup buttermilk
½ cup Parmesan cheese, grated
 
For the gravy:
1 pound ground chicken
2 teaspoons poultry seasoning
1 teaspoon brown sugar
2 tablespoons butter if needed
2 tablespoons fresh sage
¼ cup flour
3 cups whole milk
½ teaspoon salt
¼ teaspoon pepper

To Prepare
Preheat oven to 425ºF. Butter a cast-iron skillet and set aside. In the bowl of a food processor, pulse together flour, baking powder, sugar and salt for the biscuits. Add in diced butter and pulse until a small meal forms. Drizzle in buttermilk and pulse until dough is formed. Add Parmesan and pulse until fully incorporated. Turn dough onto a floured surface. Fold over several times and then press into a square, about ½-inch thick. Using a biscuit cutter, cut out round biscuits. Or, slice them into squares with a sharp knife. Place biscuits into prepared pan and bake for 12 to15 minutes or until golden brown.
While the biscuits bake, prepare the gravy by heating a large skillet over medium heat. Add in ground chicken, poultry seasoning and brown sugar. Cook until browned, about 5 to 7 minutes. Remove chicken from pan. Measure two tablespoons of grease from pan, add butter if needed. Sprinkle in flour and whisk until a thick paste forms. Continue to whisk while pouring in milk, ½ cup at a time to avoid clumping. Once all milk is whisked in, turn heat to low and add back in the ground chicken, sage, salt and pepper. Continue to stir while gravy thickens, 2 to 3 minutes. Serve over warm biscuits.