Small Bites
Ahi Tuna Tempura Lollipop
Ahi tuna tempura lollipop with brûléed soft egg, bean potato salad and olive tapenade. Recipe by Chef Damien Tirego of Crabby's Seafood Bar & Grill.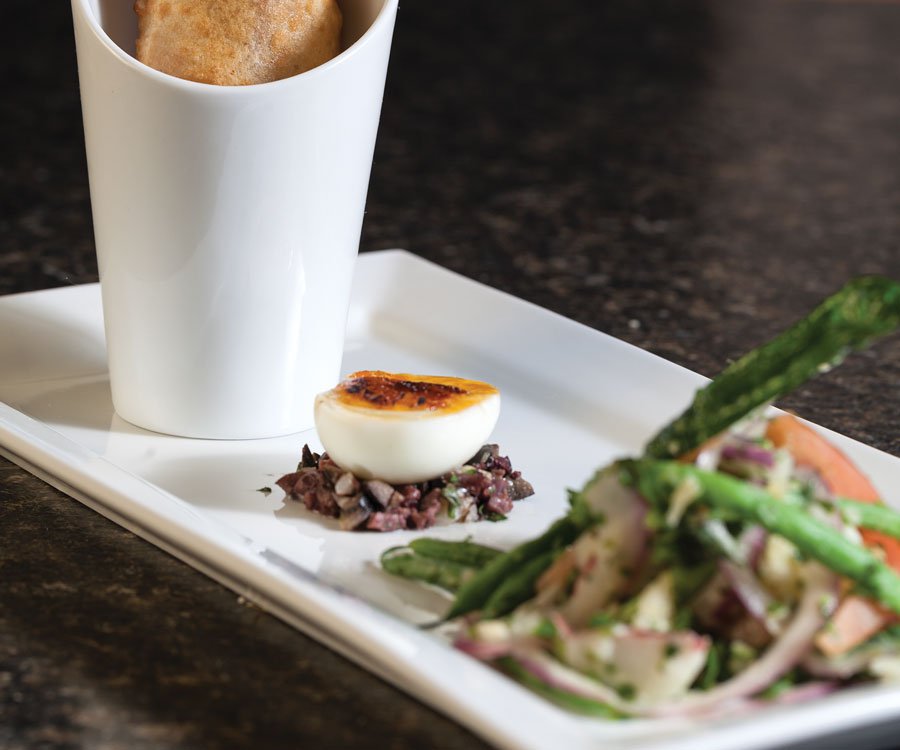 Ingredients for Ahi Tuna Tempura Lollipop 
1 pound sushi-grade Ahi tuna, cut into 4-ounce portions and put on bamboo skewers 
1 cup flour
1 cup corn starch
1½ cups soda water
1 teaspoon lemon juice
Vegetable or canola oil for frying
To prepare Ahi Tuna Tempura Lollipop
Mix all ingredients except tuna thoroughly in a medium mixing bowl. Roll tuna skewers in the batter. Heat oil to 350°F. Swirl lollipop into the oil for about 15 seconds until the breading sears. This will help keep it from sticking. Drop lollipop into oil and fry for 2½ to 3 minutes. Remove from oil. To serve, place the tuna lollipop on the left side of a rectangular plate. Top with olive tapenade. Place brûléed eggs in the center of the plate and a 2- to 3-ounce portion of the bean and potato salad on the right. 
Ingredients for Brûléed Soft Egg
3 large farm fresh eggs
4 cups  boiling water
4 cups cold water
kosher salt to taste
¼ cup brown sugar and ½ cup white sugar, mixed together
To prepare Brûléed  Soft Egg
Boil eggs for no longer than seven minutes. Remove and place into cold water bath. Set for 20 minutes. Remove shells and gently slice in half. The yolk should be gelatinous. Top with a pinch of kosher salt. Lightly top eggs with sugars. Caramelize with a kitchen torch until brown. 


Ingredients for Bean Potato Salad
1 cup red potatoes, diced
1 cup haricot vert
½ cup Roma tomatoes, julienned
¼ cup yellow onion, julienned
¼ cup carrots, julienned
¼ cup Dijon mustard
¼ cup rice wine vinegar
2 tablespoons sugar
1 tablespoon Sriracha
3 fresh tarragon leaves
¼ cup olive oil 
To prepare Bean Potato Salad
Whisk Dijon mustard, rice wine vinegar, sugar, Sriracha and tarragon leaves in a mixing bowl. Slowly add olive oil while whisking to create an emulsion. Toss in red potatoes, haricot vert, tomatoes, onions and carrots until thoroughly mixed. 
Ingredients for Olive Tapenade 
1 cup nicoise olives, pitted 
2 anchovy filets, rinsed 
2 tablespoons capers
Juice of 1 lemon
2 tablespoons olive oil 
To prepare Olive Tapenade
Place all ingredients in a food processor and pulse until coarsely chopped.