Women in Business
Get to Know Joselyn Baldner of Central Bank
Joselyn Baldner has recently taken the helm at Central Bank. Study up, so you can connect at your next networking event.
by Jennifer Johnmeyer
May 2021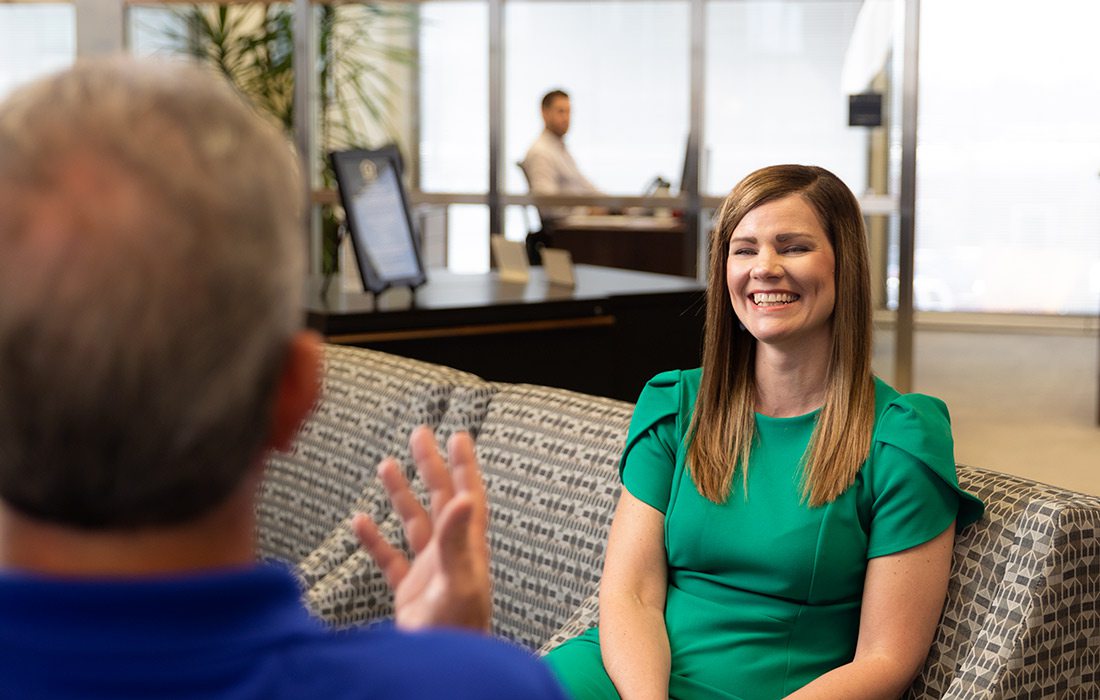 Eighteen years ago, Joselyn Baldner started her career as a teller with holding company Central Bancompany. Today, she is president and CEO of Central Bank; she's the first woman to hold the position. We caught up with her to talk business, time management and lessons learned.
Biz 417: What's one piece of advice that has stuck with you in your professional life?
Joselyn Baldner: Build a team! You don't have to do everything yourself. Bring others along for the ride. It empowers them and strengthens your team.
Biz: In your time at Central Bank, what hurdles have you faced in growing with the company?
J.B.: What some may call hurdles, I would call experience and lessons. Each one has helped teach and shape me as a leader. They were sometimes tough while I was in the middle of them, but trying to understand and see more than one perspective has served me well as I worked through those.
Biz: What community outreach or philanthropic interests are near to your heart?
J.B.: I currently have the pleasure of serving three organizations as a board and executive committee member: Springfield's Chamber of Commerce, Harmony House and Community Partnership of the Ozarks. I chair the Purple Party, Harmony House's annual event, and volunteer with Eden Village. I truly feel I've been blessed with many opportunities, and it's my obligation to do my part and serve with my time, my money or my expertise. I also want to show my girls there is more to our community and the world we live in than just the small bubble they occupy each day.
Biz: What automatically calms you during a stressful time?
J.B.: I try to focus on what I can control in a stressful situation and not worry about the things I can't.
Biz: You have an unexpected day completely to yourself. How would you most love to fill the hours?
J.B.: Trying a new local restaurant is one of my favorite things to do in Springfield. We have so many great spots I love, and more continue to pop up. The creativity is inspiring, and it is soul-filling to share a meal and drinks with friends.
Biz: What has given you hope during this past year?
J.B.: I am privileged to have a front row seat to some of the amazing things this community did in the last year. The facilitation of the PPP program, being able to assist over 18,000 local employees with getting a paycheck, all of the work that the Chamber of Commerce has done for our business community, the teachers who go amazingly above and beyond to ensure kids were getting what they needed to be successful, and the tireless work that the team at CPO did to ensure one of our most vulnerable populations, the homeless, was housed from week to week.
Biz: What gives you hope for the future of 417-land?
J.B.: The projects that have been announced just recently in our community: Amazon, SRC and Envoy Air mean job growth and that Springfield is a place that companies and people look to. It can help be a catalyst for the other initiatives and projects that we want to get done to make Springfield the place to be!
Small-Talk Starters
Family
Husband (Jeff), three daughters, Ryli (22), Lilli (18), and Sydni (17)

School Days
She graduated from Higginsville High School and completed her bachelor's at Missouri State University.

Current Read
The Ride of a Lifetime by Robert Iger. "A friend and coach sent it to me after my recent promotion."

Morning Must-Have
"Coffee and some quiet time to prep for my day."