Women in Business
Meeting of the Minds with Heather Hardinger & Paula Dougherty
Heather Hardinger and Paula Dougherty are proof that a pandemic can't get in the way of a perfect mentorship pair.
By Tessa Cooper
Nov 2021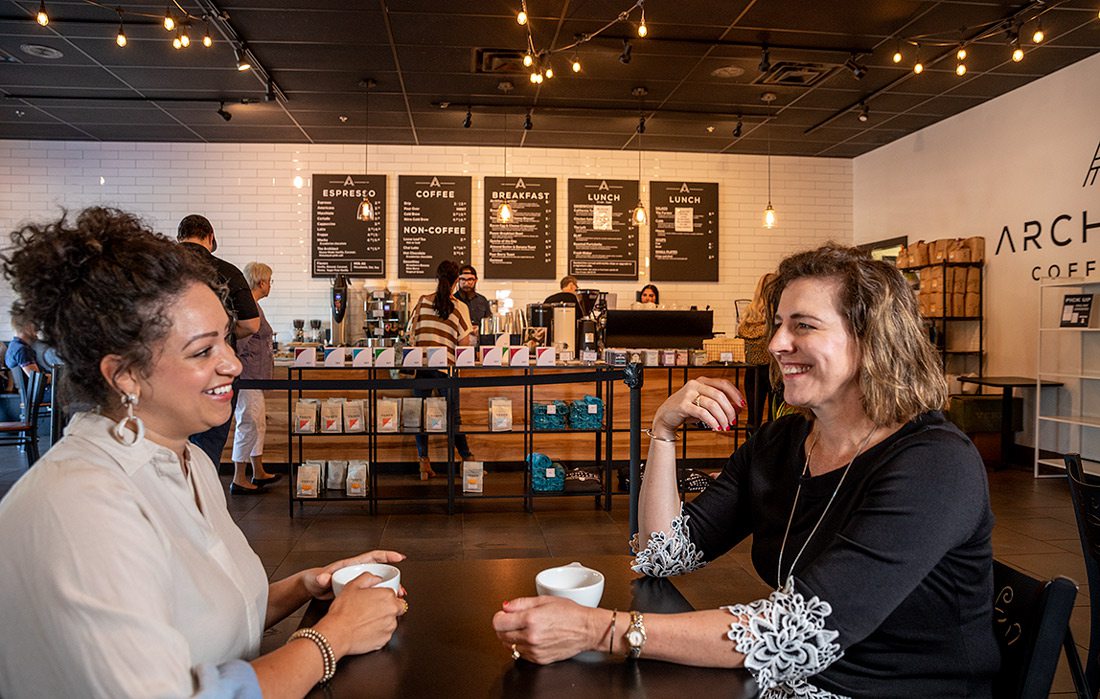 Biz 417: What led you two to forming this mentorship?
Heather Hardinger: We got paired through the [Springfield Area Chamber of Commerce's] Young Professional Leadership Council. They basically pair up a young professional with someone from the Chamber board. I feel like this was definitely something that was supposed to happen, at least on my end. This was in 2020. Of course, I had stars in my eyes about what I wanted the year to look like and dreams that I had for the future. We talked about that in our first session. We asked, "What do you want to get out of this? And what are your plans for the year? What's going on?" That was in January. I had so many highs and lows in 2020, like everyone else. We were just hanging on for dear life, so having somebody that's listening and being able to feed off of each other's energy was something I really needed.
Paula Dougherty: As she's saying this, I remembered we first met [at Architect Coffee]. And then COVID happened, so then we met virtually. Even that was a bit challenging because we had technology issues, but it still worked. We were just getting to know each other, so we did start out with some groundwork and expectations. But I think it blossomed into something bigger than we both expected. She obviously had a big year, with a lot going on personally and professionally. I felt like I had a seat in the front row getting to be with her. We just talked through a lot of things, and it turned into this friendship that I think we're going to have now for a long time.
Biz: Since Heather decided to run for Springfield's city council during this period, how did that influence the mentorship experience?
H.H.: We talked about me running and me not running. We also discussed different things that were going on in my life at the time, what I wanted to prioritize, and how I wanted to give back to the community. It was great to have a sounding board for that. I felt like you were fairly neutral. You said, "You'll know when it's the right thing." And I definitely needed that. Ultimately, this is not a space where a lot of women gravitate to, and I now know how hard it is and why more young women don't do this. It's because you have to balance everything in your life.
P.D.: You were picked out specifically for a reason, for your talents, your experiences and your way with people. When they mentioned that you were running at one of the board meetings, I felt this sense of pride like, "Oh, I know her." And then I thought, "Of course, that makes total sense. Why wouldn't the council benefit from having her on their team and as a voice and a representative?"