Family-Owned
After 73 Years, Jay Key Service Remains Open to Change
Jay Key Service has a long history of change and transformation as new generations have stepped up to lead.
By Sony Hocklander | Photos by Brad Zweerink
Sep 2017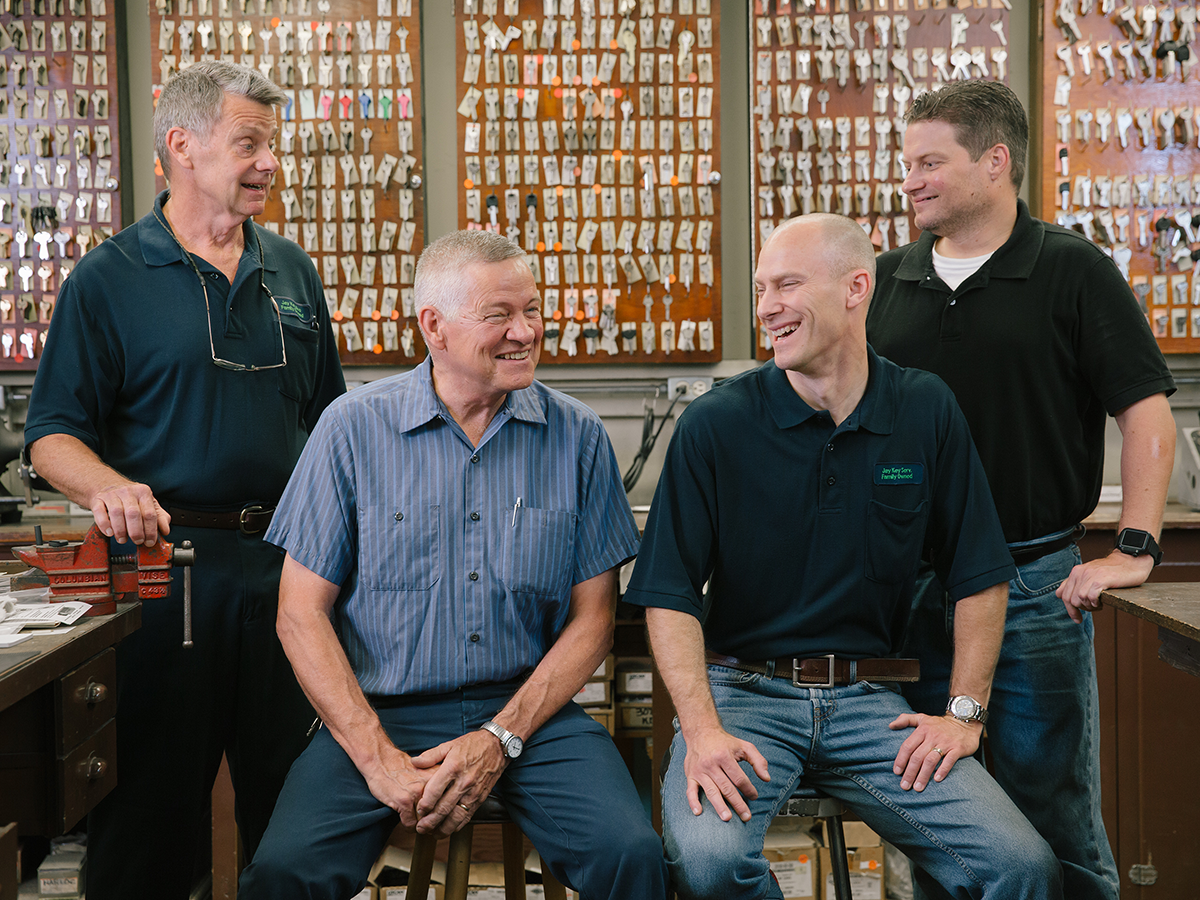 Three years ago, Randy Diefendefer joined the multi-generation business owned by his wife's father and uncle. His first day on the job, a customer called Jay Key Service with questions. Diefendefer, who came from an automotive engineering background, had no answers. But he wasn't afraid to ask someone who did. And since then, step by step, he has learned the business, which was established in 1944 by his wife Tara's great-grandfather.
Although Diefendefer didn't grow up with Jay Key Service, today he's one of several fourth-generation family members who work for the business that might someday transition to them. Meanwhile, the lock and key service company is a "fluid, moving organization," Diefendefer says, in which everyone works for the greater good. "Terry [Reichert] and Rick [Jay], they've been great role models and leaders for all of us," he says.
"Make small changes, not huge ones, and eventually it will mold to what your vision is."
— Randy Diefendefer, Associate at Jay Key Service
When so many family members work together, tension and conflict could become an issue. But at Jay Key it's not, Diefendefer says, because transparency in business operations is encouraged. Everyone plays an important role, but the key to success, he says, is open communication. "You can't hide things and just work on your little part of it," he says. To operate successfully with two generations of family, you must have a "willingness to listen, to accept constructive criticism and to work as a team. We are all in this together."
Working together has been crucial as the longtime family business experienced a number of transitions. Established by Leslie Jay Sr. in the back of the A&B Cycle store, Jay Key Service made keys for bicycle and motorcycle locks, eventually outgrowing that space when Leslie Sr. added residential and commercial work. In 1948, four years after launching his company, Leslie Jay Sr. died. His sons, Richard and Leslie Jr., partnered in the business, which by then was located on South Walnut Street. They added gunsmithing and safe work to form Jay Key and Gun Service.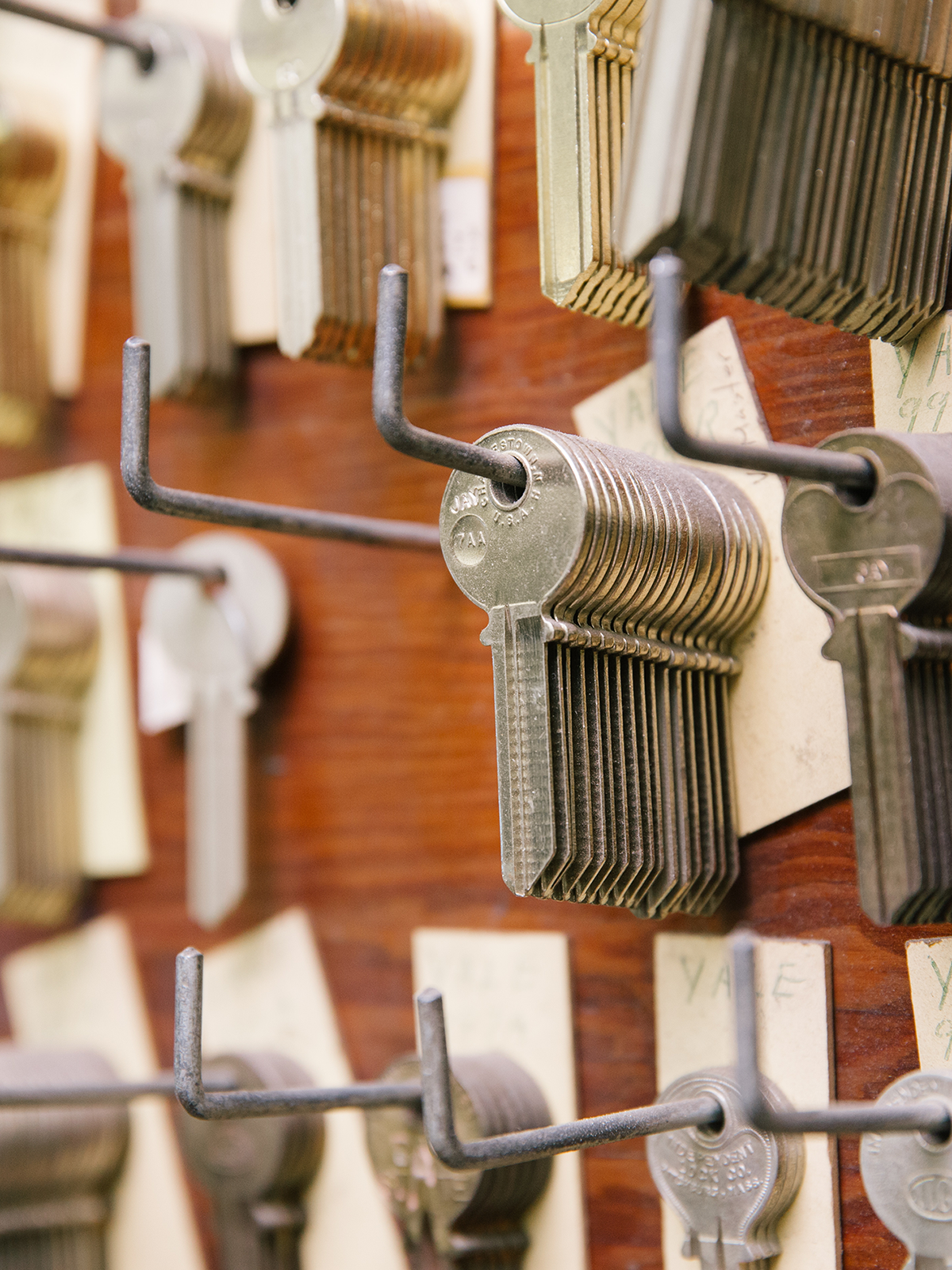 (left) No shortcuts here — numbers are still hand stamped onto customers' keys before they're cut. (right) The store has around 2,200 varieties of blank keys to make duplicates.
In 1976, Richard's son and son-in-law—Rick Jay and Terry Reichert—joined the business, along with Richard's wife Shirley. And in 1978, still growing, the company moved to the current location at 1106 Saint Louis St. Gunsmithing and safe work were discontinued in the 1980s, Diefendefer says, because it took too much time away from locks and keys. Rick and Terry refocused the business on core services, he says, which today include making keys for walk-in customers; installing, repairing or re-keying locks at residential and commercial buildings; and servicing automotive locks in their shop.
What Diefendefer and other fourth-gen family members contribute is digital and technical experience. They have worked to streamline billing practices and improve marketing and communication methods using social media and other online communication. Lock and key service is not something you need every day, Diefendefer says, so they must reach new clients where they are—online and on mobile. 
Diefendefer feels fortunate that the third-gen owners are open to change. He says it helps to introduce new ideas in small, moderate ways. "Make small changes, not huge ones, and eventually it will mold to what your vision is," he says. 
It's also important to research ideas. Gathering clear data about potential results will help make the case for change. He also suggests learning if an idea has already been tried and why it was or was not successful. He thinks it's a mistake if new generations don't respect the hard work of predecessors. Build on that experience, he says. "They've been there. They've done it and seen what works and doesn't work." That way, new generations can take an "already good, growing business and keep transitioning forward because [earlier generations] have provided you with a good base to start."