Family-Owned
Reborn Co. Grew from Four Wholesalers to 50 in One Year
Patty and Carlton Johnson expected Reborn Co., an all-natural, hand-poured soy candle company, to be a part-time job during retirement but it quickly became bigger.
By Juliana Goodwin
Nov 2017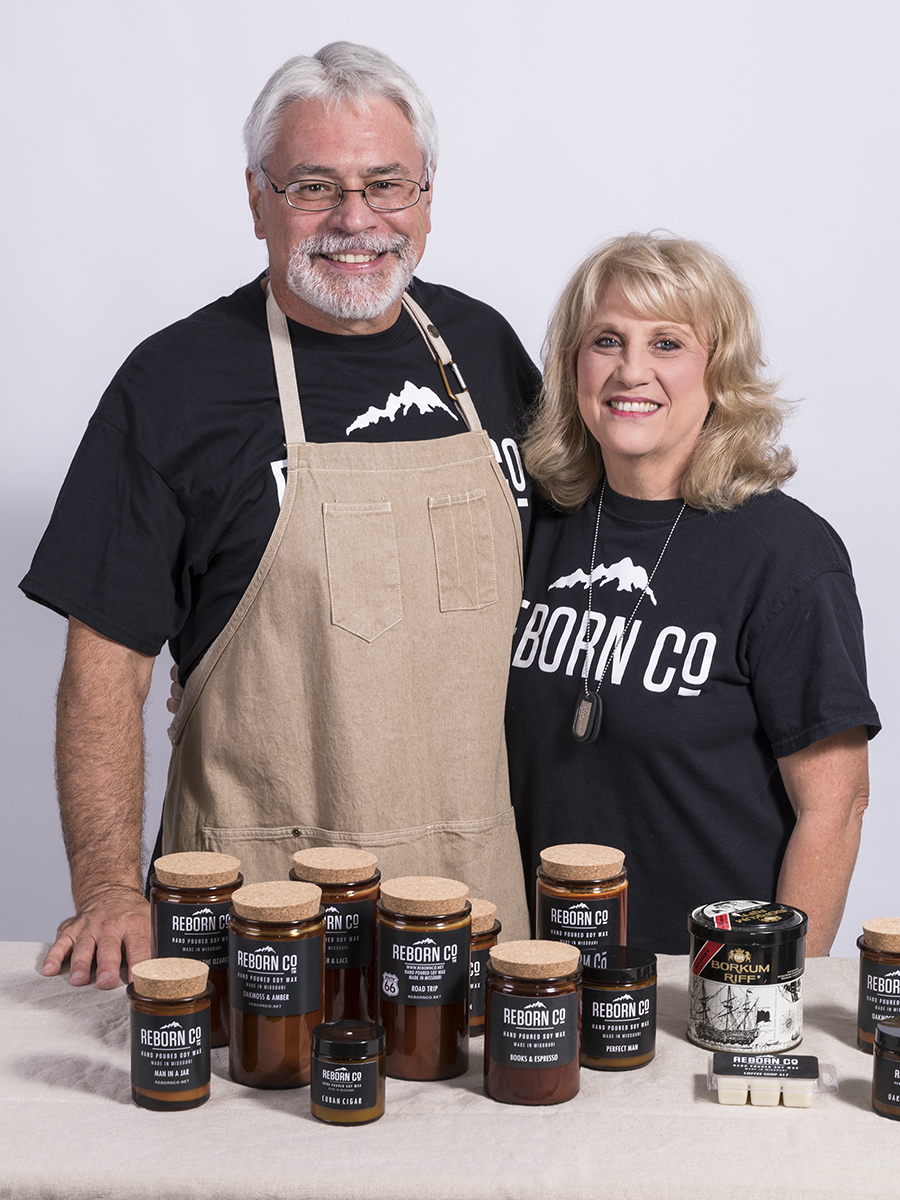 When Patty and Carlton Johnson bought Reborn Co. in November 2016, they had never crafted a candle. Carlton was a veteran, and Patty had been a stay-at-home mom who dabbled in catering. But when Austin Plummer joined their son Adam's real estate team and put his candle business on the market, the Johnsons decided to buy it. It sounded like a low-stress, part-time gig. After learning from Plummer at Silver Dollar City, the Johnsons hand-pour every candle, each made with all-natural wax from U.S.-grown soybeans. They currently sell 60 scents.
As new business owners, they rallied help from friends and family: a friend tweaked their label; one son designed their website; another son, a lawyer, handles legal matters; and Adam built them a workshop on land he owns. And in a year, demand for their product has exploded. "We had four wholesale stores when we bought the company," Patty says. Now their products are sold in more than 80 locations in four states. She says she expected to "pound the pavement" to cull new clients but landed most of the retail accounts at craft fairs. The key, they found, is to talk to customers in a friendly manner with no pressure sales. "I am outgoing in general, and when someone walks by I love to engage them," Patty says. "If they buy a candle great, if not, that is good, too."
The Johnsons also quickly learned the importance of listening to customer feedback and have let it guide their products. "I had a lady come up and say, 'Can you make a candle that smells like Barnes & Noble?' I was like, 'Let us give some thought to that.' We came up with one with a paper leather smell and put coffee in it. We can't call it Barnes & Noble so we ended up calling it Books and Espresso," Patty says.
Leading the business has required constant adjustments and juggling. Although the company Facebook page has more followers, the Johnsons have discovered Instagram posts result in more sales. Hiring employees has also been challenging because the couple only needs part-time help, and the hours fluctuate. 
Still, the future holds a lot for the Johnsons. As the business continues to grow, they hope to move into a larger facility and expand their product line further. Already they have a room spray and are launching a pet spray, but they have had requests to create men's cologne. "Do what you love and it won't seem like work," Patty says. "We are doing something we love right now and it doesn't feel like work. We are having fun."


---
Behind the Design: Reborn Co.
If you've ever looked at a product and wondered, 'How did they do that?' we've got the answers for you. Patty Johnson, who co-owns Reborn Co., an all-natural, hand-poured soy candle business, walks you through the process.

The words quality, eco-friendly, and Made in the USA are important to Patty and Carlton Johnson who own Reborn Co. In a workshop on one of their son's 5-acre parcel, the process of crafting their candles begins with jars made by an American company. When the jars arrive, they place an eco-wick in the jars. Next, it's time to melt the soy wax made with soybeans grown in the United States, and mix it with scented oils.
"Soy is hard to work with," Patty says. "It is more expensive to make, but we are committed to an all-natural clean product that won't give people allergies." Their soy candles are all-natural, burn evenly and don't release toxins in the air. If you've ever seen a candle billowing black smoke, those are chemicals being released. You won't see that with a Reborn candle. The scented oils are also all-natural and skin-safe. Although most people don't worry about skin-safe candles, the Johnsons use the same scented oils in their room spray and are launching a pet spray.
Reborn currently has 60 scents, but Patty says, "The possibilities are endless." She creates her own scents by mixing oils­—that part of her job is trial and error. Family and friends test product samples, and some creations never make it to market. Patty brainstorms new names but also listens to customers. The Johnsons used to sell a tobacco candle, and after several customers commented that the aroma brought back memories from childhood of their grandfathers smoking pipes, the Johnsons renamed the candle "Grandpa's Pipe."
Carlton is in charge of pouring, and he gingerly hand pours every single candle, then the candles set up for one to two days. Once the wax is set, it is time for labels, which are produced in Springfield from Quick Print. They peel off the sticky back, smooth it over the candle and box up the final product for market.
The product will not land in a customer's hand for seven to 10 days because it takes time for some oils to cure. "Some of the oils take seven days to cure, so the day you pour it, it takes seven days to smell different," Patty says. "It doesn't smell the same as an oil and in the candle." Once a customer lights it, they can expect a low and slow burn. A 16-ounce Reborn Co., will burn for at least 100 hours. Find Reborn Co. candles at Farmers Market of the Ozarks, in 80 retail locations or at craft fairs in 417-land.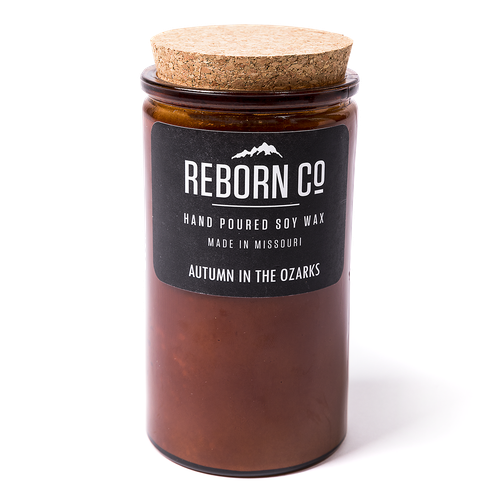 Behind the Business

Date Opened: The company began in 2012, but the Johnsons purchased it November 1, 2016.
Number of Employees: four part-time 
From Mind to Market: 7–10 days
Most Popular Item: Oak Moss and Amber candles
Maker's choice: Route 66 Road Trip. "Because it is my childhood in a jar," Patty says. "We lived in St. Louis, and we used to travel Route 66 to Branson in my dad's Chevy. My dad smoked back then. When I got to the Ozarks, I would smell cedar and pine, and all those scents mixed together are in this candle—leather, tobacco and woodsy scents."