Biz 100
2017 Person of the Year: Amy Blansit
Amy Blansit's resume includes a startup business, a community center, a nonprofit organization and a role as a professor, and she's just getting started.
By Ettie Berneking
Nov 2017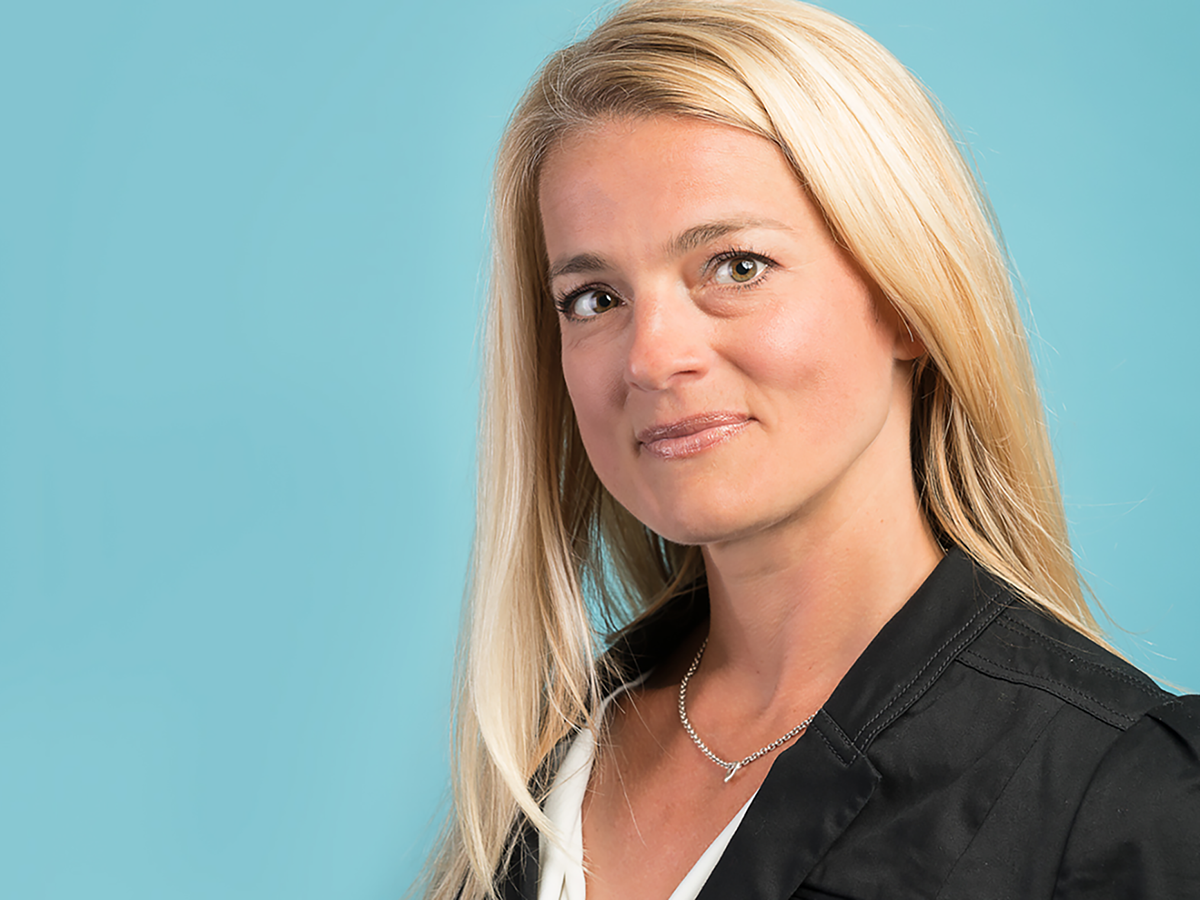 As a community leader, an entrepreneur, a philanthropist and a professor, Amy Blansit has a career that's not easy to summarize. She says it depends on the day, but really, what she's doing depends on the hour. At 9:30 Monday morning, Blansit is creator and founder of Solely Jolie—a line of water-free makeup brush clearing and cleaning pads. By 11 a.m., she's working on programming at The Fairbanks, the 25,000-square-foot school building Blansit refurbished into a community resource center in Springfield's Grant Beach neighborhood. By 2 p.m. she's the board chair and founder of the Drew Lewis Foundation, and by the end of the day she's project director of The Northwest Project, which helps families move out of a life of poverty. She's driven, stubborn and incredibly hard working, and she doesn't slow down.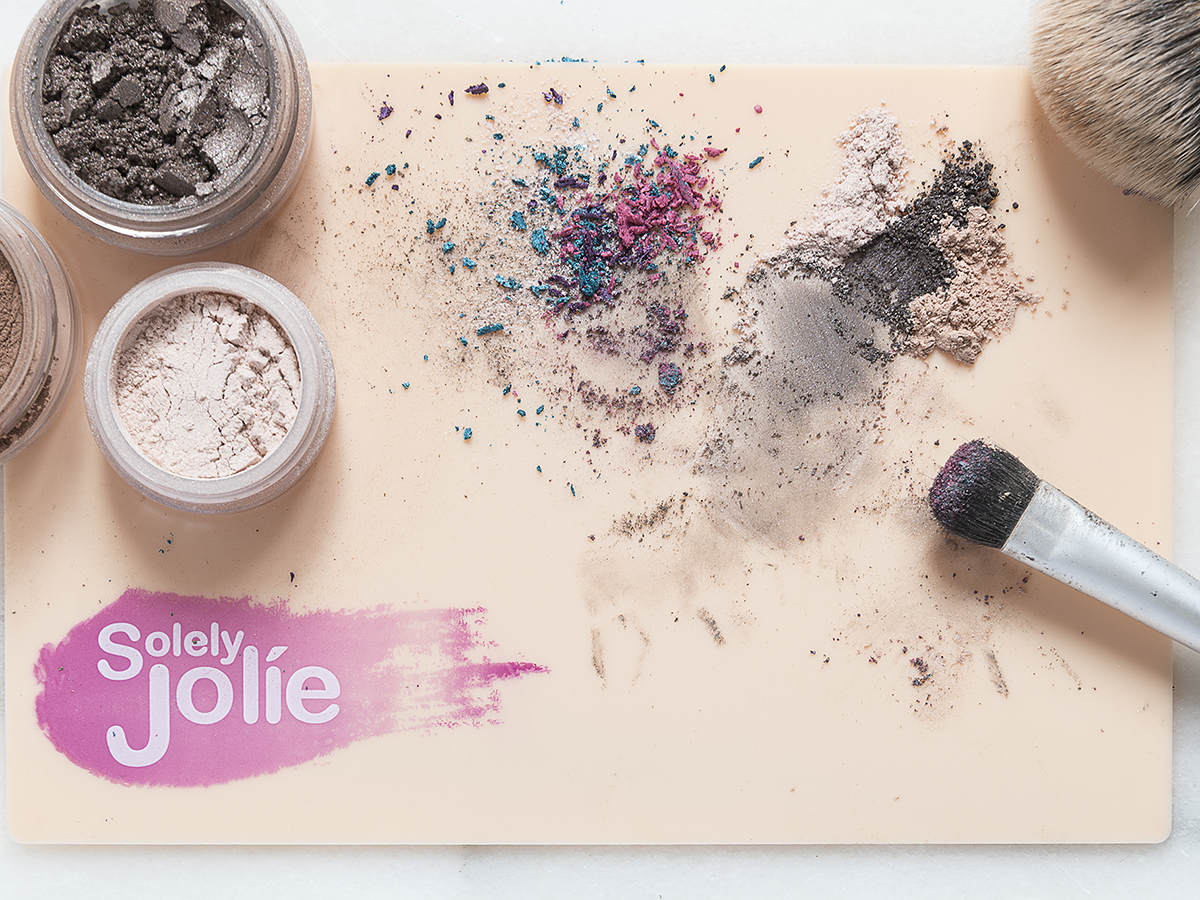 Blansit is one of eight kids, but the rising tide of children in the house reached 12 at one point as the Blansits took in more than 150 foster children over 40 years. Her parents are the kind of self-starters who have solar panels and water cisterns. Her dad built the long row house the family grew up in, and if a car broke down, he was the one who would fix it. "Neither of my parents were entrepreneurs or businesspeople," Blansit says. "They were just resourceful."
By third grade, Blansit was already thinking about college. When a class assignment had her write about what she wanted to be when she grew up, Blansit's future resume was impressive. She dreamed of becoming a dentist, a scientist, a doctor, an astronaut and the president. "It was hysterical," she says. "As president, I wrote, people would listen to me when I wanted them to… Maybe. I would reinstate the $2 bill, and the cute thing was, I would let people come talk to me whenever it worked for them." When tasked with the assignment of writing what she would do with $1,000, 8-year-old Blansit wrote that she would save for college. 
Although she hated the rigid structure of school, Blansit thrived within the education system. She moved into a gifted program in third grade and took high school math in junior high. "I've always needed things to be fast-paced," she explains. "Sometimes I wish my mind would have slowed down and I would have played a little more, but that wasn't me." 
Sitting at the conference table inside The Fairbanks' library—a 3,000-square-foot co-working space—Blansit is surrounded by evidence of her manic schedule. She's six voicemails and 50 emails deep, and a group chat with her family landed 26 text messages in her inbox. With less than an hour before her next meeting, Blansit is microwaving her lunch and searching for the spork she'll use to rush through her meal. This afternoon, her time has been mostly devoted to helping participants of The Northwest Project.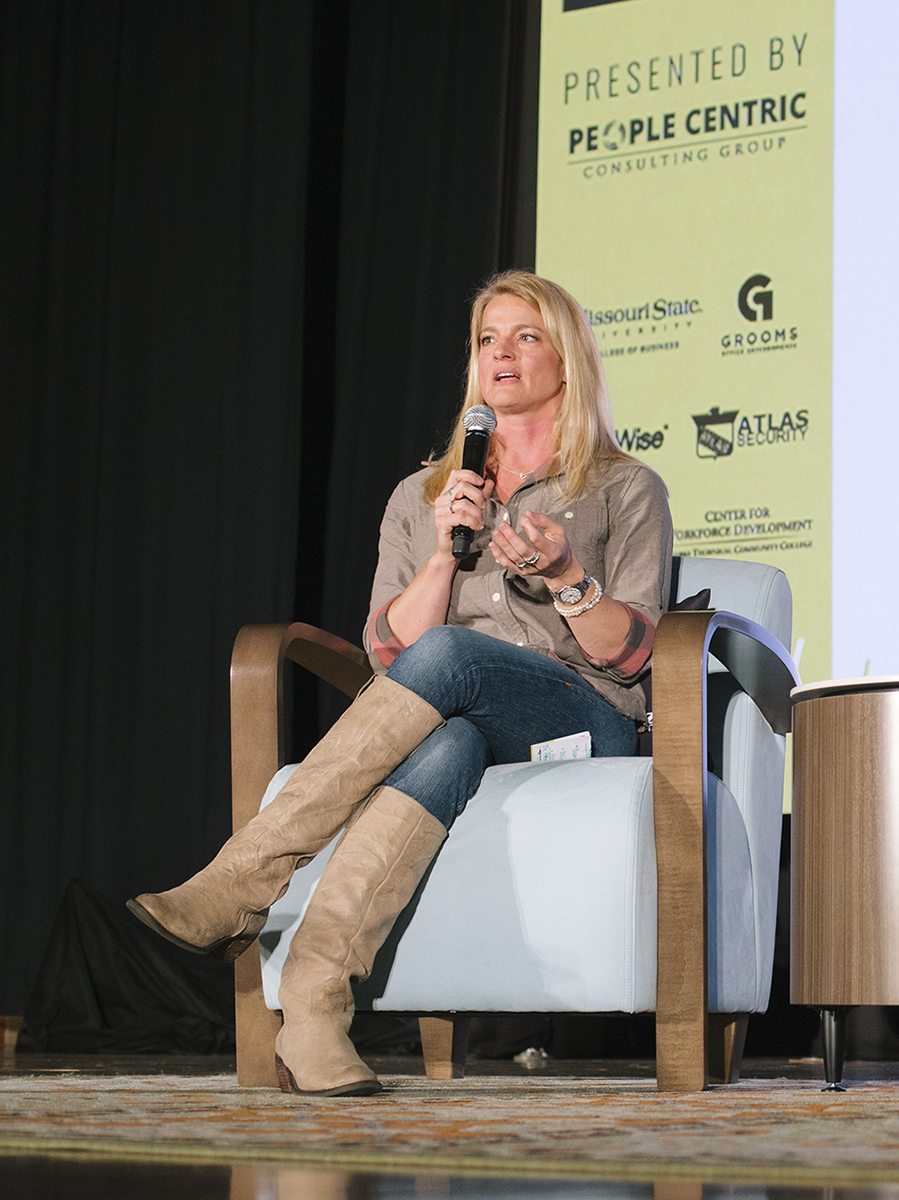 Led by Missouri State University, the Drew Lewis Foundation and Drury University—Blansit's employer, her nonprofit organization and her alma mater, respectively—The Northwest Project is run out of The Fairbanks and helps families whose income is below 200 percent of the poverty level. For a family of four, that means living off of less than $49,200. The Project works with each family for a minimum of two years and focuses on 10 key points of stability including monthly budgeting, affordable housing, job training and health and well-being. When Blansit and her team pitched the concept and the $1.3 million grant request to the Community Foundation of the Ozarks, she spilled coffee down the front of her dress minutes before presenting. "As luck would have it, I wore a mocha-colored dress," she says. "The mishap helped me focus on the silly blunder instead of the high stakes ahead." In the end, Blansit was awarded the grant.
Since starting a year and a half ago, The Northwest Project has worked with 46 households living in the heart of the Westside, Woodland Heights, Grant Beach and Robberson neighborhoods. Six participants have enrolled in college for the first time with more scheduled to enroll in January; others have entered into a program to purchase homes in Grant Beach, completed their HiSET—the alternative diploma for out-of-school youth and adults—and found stable jobs. The community-focused project is just one of many success stories coming out of The Fairbanks. The fact that the school is still standing is in itself one of Blansit's success stories.
When Blansit and her husband, Drew, bought The Fairbanks four years ago, the abandoned school was littered with debris. Abused, broken and trashed, The Fairbanks was 25,000 square feet of unusable space, but Blansit and Drew saw potential. While plotting out plans to turn the building into a community market, a rooftop garden, a coffee shop and spaces for small businesses, Blansit and Drew were traveling to the Cleveland Clinic for Drew's cancer treatments. He had been diagnosed with stage IV colon cancer in January 2012, and he and Blansit purchased The Fairbanks in February 2013. It was while at the Cleveland Clinic that Blansit read up on Springfield's zoning codes, but three months after they purchased the abandoned school building, the plan stumbled when Drew's immune system took a turn for the worse. Just more than a year after being diagnosed, Drew died of colon cancer in May 2013. "It was this moment of, 'Oh, my God, what have I done?'" Amy says. The broken windows, the debris and the 2.5 acres of unkempt lawn were now hers.
"I couldn't see any of this. I just saw a mess, but there she was in her pencil skirt and pearls, standing on a rickety chair and pulling up the shades so I could see."
— Kristina Wilmoth, Program Coordinator at The Northwest Project
Pursuing the dream she and Drew held was on Blansit's shoulders. "It was clear this wasn't going to happen by myself," she says. She hired Kristina Wilmoth, who was finishing her degree at MSU in health promotion and wellness management and was Blansit's intern. For months, Wilmoth frantically jotted down Blansit's plans. "I thought she was crazy," Wilmoth says laughing. "I couldn't see any of this. I just saw a mess, but there she was in her pencil skirt and pearls, standing on a rickety chair and pulling up the shades so I could see." 

Blansit installed new lights and security cameras, and when her neighbor, Wolf, offered to help, she paid him to haul off debris and mow the lawn while she set her sights on rehabbing the tattered library. "I knew I could figure out how to get 3,000 feet functioning," she says. "But I knew I didn't have the money to do all 25,000." Every grant or tax credit Blansit and Wilmoth applied for was denied. They were too small, too new, too risky. "We just kept going," Wilmoth says. "In [Blansit's] mind, if it failed, we would just revamp it and do it again." 
Blansit invited nonprofit organizations and community agencies, including Ozarks Area Community Action Corp., Community Partnership of the Ozarks and the MSU Center for Dispute Resolution, to The Fairbanks to present their services to residents in the neighborhood. Assemblies of God donated furniture, Springfield Community Gardens turned the abandoned ball diamond into a swatch of vegetables and flowers, and Springfield Brewing Co. Athletics now uses the library's reading nook as a bike shop. Last year, Blansit started the second phase of construction inside the main building and rehabbed the school's gym, installed a commercial kitchen and opened three classrooms now used by a daycare and a summer camp. "I think people thought I had $1 million to fix this place," Blansit says. "It was quite the opposite. I was an absolute idiot and didn't know any better. I just knew it was possible."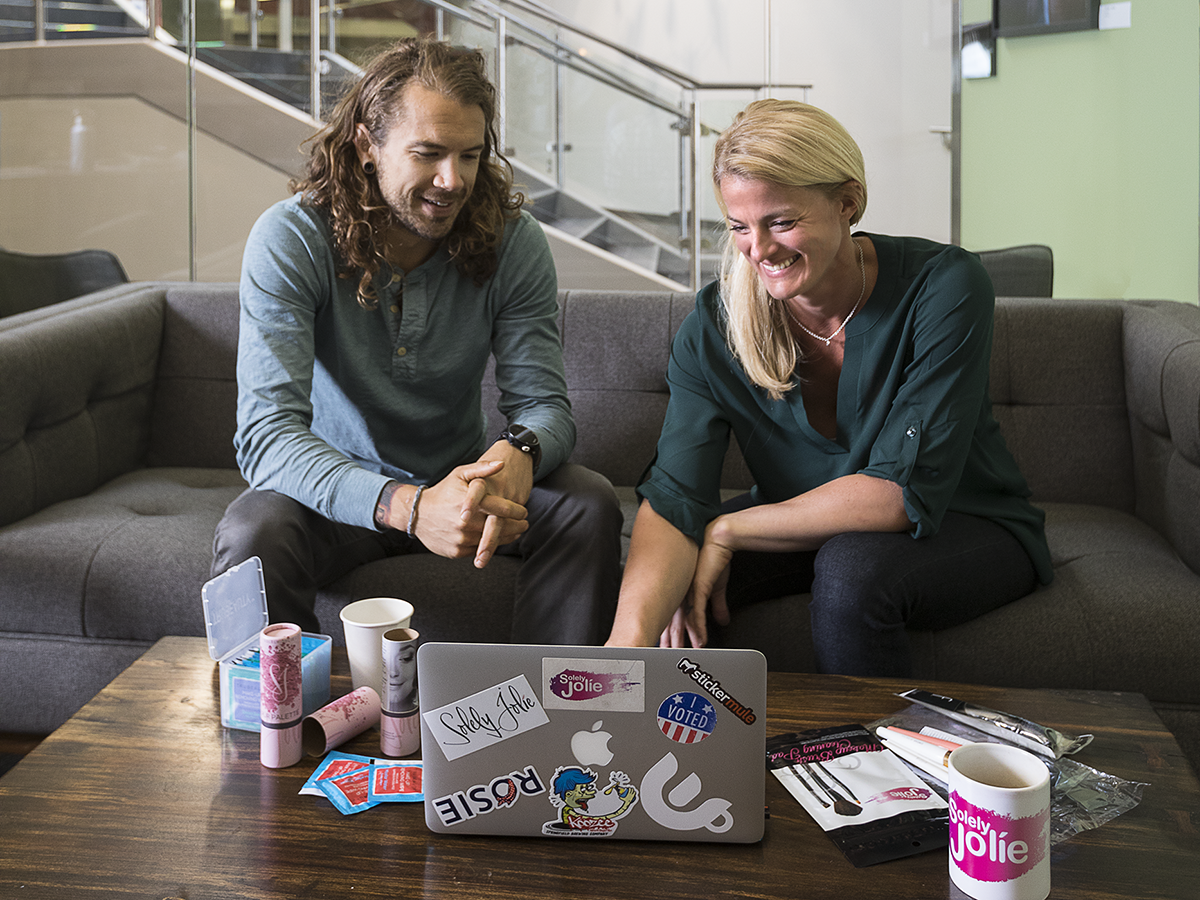 That was the same mentality that put Blansit in the driver's seat when she launched Solely Jolie. During the year Drew was waging "an all-out war" against cancer, Blansit wore a silicone, royal blue colorectal awareness bracelet every day. While cleaning her makeup brushes, she accidentally ran the brush over her bracelet and noticed a surprising amount of makeup left on the silicone band, prompting her to try making it into a brush cleaning mat. That was in 2012, and after several trials, Blansit couldn't figure out how to push the idea forward. She pitched the idea to Rachael Anderson, entrepreneurial specialist at The eFactory, who suggested Blansit apply for The eFactory's accelerator. In early 2017, Solely Jolie was one of five businesses accepted into the accelerator, and Blansit moved Solely Jolie into a private office at The eFactory in June to make room for her team.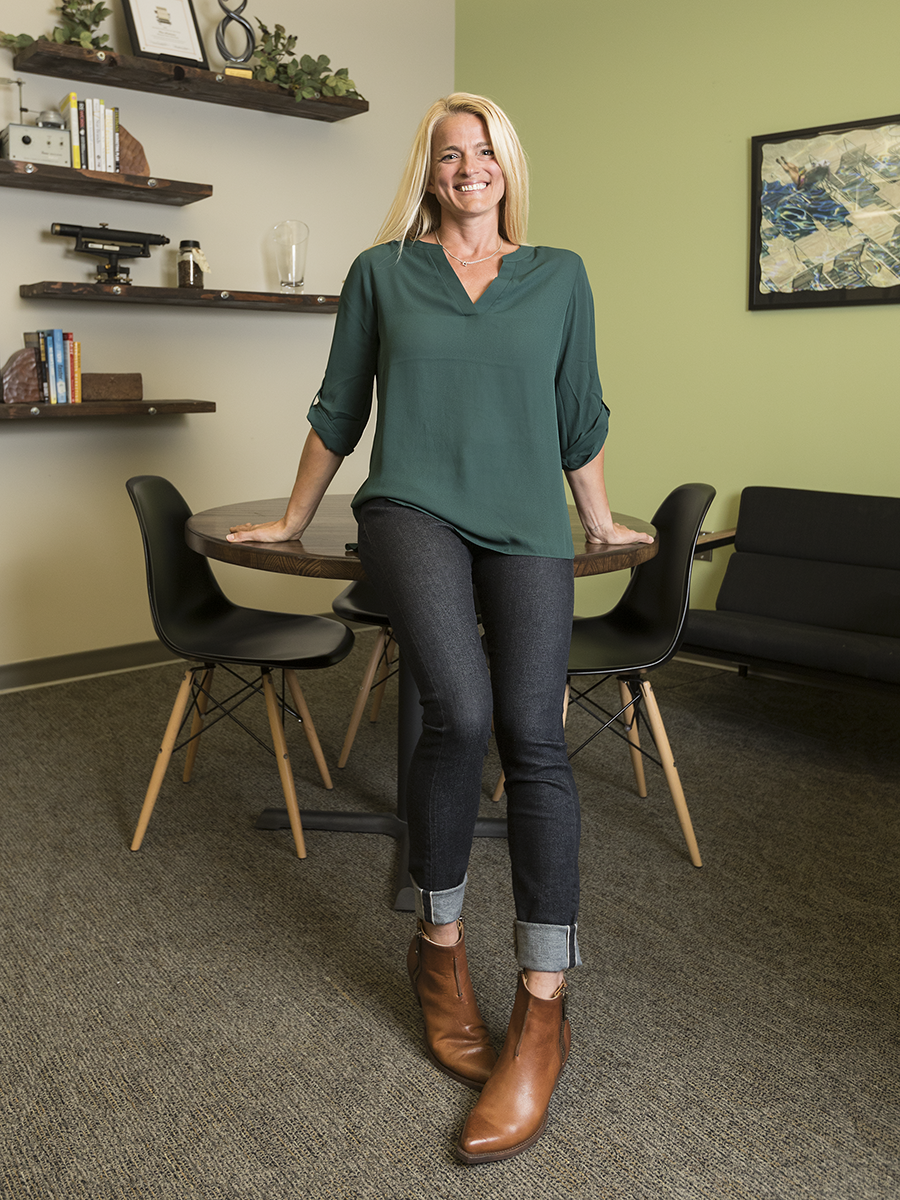 With each project moving ahead at full-steam, Blansit's to-do list is a tangled web. At The Northwest Project, she's working on buying 10 homes participants can rent and eventually buy. At The Fairbanks, construction continues as Blansit and Drew's dreams for the community center come to life. At MSU, Blansit is showing students enrolled in her Health and Wellness course what life in poverty is really like and what it means to have physical, mental and financial health. Like her parents, she's resourceful with her time and energy and has created a kind of organized chaos to run her life. She avoids any meeting before 9 a.m., fits in a CrossFit workout three times a week and dedicates Tuesday nights to Rama Thai where she has dinner with a regular group of friends. It's a messy schedule, but it has to work because Blansit still has a lot to do.
Walking around The Fairbanks, Blansit points to windows that are still broken out. Thick chains and padlocks still snake around a few door handles, and the library walls are still pocked with holes where people threw debris at them. But for every shard of broken glass, there's evidence of success. The fruit trees Blansit's parents planted are ready to be picked, the library's co-working space pays for itself thanks to the nonprofit organizations and church groups that work there and, above Blansit's desk, scraps of wood from the library now hang on the wall as a kind of forget-me-not. They're a reminder of the hard work Blansit has poured into this space and of the dream she and Drew followed. "There was obviously a story and an emotional component to Drew and I's story, " she says. "But it didn't have to be a tragic ending. This building gave it a happy ending."