Small to Mid-Sized
Hudson Hawk: Groomed for Growth
In 2013, Paul Catlett and Thad Forrester joined forces to open Hudson Hawk Barber & Shop. Here's how they grew one downtown shop into a company that's five locations strong and growing.
By Savannah Waszczuk | Photos by Josh Boston
May 2017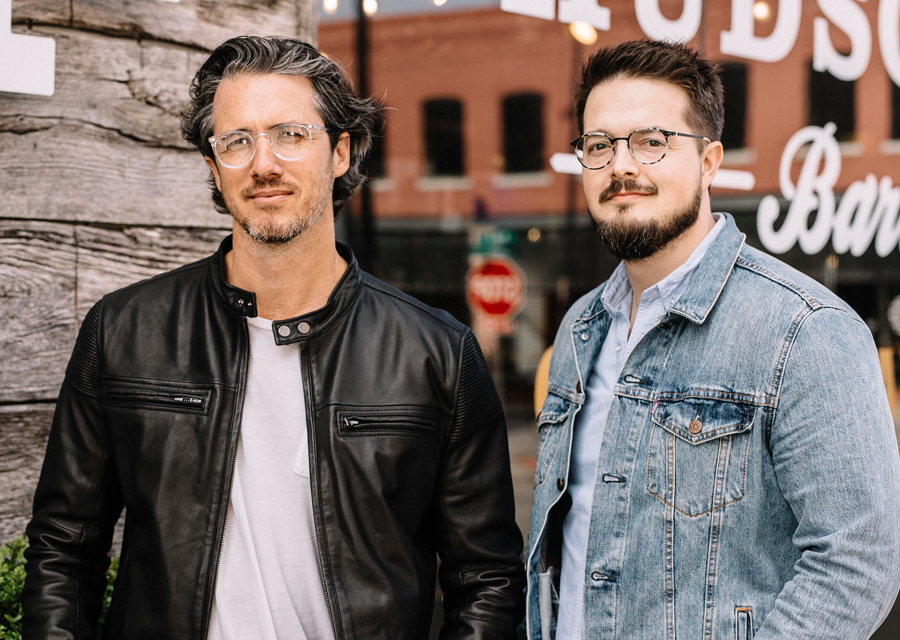 Paul Catlett (left) and Thad Forrester (right) perfected the old-school barber shop concept when they opened Hudson Hawk Barber & Shop in 2013.


Paul Catlett has a casual confidence about him. He's dressed in a perfect-fitting button up and some quality denim jeans, both of which were most definitely made in the U.S.A.—he has a love for quality, American-made textiles. He's worked in the hair industry for nearly 20 years and is easily considered one of Springfield's most-sought stylists. Once he starts talking, it quickly becomes obvious that he is also very much an artist. 
"I don't really believe in boundaries or lines," he says. "I've always kind of colored outside of the lines and had a different feel for life and business. And for how I live my life."
This has worked out well for him. He first opened Studio 417 salon in downtown Springfield in 2000, then in 2005 he married Hannah, who became a partner in the salon and a key part of its growth. Today they have two sons, Link and Hawk, who come first.
In 2013, Catlett expanded his business repertoire when he opened Hudson Hawk Barber & Shop with co-owner Thad Forrester, a formerly corporate-minded man who met Catlett during a haircut at Studio 417. Forrester is married to Megan, and they have three children: Ollie, Anabel and Hudson. And like Catlett, Forrester always puts his family first. But since the beginning of their business relationship, that's one of the few things the two had in common.
Until about five years ago, Forrester was part of corporate America. He had a schedule filled with client meetings and finished most outfits with a tailored blazer. With a communications degree from Drury University, he kicked off his career at The Marlin Company Advertising Agency working for big-name brands including Starbucks Coffee and Mission Foods. He learned the ins and outs of brand identity and marketing—the science of selling things. Later he partnered with his brother to start Forrester Tech, a high-end custom technology business. Day in and day out, Forrester was the picture of your typical American family businessman. But he wasn't completely happy.
Then one day while Catlett was giving Forrester a routine haircut, things changed. Catlett asked him if he'd be interested in starting a new barbershop with him in Springfield. Forrester discussed the idea with his wife and family, did some praying and then decided to go for it. "I think it was a week later when he walked in when I was in the middle of a haircut," Catlett says. "He said, 'I quit my job—I start barber school on Monday.'" After barber school, Forrester received additional training at the Sassoon Academy in Santa Monica.
The Yin and the Yang
As the partners went on to open first one barber shop and then eventually four more—and the shop is still growing—they've learned that their starkly different experiences are one of the keys to their success. "Thad has a marketing background; I do not," Catlett says. "I'm a boots-on-the-ground, kind of aggressive, 'Customer service and quality of product we're putting out is all we need' kind of guy. That was always my mentality. But Thad has taken a totally new perspective on things. We've added technology, marketing, design and more, and we've developed a really strong ability to reach out and not only get people in, but retain people." 
Sit in the same room with the two of them, and you'll witness their dynamic. They finish each other's sentences. Forrester is quick to speak to dates, numbers and other hard details about Hudson Hawk. Catlett nails questions about the company's culture and the unique look of each shop; each one was planned to have an identity all its own. Catlett talks about how he wants the customers to feel when they walk in the doors, and Forrester talks about what they did to get them there in the first place. But something that they both know to its absolute core is the company's vision.
Defining the Brand
"As a business owner, it's important to note that if your vision isn't clear at the top—if the guys running the business don't know what's going on, well, then how do you think someone on down the chain is going to know what's going on?" Forrester says. This is why the two worked to define what they saw as the company's identity and direction, and they explain it to new employees as soon as they join the team.
So, what does that brand look like? That question can be answered a few ways. Of course, there's the big-picture concept: Hudson Hawk Barber & Shop was the first in Springfield to tackle the throwback barbershop idea. "We're kind of the new American barbershop," Forrester says. "Everything from our photography to our website to our in-shop merchandising and design—it's all cohesive, and it's all built around this idea of being a barbershop for all generations." 
It starts with a look. The shops combine industrial, old-style barber garb with modern, clean design. When you step inside, the decor establishes a cool factor—something customers would never find at a chain, mass-market salon. It's home to something extra—something that sets it apart. That theme continues in the array of services offered, which includes haircuts, clean-ups, shaves and beard grooming. "I had a World War II veteran come in and say, 'This is what the barbershop used to be like when I was growing up,'" Forrester says.
"Our goal was to really help revitalize something that we didn't want to see die off in the industry." Aside from and perhaps even more important than the look of the shops are the employees who work there—each one is coached on the company's vision from day one. "For us, it's more about teaching them and showing them that there is no ceiling," Catlett says. This sets up Hudson Hawk's culture of constant growth in the very beginning. "In life, in happiness, in barbering—barbering is just a small part of what these guys do," Catlett says. "They're counselors. They're friends. They're husbands. They're wives. And we just let them know at the very beginning that you can be as great as you want to be and go as far as you want in this company, as long as you're willing to give it everything you have."
They've held true to their words. Several employees who started by sweeping up hair and answering phones have become top barbers around town, and a few have even relocated to Kansas City to work at the newest location. Forrester and Catlett credit the company's growth to these quality employees. "We had so many amazing people—and still do—who came in, became a part of our culture, grew and blossomed," Catlett says. "Then they had these friends who wanted to be a part of it, and these great people would come in, but there was nowhere to put them. The only way to find a place for them was to build another shop." This is proof of the company's organic growth, but there was also a strategic side that started in the early stages.
"You have to think about yourself as a Fortune 500 company, even when you're getting started, if you want to be successful and have a true trajectory of growth."
—Thad Forrester
Going Mobile
Hudson Hawk has grown exponentially in the past five years. In addition to its five shops, the company recently started operating a customized Airstream as a mobile barbershop. "One of the things that Thad and I have always been really involved in—from the very beginning from the second we opened the doors—was our philanthropic push," Catlett says. Since the beginning they've given back by providing free services or donating unsold merchandise to local organizations. "Whether it's cutting homeless guys' hair or cutting kids' hair before school starts," Catlett says. "Every product or every T-shirt we don't sell here, we get it to [Great Circle]. We've also created a culture with our staff that gives back." 
One area they were struggling with, though, was lugging 300- and 400-pound barber chairs around to do these cuts and facing unsanitary conditions. "Cutting hair in auditoriums and gymnasiums and even out on front steps—it was difficult," Catlett says. That's why he took it upon himself to renovate an Airstream for the task. He then surprised Forrester with it. "I wanted to create an environment where we could pull up anywhere, at any time and in any weather conditions, and give back to our community," Catlett says. "Because part of what we do is creating a culture, it's creating a design aspect to everything we do. Finally, whenever [Forrester] saw it, he was kind of blown away. It's everything that we do, mobile."
The Airstream's tailored look sets it apart. The exterior pairs the classic polished silver finish with a matte black paint job that makes the logo practically pop off the side. Two barber chairs and a wash bowl are situated within a refinished interior with creamy white painted walls, wood accents and plenty of clean lines. It feels hip and stylish yet comfortable, making it right on-brand with all of Hudson Hawk's operations. And for good reason. 
"We actually have a whole brand guide that we're using now," Forrester says. "That's something we've worked with our creative team on, and they've made it abundantly clear. Regardless of where you're at, your logo, your name—these are all a big part of how you're represented, and we work to make sure that it's all cohesive."
In addition to philanthropic events, the team plans to use the Airstream for promotional purposes, including corporate events and festivals across the state and, eventually, even around the country. Currently mobile barbershops and salons are illegal, but since Hudson Hawk doesn't charge for the cuts they give there, they're free to operate it as they please. And they're thinking big with it. "My personal goal is to have 10 Airstreams," Catlett says. 
Looking Ahead
After accomplishing such big strides in five years, Catlett and Forrester are in-tune with growing their company, and there's a lot more to come. The Kansas City shop was the first out-of-Springfield location, but they've hinted at plans for more. And opening shops isn't all they're doing—they've also been working on developing a product line for the past two and a half years. "We're working with the best scientists and the best chemists to put together a line that is really something special," Forrester says. 
The two chose a top American manufacturer to develop three styling products they consider the greatest hits of barbering products. "I've been in the industry for 20 years, and Thad has been in it for four years," Catlett says. "We've looked at every men's grooming line in the country that we've sold and that we've used, and we've taken what's great about it." And now they're working on getting it just right, filling a need they saw years ago. "There were so many issues with the products that we were getting," Catlett says. "It was kind of organic in the fact that we really wanted to be able to control the product that we are selling to our clients." 
Although the goal is to launch the product line sometime in 2017, they're not guaranteeing a date at this point. "We don't want to come to market until it's the right time," Forrester says. Just as the growth of the shops is dependent upon finding quality people to stand behind the chair, the launch of the products is dependent upon getting everything right upfront. "We're all for growth and expansion of our brand, but the thing we're not willing to sacrifice is the quality in any aspect of anything we do," Forrester says. "So that's why everything is being done very deliberately, and with a plan and a lot of good information and support systems and numbers behind it." 
But when the time does come, you'll likely hear about it, and don't be surprised if you hear a whole lot more about Hudson Hawk. "This is the most exciting year in our company's history," Forrester says. "April marked our four-year anniversary, and I feel like we're just hitting the starting line. It's a really exciting place to be, for everybody involved." At the head of it all, Catlett and Forrester are strategically paving the way, supplementing each other's strengths to grow their Springfield-based barbershop to levels many small businesses never dream of. "We are rock solid in our plans and the way we're working together now, and it's exciting," Forrester says. "We're totally different people, but we create a really dynamic duo."