Small Businesses
Brawl Soap Co.
Following a successful foray into men's grooming products through The 1906 Gents, co-owner Dante LaCivita has found a market for a new creation: Brawl Soap Co.
By Mike Cullinan | Photo by Vivian Wheeler
May 2017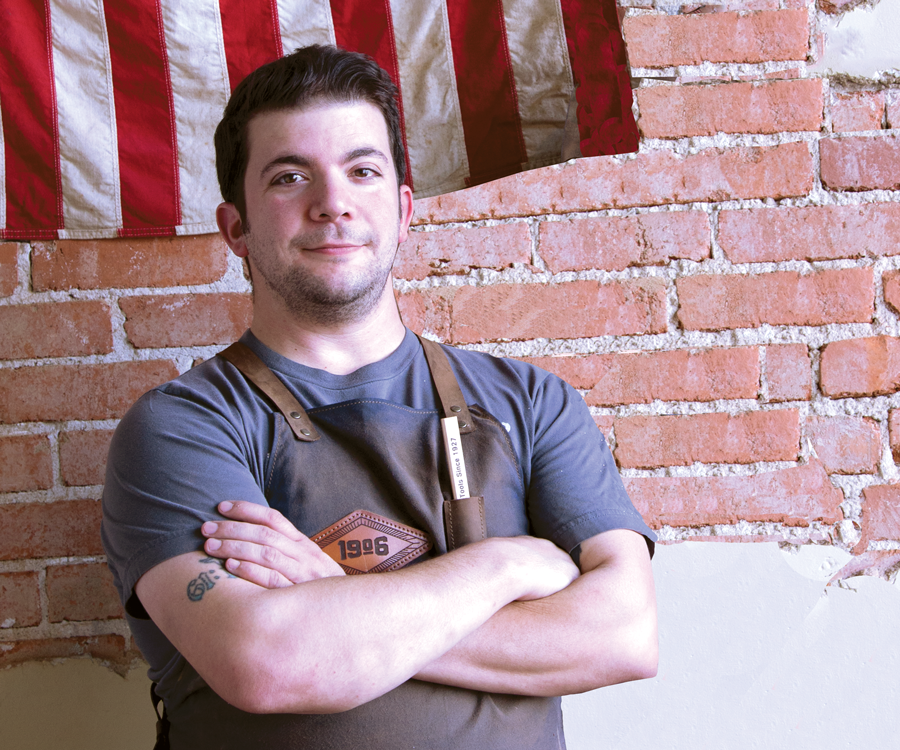 Still a relatively young business venture, Brawl Soap Co. is already a bit of a sudsy success. The Springfield-based company, which offers shaving soaps for men, quickly landed on solid financial ground after a successful Kickstarter this past October. The campaign raised more than $8,100—well over the original $5,000 goal.

Owner Dante LaCivita offers 8-ounce tins of soap at nearly a dozen local retailers, as well as through his other business, The 1906 Gents (the1906gents.com), which started in 2012. After four years of crafting and selling hardwood products, including shaving brushes, LaCivita says the next logical move was to capitalize on local retailers' decisions to open shelf space for men's grooming merchandise.
Crowdfunding enabled the company to overcome the early financial struggle most businesses face. The capital is used for making soap and storage as well as for packaging equipment and supplies.
LaCivita says this new business venture allows him take the same attention to quality that The 1906 Gents is known for and apply it to grooming products. Brawl purposefully offers a limited number of soaps, all made with simple ingredients. There are five main, all-natural ingredients in the company's three shaving soaps.

The simplicity of the products mirrors the attitude of the brand's core demographic: men in their mid-30s to 50s. "He doesn't want to think about it; he doesn't want to shop around," LaCivita says.
Brawl Soap Co. identified it's key demographic quickly, a feat not all businesses can claim. LaCivita says finding success can be achieved by simply reaching out to others and finding resources that might help you. To make its soap, the company was encouraged to rent out kitchen space early on rather than purchase it, LaCivita says. "Springfield is very supportive, sharing and nurturing to businesses," he says. "Reach out. Don't be embarrassed to ask for help."
---
Behind the Design: Brawl Soap Co.
If you've ever looked at a product and wondered, 'How did they do that?' we've got the answers for you. Brawl Soap Co. owner Dante LaCivita walked us through the process of making the brand's soap.


"We first make a soap base, using glycerin and natural plant-based oils. The soap base must boil at several different temperatures depending on the type of soap you are making or desired physical form you are aiming to achieve. From there, we introduce a cavalcade of ingredients, such as natural essential oils for aroma and curative properties, cocoa butter and olive oil (organic and reduced moisture). In some recipes, we include mica clay for coloring and to add a bit of texture. Then safflower oil, sodium hydroxide, soybean protein and some wheat protein extracts are added near the end of the final boil. The boil is then stopped, and the soap is now in hot liquid form. We then pour it in a two-step process to help bring it some clarity that gives it a smooth polished finish after it dries. Once all the soap has been poured into whatever mold we choose, we let it dry. This part of the process is called curing or 'racking' your soaps. After a few different dry times have been set and are complete, the soaps are ready to ship. The whole process takes approximately three days in total, but some of our soaps take two to six weeks to cure completely."
—By Dante LaCivita, as told to Mike Cullinan
​